Caffeine: Medium(30-45mg)
L-Theanine: Low(4-7mg)
Polyphenols: Low(121-181mg)
Ingredients (all organic*): Organic Black tea, Organic whole bergamot
For a hot drink. First add crystals to cup. Then add 8oz warm water and stir. Ideal water temperature is 180°F. Avoid boiling water.
Organic black tea, whole bergamot*
*Made using the finest whole ground bergamot from Calabria, Italy.
Fast-acting energy
(without the jitters!)
Supports
healthy digestion
and metabolism
Your doctor-approved
energy

powerhouse

Support healthy digestion and metabolism with nature's probiotics and polyphenols (theaflavins). Black tea caffeine provides a boost of vital energy – without the jitters. Calabrian Bergamot rind contains powerful oils to support mood, satiety, and digestion.
What's inside?
Bergamot Fasting Black Tea
Ingredient Breakdown
Organic Bergamot
Healthy Metabolism

Calm Energy

Healthy Digestion
What's Bergamot Fasting Black Tea?
Bergamot and black tea have been used to support healthy digestion and metabolism in Eastern and herbal medicine for centuries. We combined the finest whole ground bergamot from Calabria, Italy with superior English black tea. A perfectionist formula for powerful results.
Doctor-Formulated
"Intermittent fasting is an ancient weight loss technique I've prescribed to thousands of people. It works, but some find it difficult. To improve the fasting experience, I've partnered with Pique to create fasting teas that support healthy digestion and metabolism, help manage cravings and calm the nerves."
-Dr. Jason Fung, MD
World leading expert and no. 1 bestselling author on Intermittent Fasting
How is Pique different?
Our Bergamot Fasting Black Tea is Triple Toxin-Screened for heavy metals, pesticides, and toxic mold. Cold Extraction Technology™ maximizes phytonutrient potential and absorption. No prep or brewing required.
Ingredients
Organic black tea, whole bergamot*
*Made using the finest whole ground bergamot from Calabria, Italy.
Ingredient Breakdown
Caffeine:
L-Theanine:
Polyphenols:
A taste of the Mediterranean
Whole, ground Calabrian bergamot rind brings a burst of citrus to brighten the bold robustness of Ceylon black tea. Hearty, yet refreshing flavor that's so extravagant, you'll think it's cheating.
"Pique's Radiant Skin Duo is my secret to hydrated skin and it's my favorite part of my morning routine! I have noticed a difference in my skin which is more plump and brighter."
"I've been on matcha for 2 months now. The first month I didn't notice much, but by the second month my skin and energy levels have been improving. I highly recommend it my friends and family."
"Best additions to my daily routine. My skin has never felt more refreshed and never looked this youthful!"
Jessica S.
Verified buyer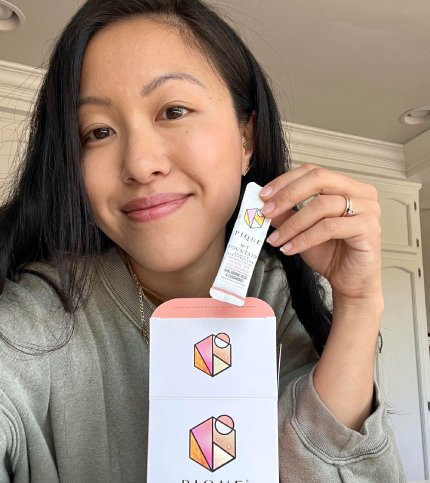 "Great taste and hydrates my body. I also know I can trust Pique in using the highest quality and best ingredients for my skin and body."
"I am so obsessed with all of Pique's products, particularly their B•T Fountain. It gives my skin the hydrated, dewy look from within. It is also great post-workout."
"After seeing all my friends enjoy Pique's B•T Fountain, I knew I had to try it. It really is worth all the hype! It tastes light, and I feel so good about drinking my water everyday."
"I love Pique's products! I can't go anywhere without my Matcha or Daily Immune. This paired with tons of water is the key to glowing and youthful skin, I recommend Pique to all of my friends as well! "
"A staple in my diet recently, I usually add this to a smoothie I make daily and it has improved the hydration in my face exponentially. I see a difference in my appearance if I miss a day taking this. This should be included in everyone's daily routine!"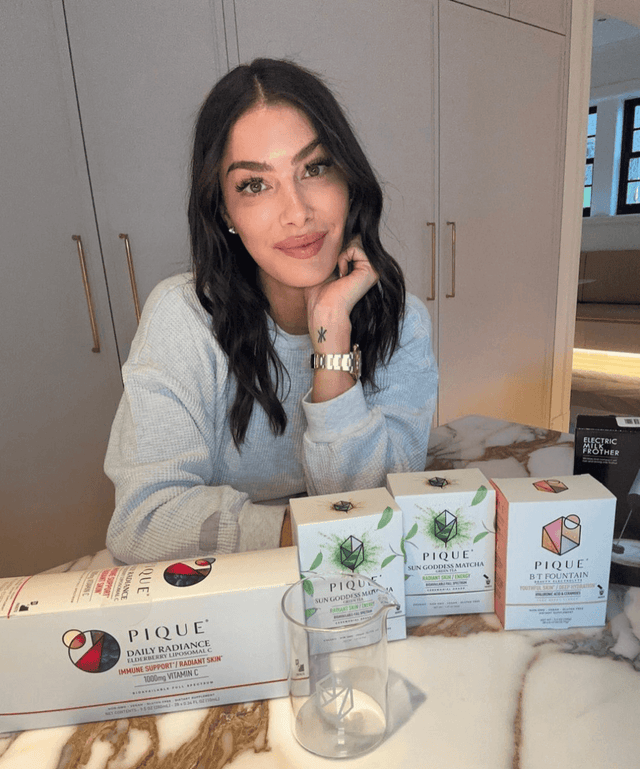 "It's always a great day when my Pique arrives! Their matcha is my all-time favorite and sets the mood every morning!"
Katherine G.
Verified buyer
Total 5 star reviews: 145
Total 4 star reviews: 12
Total 3 star reviews: 16
Total 2 star reviews: 14
Total 1 star reviews: 8
81%
would recommend this product
Taste
Rated 4.7 on a scale of 1 to 5
Quality
Rated 5.0 on a scale of 1 to 5
Results
Rated 4.7 on a scale of 1 to 5
I Drink Pique For

Fasting

Fasting tea

This tea tastes great and works really well

I Drink Pique For

Energy,

Healthy Digestion

My favorite

This is my favorite morning tea. A must have to start the day.

I Drink Pique For

Energy,

Healthy Digestion,

Immune Support,

Radiant Skin

Surprisingly enjoyed this a lot!

I'm new to drinking tea. It's honestly something I have never been a fan of in the past, but given all the health benefits I've been on a mission to find the best teas out there that I could reap all the benefits from and enjoy drinking. Since discovering Pique I'm happy to say that I'm actually enjoying the products I've tried - even those I was not so sure about - and I feel fantastic. I received this in one of the samplers a while back and just tried it for the first time today. I didn't expect to like it and certainly didn't expect that I would now call it one of my new favorites that I'll be ordering more of to add to my rotation. I enjoyed this tea very much - the flavor was very smooth and I've had a lot of energy, as well as a sense of calmness and most importantly a positive outlook all day.

I Drink Pique For

Fasting,

Energy

Enjoying this significantly establishes a great day!

Totally love the taste of this marvelous thing - and for sure, it helps establish a strong base for getting on through the day - no matter what's in store!

I Drink Pique For

Radiant Skin,

Energy,

Fasting,

Healthy Digestion

Great flavor.

This is the best instant black tea out there, and it's not acidic either. Super smooth and bold.

New Daily Ritual

Love'n the Beramot Fasting Black Tea daily with frothed no-sugar added coconut milk creamer!! Delicious!

Fasting tea

Bergamot fasting tea is my favorite way to start my days.

I Drink Pique For

Energy,

Healthy Digestion,

Radiant Skin,

Immune Support,

Fasting

sharp flavor

unique flavor, might be causing some acid reflex though not sure at this time. caffeine seems to be low amount & perfect for me!

I Drink Pique For

Immune Support

Fasting with purpose

This tea is one of my favorites. It's usually my late morning early afternoon tea. I love the richness of Bergamont, and knowing that it's a very healthy enriching treat.

I Drink Pique For

Fasting,

Energy,

Immune Support
Reviews Loaded
Reviews Added
Caffeine-Free
Herbal
For
__type1:Healthy Digestion

,

__type2:Calm

,

__type3:Healthy Metabolism
14 Servings
Verified Buyer
Perfect after a meal. Makes happy stomachs :)
Other
For
__type1:Healthy Digestion

,

__type2:Healthy Metabolism

,

__type3:Calm Energy
28 Servings
Verified Buyer
I really love the Ginger Fasting Green Tea. The flavor is great, and it does help to curb my appetite!! I highly recommend it!
Questions?

We have answers!
Bergamot is formulated with a ceylon black tea and has notes of citrus without being sweet, and is refreshing and light in flavor.
Bergamot is a citrus fruit that's between a bitter orange and a lemon.
We intentionally formulated this tea with the rind of the bergamot orange, which is the most bitter part of the fruit in our Bergamot Black Fasting Tea. Bitter foods are beneficial because they activate our bitter taste receptors located on our tongue and throughout our digestive system. When activated, these receptors have been shown to help manage cravings, increase satiety, aid digestion and support healthy blood sugar levels.
Our general recommendation is to drink three teas daily for maximum benefits: one in the morning, afternoon, and evening. If you're drinking our fasting teas for extra support for your gut health and fasting needs, our Matcha Green, Bergamot Black, and Ginger Green Fasting Teas are great options for any morning or afternoon tea; for the evening, our Cinnamon Fasting Tea is a perfect caffeine-free alternative for any of our herbals.
We suggest mixing this tea with hot (but not boiling - up to 180°F is ideal) water and allow it to settle a few minutes before enjoying.
You absolutely can! Enjoying your tea iced will not adversely impact the health benefits. So some of our teas are both hot and cold water soluble, and others like our Bergamot Black Fasting tea, are hot water soluble only. But you can still easily enjoy it as an iced tea! Just simply mix the tea crystals with an ounce or so of hot water (but not boiling!), then add ice and cold water as you'd like, and enjoy!