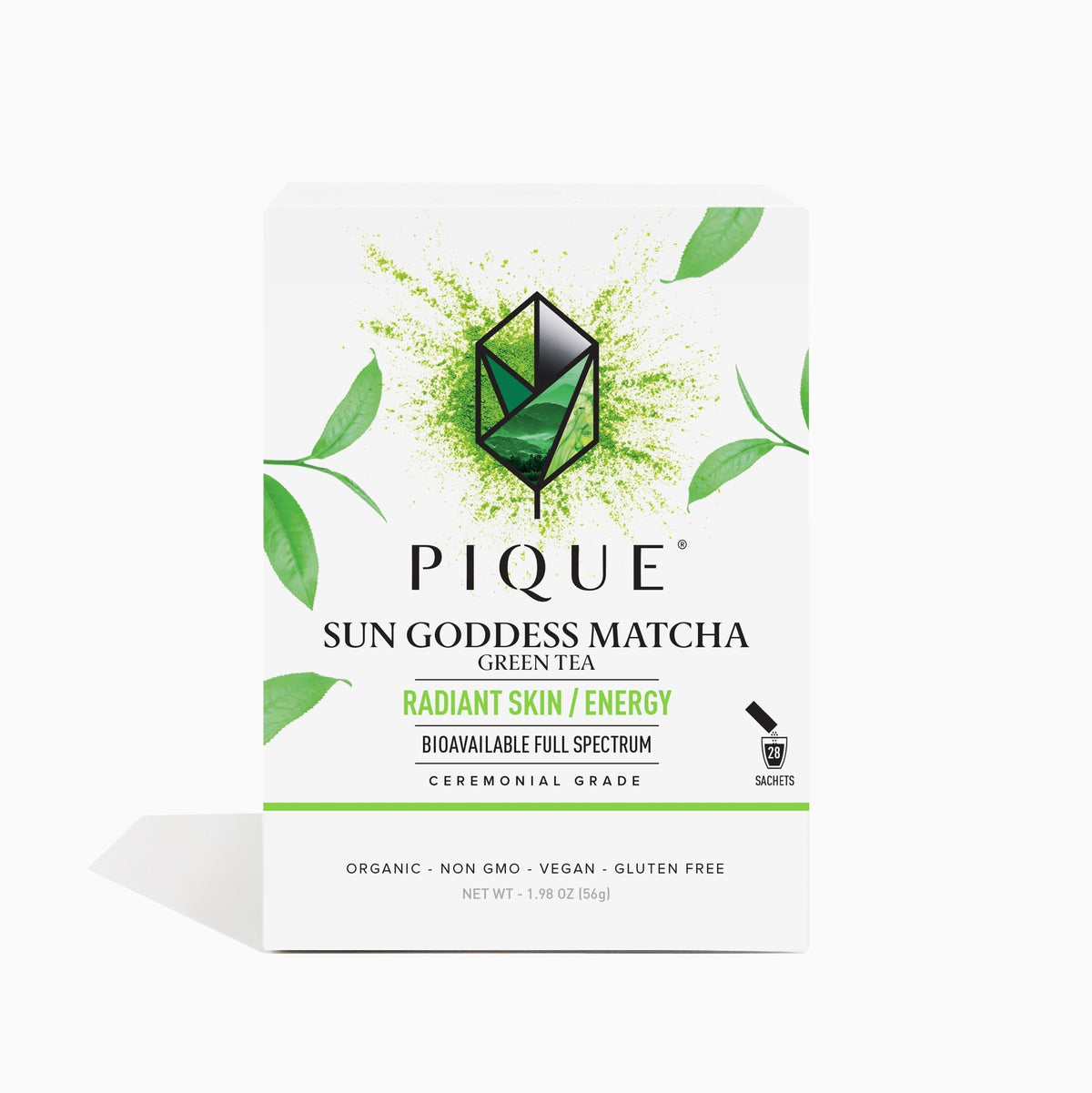 Total 5 star reviews: 9
Total 4 star reviews: 0
Total 3 star reviews: 0
Total 2 star reviews: 0
Total 1 star reviews: 0
100%
would recommend this product
Love this

It makes me feel energized and tasted good. I put a little maple syrup for sweetness

loving this product

The taste is quite nice and better than any other matcha product i've tasted. Easy and quick to make. The product doesn't dissolve entirely but what I have found is that this makes it easy to refill your cup for another cup of matcha.

My fave matcha!!!

The absolute best of all matchas!

Game changer

I wasn't a fan of Matcha until I tried Pique matcha. I wanted to take advantage of the health benefits and this has made that possible. It's great!

My favorite!!

Love these so much. So many cafes don't have unsweetened or quality ceremonial match tea so I always have a bunch of these packets in my bag at all times. It's so creamy, delicious and my fave brand ever. Highly rec!

Pure quality

I have been drinking the sun goddess match for 30+ days and noticed a difference in my energy and skin. The ingredients are pure and high quality. Highly recommend.

Perfect Start To My Day

I did a lot of research before placing my first order for matcha tea. I have been so pleased with the efficiency of this company, the taste of the tea, and the ease of making my new "perfect start to my day!"

Best Matcha

I love this Matcha! The convenience of the individual packs is amazing and makes it so simple to make my daily lattes. I highly recommend to all my Matcha loving friends!!!
Reviews Loaded
Reviews Added
Questions?

We have answers!
Our general recommendation to make your matcha in the traditional way, we suggest putting the powder in your cup and then adding hot or cold water and mixing it right away for the best results. We recommend using a bamboo whisk for a frothy traditional matcha, but you can also use a kitchen whisk or a fork with good results. Here's a video of our founder, Simon, preparing ceremonial matcha:
You can also put your matcha powder in a bottle of water (cold if preferred) and shake it to mix for an on-the-go option. Water temperature will make a big impact on the taste of our teas. Ideal hot water temperature for matcha is between 140°-150°F and we strongly recommend not using water any hotter than 170°F.
Most people find matcha to have a strong, savory, grassy flavor, similar to wheatgrass or even spinach. However, premium matcha like our Sun Goddess Matcha is less grassy and has balanced flavors with layers of unfolding nuance and complexity. There are a lot of factors that differentiate premium matcha from common matcha. For more information about premium matcha, please check out our Insider's Guide
Both matcha and green tea begin as the Camellia Sinensis plant. The main difference starts with how the plant is grown and processed. Matcha tea is shade grown and ground to a fine powder – you are essentially consuming whole tea leaves. The plant intended for green teas, on the other hand, is traditionally grown and harvested. Once harvested, the leaves are steamed to stop oxidation and then dried. The dried leaves are broken up for tea bags or carefully packaged as loose leaf tea, ready to steep. For more information about this, please visit our article 5 Key Differences Between Matcha and Green Tea.
Our Sun Goddess Matcha is made from 9th-degree tea masters in Kagoshima, Japan, and is one of the cleanest and purest organic matcha green teas you can find. It contains only one ingredient: ceremonial matcha green tea and is quadruple toxin screened for heavy metals, toxic molds, radioactive isotopes, and pesticides.
Yes. Our Sun Goddess Matcha is fasting-friendly and will help with your fasting regimen. Tea 'technically' breaks a fast but is nevertheless recommended by doctors and nutritionists alike because they help activate some of the desired effects of fasting, such as increasing caloric burn and burning fat for energy.
If preparing matcha the traditional way does not work for you as a beginner, we recommend starting out by getting your palate accustomed to matcha. You can make matcha flavored drinks such as our Sun Goddess Matcha Latte You can also find other matcha recipes here.
Matcha is whole tea leaves that are ground to a fine powder. Since matcha is made from whole tea leaves, this is completely natural to expect as matcha never fully dissolves 100% like some of other brewed teas will. In fact, this is a good sign that it's real matcha!
Because matcha is made from whole tea leaves, you are getting the benefits of the tea and the leaf! Matcha has many different benefits – it is loaded with catechins, which fight against free radicals in the body and help to neutralize the many threats they pose. It also contains a high amount of l-theanine, which are amino acids that promote calm and support mental performance.
Though matcha powder grades are not regulated and therefore may be inconsistent, the two categories you're most likely to come across are culinary and ceremonial grades.
Culinary matcha powder is meant specifically for use in food, like in desserts, or other baked goods. It is typically less expensive since it's intended for use in food or recipes, not drinking. The flavor profile is not as good as ceremonial grade since you want a different flavor result when baking or cooking with matcha. It'll provide the color and flavor, but the quality of the plant, the growing practices, and the process of grinding it into powder will not be as high of a standard as ceremonial.
Ceremonial grade, on the other hand, is meant to be drunk on its own, whisked into hot water the way that traditional matcha is prepared in Japanese tea ceremonies. Ceremonial grade matcha indicates higher quality and better drinking experience.
Our Sun Goddess Matcha is sourced from a lush valley at the southernmost tip of the Japanese island chain, and is a ceremonial grade matcha. It is the furthest distance from environmental toxins and neighbors with Okinawa (home to some of the longest living people on Earth). The source of our matcha is more pristine and untouched than any other. We collaborated with Mr. Mori, a 9th-degree teamaster, to ensure you get only the ceremonial grade matcha following a scoresheet designed by them. It is also Quadruple Toxin Screened for heavy metals, toxic molds, pesticides, and radioactive isotopes.