Sun Goddess Matcha
For a cold drink. Add to 12oz cold water and shake/stir.
For a hot drink. First add matcha to empty cup. Then add 12oz warm water and stir. Ideal water temperature is 140°F-150°F. Avoid boiling water.
B·T Fountain
For best results drink 1 packet 1-2 times daily mixed with 12-16oz of cold water to replenish electrolytes and essential trace minerals.
Sun Goddess Matcha: 100% organic ceremonial grade matcha from Japan.
B·T Fountain: Calcium (as Calcium Malate), Magnesium (as Magnesium Glycinate), Sodium (as Sodium Citrate and Sodium Chloride), Potassium (as Potassium Citrate and Potassium Chloride), Phytoceramides (from non-GMO wheat seed extract), Sodium Hyaluronate (a premium form of hyaluronic acid), pure coconut water powder, himalayan pink salt, silica, Citric acid, natural yuzu raspberry flavor, beet root juice powder, monk fruit extract.
Happy customers are our no. 1 priority so we offer a 30-day 100% happiness guarantee. If you're not thrilled with your purchase, you may return your package to us for a refund anytime within the first 30 days of your purchase. We'll even provide a free return shipping label!
For further questions, contact our Pique Love Team for assistance anytime at care@piquelife.com.
Learn about our full return policy here.
Nourish your gut for radiant skin
Gut health affects our entire body, including our metabolism, immunity and skin health. Active ingredients like magnesium and polyphenols protect your digestive wellbeing, supporting brighter, clearer skin that glows from deep within. Enjoy the stress-relieving properties of L-theanine, as it radiates calm from the inside out.
What's inside?
B•T Fountain
Sun Goddess Matcha
Ingredient Breakdown
Yuzu Berry Beauty Electrolyte
Brighter Skin

Healthy Aging

Healthy Digestion
What's B•T Fountain?
B•T Fountain is a breakthrough in skin hydration. F-SIS™ (Full-Spectrum Isolate Synthesis) enhances cellular absorption of bioactive compounds for a truly transformative and youth enhancing skin supplement.
The combined usage of B•T Fountain and your skincare routine will help you unlock synergies for internal and external moisturization, maximizing its combined potential. The result is a multiplier effect of the benefits derived from your skincare routine: you will extract the greatest efficacy and function from existing creams and serums, while structurally and sustainably improving your skin's natural moisture production and preservation function.
Sun Goddess Matcha
BRIGHTER SKIN

HEALTHY AGING

HEALTHY DIGESTION
What's Sun Goddess Matcha?
Sun Goddess Matcha is organic, ceremonial-grade matcha made by third generation teamasters, using 130-year-old techniques.
Our matcha is sourced from Kagoshima, situated in a lush valley at the southernmost tip of the Japanese archipelago – the furthest distance from environmental toxins – the source of this matcha is unrivaled in purity. Our tea farm is located high in the mountains where cooler temperatures are a natural insect repellent. Legend has it that the SUN GODDESS Amaterasu appeared at a volcano within sight of our tea gardens and blessed the land with pure light.
Sun Goddess Matcha
100% organic ceremonial grade matcha from Japan.
B·T Fountain
Calcium (as Calcium Malate), Magnesium (as Magnesium Glycinate), Sodium (as Sodium Citrate and Sodium Chloride), Potassium (as Potassium Citrate and Potassium Chloride), Phytoceramides (from non-GMO wheat seed extract), Sodium Hyaluronate (a premium form of hyaluronic acid), pure coconut water powder, himalayan pink salt, silica, Citric acid, natural yuzu raspberry flavor, beet root juice powder, monk fruit extract.
Drink your way to improve gut-skin axis
Bursting with unrivalled umami flavor, this tea has a fresh, creamy taste that only ceremonial grade Matcha can offer. Combine with the fresh notes of Japanese yuzu for a hydrating electrolyte drink that delights your palate with every sip.
"Pique's Radiant Skin Duo is my secret to hydrated skin and it's my favorite part of my morning routine! I have noticed a difference in my skin which is more plump and brighter."
"I've been on matcha for 2 months now. The first month I didn't notice much, but by the second month my skin and energy levels have been improving. I highly recommend it my friends and family."
"Best additions to my daily routine. My skin has never felt more refreshed and never looked this youthful!"
Jessica S.
Verified buyer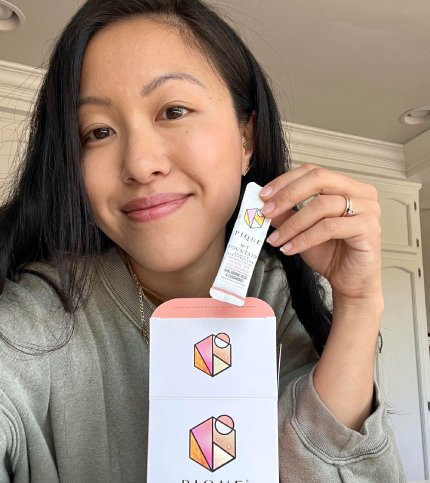 "Great taste and hydrates my body. I also know I can trust Pique in using the highest quality and best ingredients for my skin and body."
"I am so obsessed with all of Pique's products, particularly their B•T Fountain. It gives my skin the hydrated, dewy look from within. It is also great post-workout."
"After seeing all my friends enjoy Pique's B•T Fountain, I knew I had to try it. It really is worth all the hype! It tastes light, and I feel so good about drinking my water everyday."
"I love Pique's products! I can't go anywhere without my Matcha or Daily Immune. This paired with tons of water is the key to glowing and youthful skin, I recommend Pique to all of my friends as well! "
"A staple in my diet recently, I usually add this to a smoothie I make daily and it has improved the hydration in my face exponentially. I see a difference in my appearance if I miss a day taking this. This should be included in everyone's daily routine!"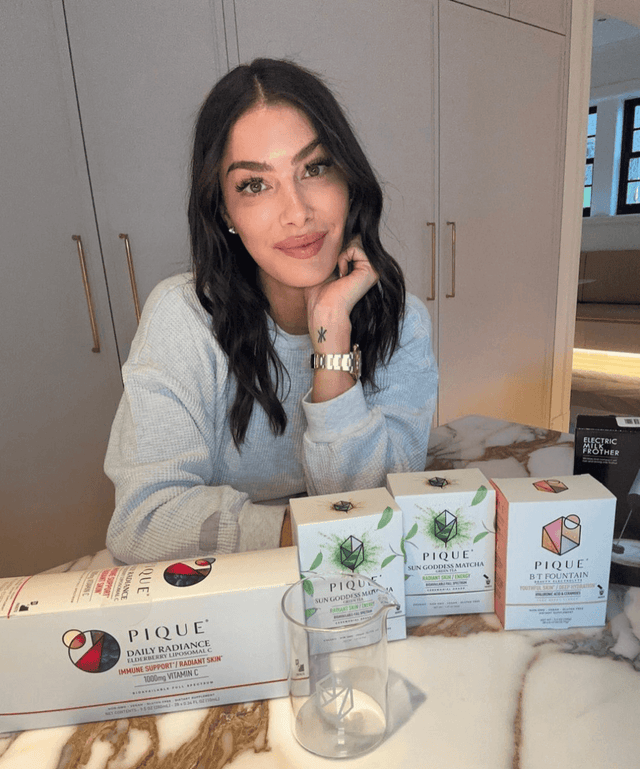 "It's always a great day when my Pique arrives! Their matcha is my all-time favorite and sets the mood every morning!"
Katherine G.
Verified buyer
Questions?

We have answers!
B is for Beauty, B is for Baby and youthfulness. Fountain is for fountain of youth, fountain of life. B•T references to the scientific quotient of this breakthrough formula and its holistic approach to total cellular and epidermal hydration. B•T Fountain is a statement that effective skincare results don't necessitate toxic ingredients. Fountain evokes the fountain of youth and the abundance of hydrating actives delivered. Fountain represents a drink that can be consumed freely in plentitude that replenishes and rejuvenates. It is the antithesis of toxic skin treatments.
Ceramides are an important type of lipid, or fatty acid that is naturally found in our skin cells. As well as acting as an essential moisturizer, ceramides are responsible for protecting the skin barrier function, sealing in moisture and preventing any germs from entering. As we age, our natural production slows considerably leaving us vulnerable to dry skin conditions, irritation, fine lines and wrinkles. This deterioration can begin as early as age 20, and is exacerbated by dehydration and environmental conditions – think sun damage and external pollution for starters. Products containing synthetic ceramides can help improve the appearance of your skin by sealing in moisture on the outer layer. B·T ceramides are clinically proven to work in synergy with skin creams and serums by replenishing moisture at a cellular level to visibly reduce fine lines and increase skin elasticity. When it comes to ceramides, more is definitely better!
B·T Fountain is powered by F-SIS technology to enhance absorption and maximize results. In a randomized double blind placebo trial, our patented blend of ceramides were proven to deliver 18% improved skin elasticity and 16% increase in skin hydration with the first 15 days of use. After 60 days of use this had increased to 26% improved skin elasticity, and 21% increased skin hydration.
Face creams and serums work temporarily by leaving the outer skin barrier feeling plumper and more hydrated. By sealing in moisture from the outside, this can help relieve dry, irritated skin, prevent common skin problems from developing – but this is just a temporary fix. B·T Fountain works in synergy with your skincare routine to replenish moisture at a cellular level deep within your body. Natural ceramides and hyaluronic acid work together to strengthen your skin barrier function and encourage moisture retention for a youthful dewy glow.
Hyaluronic acid is a natural fluid that's found around our joints, eyes and skin. Its main function is to keep us well moisturized and it does this job by binding itself to water. In fact, it is capable of binding over 1,000 times its own weight in water – which is great news for plump, smoother skin. Around half of the hyaluronic acid we produce is actually stored in our skin, but as we age these levels starts to decrease. Excessive sunlight, smoke and pollution can all contribute to this process. B·T Fountain contains hyaluronic acid that works in synergy with your topical skincare by locking in moisture from deep within your body.
Our bodies are traditionally quite bad at absorbing the active ingredients we need to thrive from our supplements. To help us get the essentials we need, Pique developed F-SIS technology to deliver unparalleled absorption and maximum results. It works by gently extracting and preserving the active compounds and phytonutrients from our ingredients and distilling them into their most bioavailable form – giving you fast, visible results.
Yes, B•T Fountain is gluten free!
Yes, B•T Fountain is vegan!
B•T Fountain is recommended for all people – whether they have dry, oily, a combination of both or normal complexions – anyone and everyone will benefit from electrolytes and enhanced skin hydration.
The magnesium, calcium, sodium, and potassium are chelated.
The pink salt and potassium chloride are not chelated but are essential minerals.
Our current flavoring is non-organic. We are working on both this and our pure coconut water powder to be organic around May 2022.
Yuzu is a citrus like fruit from Japan that tastes like a cross between a grapefruit, orange and lime. It brings a bright undertone to help provide a well-balanced flavor to the supplement.
Our general recommendation to make your matcha in the traditional way, we suggest putting the powder in your cup and then adding hot or cold water and mixing it right away for the best results. We recommend using a bamboo whisk for a frothy traditional matcha, but you can also use a kitchen whisk or a fork with good results. Here's a video of our founder, Simon, preparing ceremonial matcha:
You can also put your matcha powder in a bottle of water (cold if preferred) and shake it to mix for an on-the-go option. Water temperature will make a big impact on the taste of our teas. Ideal hot water temperature for matcha is between 140°-150°F and we strongly recommend not using water any hotter than 170°F.
Most people find matcha to have a strong, savory, grassy flavor, similar to wheatgrass or even spinach. However, premium matcha like our Sun Goddess Matcha is less grassy and has balanced flavors with layers of unfolding nuance and complexity. There are a lot of factors that differentiate premium matcha from common matcha. For more information about premium matcha, please check out our Insider's Guide
Both matcha and green tea begin as the Camellia Sinensis plant. The main difference starts with how the plant is grown and processed. Matcha tea is shade grown and ground to a fine powder – you are essentially consuming whole tea leaves. The plant intended for green teas, on the other hand, is traditionally grown and harvested. Once harvested, the leaves are steamed to stop oxidation and then dried. The dried leaves are broken up for tea bags or carefully packaged as loose leaf tea, ready to steep. For more information about this, please visit our article 5 Key Differences Between Matcha and Green Tea.
Our Sun Goddess Matcha is made from 9th-degree tea masters in Kagoshima, Japan, and is one of the cleanest and purest organic matcha green teas you can find. It contains only one ingredient: ceremonial matcha green tea and is quadruple toxin screened for heavy metals, toxic molds, radioactive isotopes, and pesticides.
Yes. Our Sun Goddess Matcha is fasting-friendly and will help with your fasting regimen. Tea 'technically' breaks a fast but is nevertheless recommended by doctors and nutritionists alike because they help activate some of the desired effects of fasting, such as increasing caloric burn and burning fat for energy.
If preparing matcha the traditional way does not work for you as a beginner, we recommend starting out by getting your palate accustomed to matcha. You can make matcha flavored drinks such as our Sun Goddess Matcha Latte You can also find other matcha recipes here.
Matcha is whole tea leaves that are ground to a fine powder. Since matcha is made from whole tea leaves, this is completely natural to expect as matcha never fully dissolves 100% like some of other brewed teas will. In fact, this is a good sign that it's real matcha!
Because matcha is made from whole tea leaves, you are getting the benefits of the tea and the leaf! Matcha has many different benefits – it is loaded with catechins, which fight against free radicals in the body and help to neutralize the many threats they pose. It also contains a high amount of l-theanine, which are amino acids that promote calm and support mental performance.
Though matcha powder grades are not regulated and therefore may be inconsistent, the two categories you're most likely to come across are culinary and ceremonial grades.
Culinary matcha powder is meant specifically for use in food, like in desserts, or other baked goods. It is typically less expensive since it's intended for use in food or recipes, not drinking. The flavor profile is not as good as ceremonial grade since you want a different flavor result when baking or cooking with matcha. It'll provide the color and flavor, but the quality of the plant, the growing practices, and the process of grinding it into powder will not be as high of a standard as ceremonial.
Ceremonial grade, on the other hand, is meant to be drunk on its own, whisked into hot water the way that traditional matcha is prepared in Japanese tea ceremonies. Ceremonial grade matcha indicates higher quality and better drinking experience.
Our Sun Goddess Matcha is sourced from a lush valley at the southernmost tip of the Japanese island chain, and is a ceremonial grade matcha. It is the furthest distance from environmental toxins and neighbors with Okinawa (home to some of the longest living people on Earth). The source of our matcha is more pristine and untouched than any other. We collaborated with Mr. Mori, a 9th-degree teamaster, to ensure you get only the ceremonial grade matcha following a scoresheet designed by them. It is also Quadruple Toxin Screened for heavy metals, toxic molds, pesticides, and radioactive isotopes.