Beauty starts from within.
I recently discovered Pique when I opened my own office and wanted to ensure a mess free space as there's nothing I dislike more than seeing wet tea bags lying around. Insert Pique :) I first fell in love with their delivery system only then to fall in love with their products.
- Shereene Idriss M.D.
Use code SHEREENE at checkout to get 5% off + FREE Pique sample pack when you spend $110+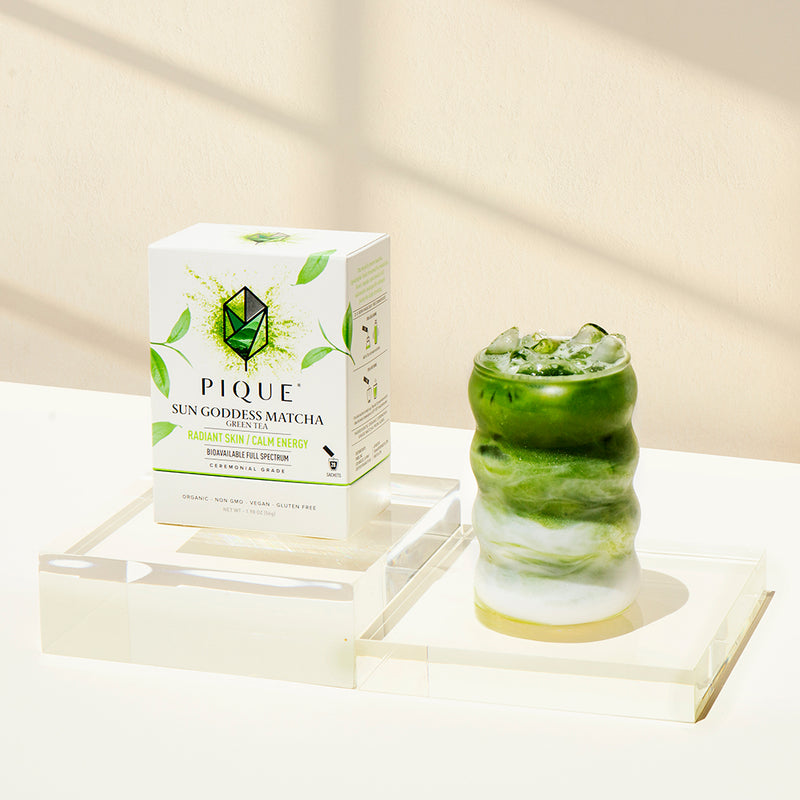 Shereene's Favorites
✓ Catechins to support radiant skin
✓ Brightens skin from the inside out and supports collagen production
✓ Supports healthy digestion and metabolism
How to Drink Tea for

Prevention Maximizing Benefits
There are 3 principles to follow to unlock the powerful health benefits of tea:
1. DRINK REGULARLY 2. DRINK ENOUGH 3. DRINK THE RAINBOW
So... how can you get these benefits? By following Pique's Tea Drinking Protocol:
Why Leading Health Experts Recommend Pique
Effective
Cold Extraction Technology™ preserves active health compounds at maximum potential.
Pure
Triple Toxin Screened for pesticides, heavy metals and toxic mold commonly found in plants.
Accessible
Unparalleled full-spectrum absorbability with no prep or brewing required.
Real customers real reviews
Trust the Process Risk Free
Trust the Process Risk Free
The benefits of teas are compounded over time and with consistent use. If you don't experience transformational results in 30 days, we'll issue you a full refund with our money-back guarantee.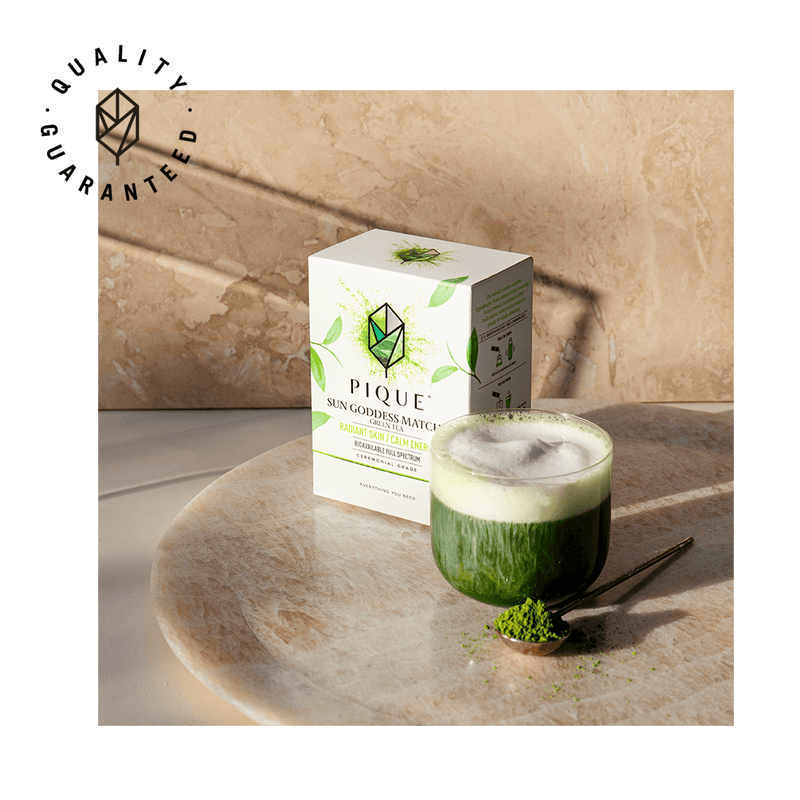 15,000+ Five Star Reviews
Best matcha I've ever had!
"I thought I knew Matcha . Have purchased other superior brands. NOTHING COMPARES to Sun Goddess Matcha . The smoothest, creamiest matcha I've ever tasted. It makes me healthy, energized all day and I have received compliments on my improved complexion after several weeks of drinking this in the morning."
Carolyn M.
Verified Buyer
Run don't walk to get this!
"Amazing product!! Have only been taking this for about a month and already notice results. Skin is brighter and more vibrant and have been noticing a little bit more energy in the morning after I take it. Will definitely continue ordering!"
Powerhouse Tea
"This is a powerhouse tea with a taste unlike any other I've ever tried. When I drink it it I can tell instantly that it is doing something very positive for my entire system especially my digestive system and energy levels. This is a must have tea for your collection and I will definitely continue to use it."
Hi! I'm Simon. I've been steeped in the world of tea since I was born. A native of Hong Kong, I grew up drinking tea instead of soda. Tasting different teas after each meal with my parents and grandparents were a sacred family ritual (my grandad turns 103 this year!) After moving to the US in my teens, life got intense. Between getting into top schools and grinding in finance jobs, I abandoned the health rituals of my youth. In my 20's, I developed one medical problem after another and had 3 hospitalizations involving surgery. The last one left me with an infection requiring 3 months of intravenous antibiotics to recover from! After that, I said never again and took back control of my health.
This was the beginning of a 10-year health quest that took me around the world to study with the most accomplished Eastern health masters and breathwork experts around the world - from the mountain ranges of Tibet to the heart of Indonesia and the Chinese diaspora in the Pacific Northwest! Majoring in Chinese history at Harvard, then studying literature and philosophy in Beijing, I accessed the knowledge in Eastern classics on health, meditation and Daoist philosophy thousands of years old.
I've now synthesized everything I learned into an integrated approach to health and performance combining herbal plants and breathwork. The culmination of which is Pique. Tea is the most natural and sustainable path to radiant health. I consume tea every day with minimal effort, maximum health benefits, and want to help everyone do the same.