Brewing instructions will vary based on tea type. Refer to instructions printed directly on cartons & sachets for hot or cold drink recommendations.
You can enjoy Daily Radiance Liposomal Vitamin C with or without food, and at any time of the day! This will not affect the absorption or efficacy. It's made with sodium ascorbate, a form of Vitamin C that is gentler on the stomach and safe for those with sensitive tummies. Tear at notch and consume directly from packet.
Sun Goddess Matcha: 100% organic ceremonial grade matcha from Japan.
Daily Radiance: Vitamin C (as Sodium Ascorbate), Organic Elderberry Juice Concentrate (Sambucus Nigra), Essential Phospholipids (from non-GMO Sunflower Lecithin), Organic apple juice concentrate, glycerine USP, alcohol (from non-GMO USA Grown Corn), organic lemon juice concentrate.
Become radiantly you
Achieve a glow like no other and support healthy skin elasticity with powerful antioxidant activity. Organic Black European elderberries and liposomal Vitamin C support healthy collagen production to nourish youthful skin and support healthy aging. Anthocyanins in hibiscus and EGCG catechins in matcha help your cells fend off harmful free radicals, while chlorophyll supports your liver's cleansing functions to promote a clear and a bright complexion.
What's inside?
Daily Radiance
Sun Goddess Matcha
Ingredient Breakdown
Elderberry Liposomal
Vitamin C
Immune Support

Radiant Skin

Healthy Aging
What's Daily Radiance?
Powerful antioxidants in a spoon-licking delicious, elderberry complex and liposomal Vitamin C shot – it's effective, pure, and accessible.
Maximized for Absorption™ with Liposomal Encapsulation Technology, Daily Radiance supports natural collagen production and healthy skin,* supports healthy immune function,* and helps protect cells from harmful free radicals.*
How is Pique different?
Our Daily Radiance is made with Liposomal Encapsulation Technology that maximizes phytonutrient potential and absorption.
Collagen production starts to slow in your 20s. Vitamin C supports healthy collagen production for a glow from the inside out. But up to 50% of Vitamin C from supplementation may pass through your digestive tract unabsorbed. In order to soak up the full antioxidant power, we've encapsulated Vitamin C in liposomes to form a protective bubble that prevents oxidation and wastage.
Our revolutionary formula contains proven powerhouses of cellular health support.
1. 1900mg fresh-pressed juice concentrate from the finest organic black European elderberries, an antioxidant all-star for helping cells protect against free radicals.
2. 1000mg sodium ascorbate – a buffered, "non-acidic" form of Vitamin C that's gentle on your stomach. Supports healthy collagen levels for a plump, supple complexion.
3. Liposomes from essential phospholipids that preserve and deliver the antioxidant power of Vitamin C where it's needed. Made with non-GMO sunflower phospholipids, not soy.
Like all our products, Daily Radiance does more, with less. No preservatives, no refined sugar and no additives.
*These statements have not been evaluated by the Food and Drug Administration. This product is not intended to diagnose, treat, cure, or prevent any disease.
Sun Goddess Matcha
Radiant Skin

HEALTHY METABOLISM

Calm Energy
What's Sun Goddess Matcha?
Sun Goddess Matcha is organic, ceremonial-grade matcha made by third generation teamasters, using 130-year-old techniques.
Our matcha is sourced from Kagoshima, situated in a lush valley at the southernmost tip of the Japanese archipelago – the furthest distance from environmental toxins – the source of this matcha is unrivaled in purity. Our tea farm is located high in the mountains where cooler temperatures are a natural insect repellent. Legend has it that the SUN GODDESS Amaterasu appeared at a volcano within sight of our tea gardens and blessed the land with pure light.
How is Pique different?
Our matcha trees are cultivated with 35% longer shading periods to maximize phytonutrient potential. It is also Quadruple Toxin-Screened for pesticides, heavy metals, toxic mold, and radioactive isotopes.
Daily Radiance
Serving size: 1 packet (10 ml)
Vitamin C (as Sodium Ascorbate): 1000 mg
Organic Elderberry Juice Concentrate (Sambucus Nigra): 1900 mg
Essential Phospholipids (from non-GMO Sunflower Lecithin): 250 mg
Other Ingredients: Organic apple juice concentrate, glycerine USP, alcohol (from non-GMO USA Grown Corn), organic lemon juice concentrate.
Sun Goddess Matcha
Caffeine:
L-Theanine:
Polyphenols:
Ingredients: 100% organic ceremonial grade matcha from Japan.
A most delicious beauty routine
Unlike other liposomal supplements, you'll look forward to Daily Radiance and the tartly sweet burst of 3 fresh fruit concentrates on your tongue.

Sun Goddess Matcha boasts a delicately earthy, fresh, and rich taste – delivering the same quality and flavor of the highest-grade matcha used in traditional tea ceremonies.
Trusted by
health & beauty experts
"Pique has been my go-to brand for high quality teas for years. I drink about 1-2 cups every single day. They have antioxidants to help support healthy radiant skin and make such a delicious treat! I can't get enough of them."
Andrea Suarez, MD
Board Certified Dermatologist
"Beauty starts from within. I recently discovered Pique when I opened my own office and wanted to ensure a mess free space as there's nothing I dislike more than seeing wet tea bags lying around. Insert Pique :) I first fell in love with their delivery system only then to fall in love with their products."
Dr. Shereene Idriss M.D.
Board Certified Dermatologist
"Pique Teas are a tremendous source of polyphenols, wonderful for anyone with gut issues. I use them in my clinical practice. I use them for myself. Their teas have more polyphenols and catechins than any regular brewed tea and are triple screened. I love Pique Teas!"
Terry Wahls, MD
Clinical professor of medicine at the University of Iowa
"I am so in love with Pique. I've been drinking their Sun Goddess Matcha every single day. I replaced a cup of coffee with it and it's seriously like meditation in a cup. Smooth, creamy and delicious."
Lauryn Evarts
Founder of The Skinny Confidential
"I've been getting so many compliments lately on my skin, and one of the reasons is thanks to the best matcha ever by Pique! This matcha is packed with skin-loving antioxidants for a radiant glow, and is so good for that sustained energy to power me through my daily steps."
Kym Douglas
Wellness Expert on the Ellen DeGeneres Show
"Pique's matcha is the best matcha ever. It's full of chlorophyll and antioxidants that support radiant skin and a healthy glow from within. I love it so much and it's a part of my daily ritual."
Marianna Hewitt
WWD Beauty Inc's Influencer of the Year
"I've been loving Pique's Daily Radiance. They contain both vitamin C and concentrated elderberry for antioxidant support and are maximized for absorption, which means you actually get the most benefits of these two powerhouses."
Kelly LeVeque
Holistic Nutritionist
"Pique's Radiant Skin Duo is my secret to hydrated skin and it's my favorite part of my morning routine! I have noticed a difference in my skin which is more plump and brighter."
"I've been on matcha for 2 months now. The first month I didn't notice much, but by the second month my skin and energy levels have been improving. I highly recommend it my friends and family."
"Best additions to my daily routine. My skin has never felt more refreshed and never looked this youthful!"
Jessica S.
Verified buyer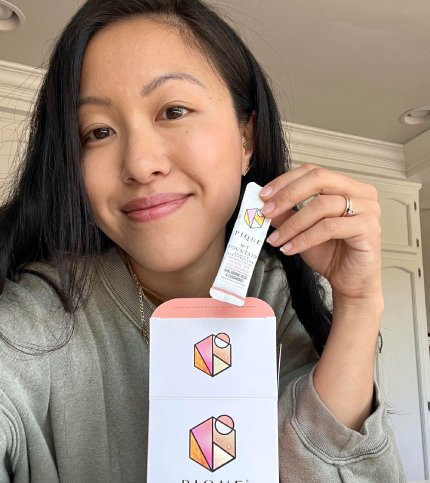 "Great taste and hydrates my body. I also know I can trust Pique in using the highest quality and best ingredients for my skin and body."
"I am so obsessed with all of Pique's products, particularly their B•T Fountain. It gives my skin the hydrated, dewy look from within. It is also great post-workout."
"After seeing all my friends enjoy Pique's B•T Fountain, I knew I had to try it. It really is worth all the hype! It tastes light, and I feel so good about drinking my water everyday."
"I love Pique's products! I can't go anywhere without my Matcha or Daily Immune. This paired with tons of water is the key to glowing and youthful skin, I recommend Pique to all of my friends as well! "
"A staple in my diet recently, I usually add this to a smoothie I make daily and it has improved the hydration in my face exponentially. I see a difference in my appearance if I miss a day taking this. This should be included in everyone's daily routine!"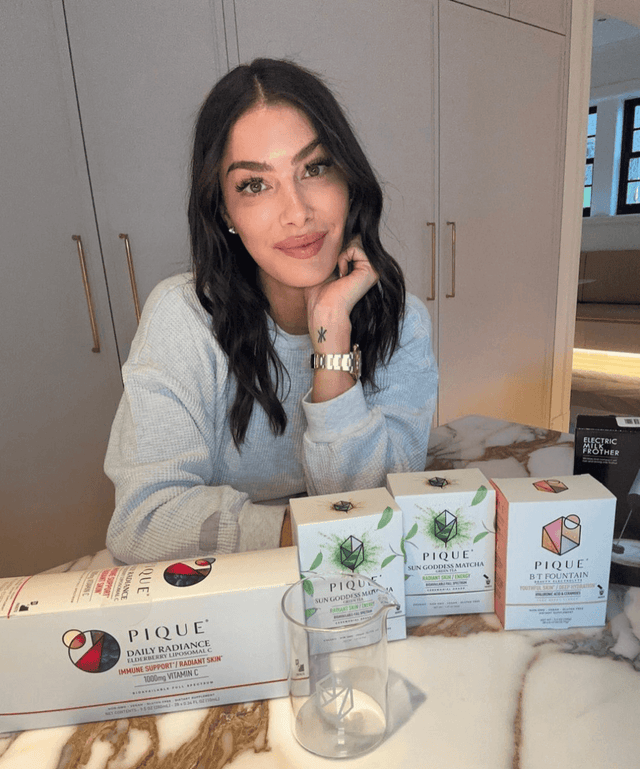 "It's always a great day when my Pique arrives! Their matcha is my all-time favorite and sets the mood every morning!"
Katherine G.
Verified buyer
Total 5 star reviews: 1.9k
Total 4 star reviews: 81
Total 3 star reviews: 38
Total 2 star reviews: 16
Total 1 star reviews: 9
97%
would recommend these products
Reviewing

Sun Goddess Matcha

I Drink Pique For

Radiant Skin,

Energy,

Immune Support,

Healthy Digestion

My go to favorite matcha!!

I've been drinking pique matcha for a few years now. It has helped with my energy and skin. Feeling and looking like I'm in my 30's hahaha!!

Reviewing

Sun Goddess Matcha

I Drink Pique For

Radiant Skin,

Energy

Lovely

Amazing color, mixes well, tastes great

Reviewing

Sun Goddess Matcha

Best On-the-Go Matcha Packets!

Delicious, clean taste. The packets make it so easy to have it on-the-go!

Reviewing

Sun Goddess Matcha

I Drink Pique For

Energy,

Radiant Skin,

Immune Support

New to matcha

I'm really enjoying this tea each morning. I can make it as light which is great as I don't tolerate caffein well. It's a smooth and calming energy.

Reviewing

Sun Goddess Matcha

I Drink Pique For

Energy,

Radiant Skin

Love My Matcha

Sun Goddass Matcha is exactly what I need every morning to get me ready for my day! It provides me with energy without making me feel jittery. I have also noticed an improvement in my complexion!! I have it scheduled on auto ship so I'm never without it!!

Reviewing

Sun Goddess Matcha

I Drink Pique For

Radiant Skin,

Energy

Matcha Mornings

Sun Goddess Matcha is the perfect way to start my morning. It has become a new ritual that I look forward to each day. I feel the benefits of it throughout the entire day.

Reviewing

Sun Goddess Matcha

I Drink Pique For

Energy,

Immune Support,

Radiant Skin,

Healthy Digestion

The Absolute BEST Matcha!

I have always been a matcha fan but it's often very chunky and hard to mix. Pique mixes SO well with any liquid - hot or cold. The Sun Goddess Matcha has turned into my favorite morning routine (and sometimes afternoon). I don't feel jittery like I do with coffee - it's a clean caffeine source and gives me a steady boost throughout the day. Customer for life!

Reviewing

Sun Goddess Matcha

Great matcha!!

Love the taste and ease of making this. Substituted matcha in place of coffee and never looked back.

Reviewing

Sun Goddess Matcha

I Drink Pique For

Energy,

Immune Support,

Healthy Digestion

Quality

I recommend Sun Goddess Matcha regularly to my patients. It is so reassuring to know, as an herbalist with 30 + years experience, that Sun Goddess has been thoroughly tested and is of such a high quality. My patients love it, and as their practitioner, am getting the results I want to see!

Reviewing

Sun Goddess Matcha

I Drink Pique For

Healthy Digestion

What not to live about this matcha

I have been drinking Pique Sun Goddess Match daily for many years now. The high quality 'clean' ceremonial grade matcha is super beneficial

for health, combined with a convenient packaging, easy to travel with. This is the best matcha in my opinion.
Reviews Loaded
Reviews Added
Questions?

We have answers!
Both matcha and green tea begin as the Camellia Sinensis plant. The main difference starts with how the plant is grown and processed. Matcha tea is shade grown and ground to a fine powder – you are essentially consuming whole tea leaves. The plant intended for green teas, on the other hand, is traditionally grown and harvested. Once harvested, the leaves are steamed to stop oxidation and then dried. The dried leaves are broken up for tea bags or carefully packaged as loose leaf tea, ready to steep. For more information about this, please visit our article 5 Key Differences Between Matcha and Green Tea.
We source only the finest organic loose leaf grade tea leaves and then we cold brew them for up to 8 hours to extract all the beneficial compounds. Then, through a combination of pressure and dehydration at a low temperature, our Tea Crystals emerge. Cold Brew Crystallization preserves up to 12x the nutrient content compared to other tea.
Drinking any of our teas as an iced tea will not negate the benefits found in our teas! We do recommend not using water that is too hot, however. We recommend a maximum temperature of 170°F for green teas and 180°F for black and herbal teas.
Some of our teas are both hot and cold water soluble, and some are hot water soluble only. With that said, you can enjoy any of our teas as an iced tea! Just simply mix the tea crystals with an ounce or so of hot water (but not boiling!), then add ice and cold water as you'd like, and enjoy! Please let me know if you have any other questions we can help with, we're always happy to!
All of our teas are free of peanuts, tree nuts, and coconuts. Our operations and facilities and packaging sites do not come in contact with these products, but we cannot make any guarantee for serious allergen conditions from external variables, as our facilities are not officially certified allergen-free.
Store at a cool temperature or refrigerate for optimal freshness.
When you order from Pique, your complete satisfaction is our highest priority. We understand it can sometimes be difficult to make a purchase if you have not been able to previously sample the teas. Our 30-Day Satisfaction Guarantee helps you purchase your teas risk-free: if you're unhappy with your purchase made from our main store, you may return your package to us for a refund anytime within the first 30 days of your purchase. We'll even provide a free return shipping label!