Caffeine: Medium(41-61mg)
L-Theanine: Medium(14-21mg)
Polyphenols: High(212-318mg)
Ingredients (all organic*): Organic Pu'er green tea (camellia sinensis assamica)
For a cold drink. Add to 8oz cold water and shake/stir.
For a hot drink. First add crystals to cup. Then add 8oz warm water and stir. Ideal water temperature is 170°F. Avoid boiling water.
Organic Pu'er green tea (camellia sinensis assamica) only.
Powerful antioxidants
support radiant skin
from within
Natural probiotics +
and polyphenols
Supports a healthy
immune system
Nourish your cells with the
best

from

nature

Achieve a glow like no other and support a healthy immune system with powerful probiotics and antioxidants from a potent tea varietal. Deeper roots than any other tea supply rich minerals and polyphenols (catechins) to nutrient-dense leaves. Fermented by naturally-occurring microbes for powerful results.
What's inside?
Fermented Pu'er Green Tea
Ingredient Breakdown
Organic Pu'er green
Radiant Skin

Immune Support

Calm Energy
What's Fermented Pu'er Green Tea?
A supertea that delivers far greater polyphenol potential than other tea varietals, its powerful combination of catechins and probiotics deliver a holy grail of phytonutrients for unrivaled immune support and cellular regeneration.
Wild-harvested from 250-year-old tea trees living symbiotically in a primordial forest where life thrives unhindered. A natural cycle of life and death creates an environment teeming with biodiversity. The leaves of this ancient tea varietal are host to precious microbiota that ferment our Tea Crystals, turning them darker with time.
From a pristine region at the foothills of the Himalayas, we bring you humankind's most ecological and primordial superfood.
How is Pique different?
Our Fermented Pu'er Green Tea is USDA Certified Organic and Triple Toxin-Screened for heavy metals, pesticides, and toxic mold. Cold Extraction Technology™ maximizes phytonutrient potential and absorption. No prep or brewing required.
Ingredients
Organic Pu'er green tea (camellia sinensis assamica) only.
Ingredient Breakdown
Caffeine:
L-Theanine:
Polyphenols:
The holy grail of green tea
Smooth, complex, and luxurious. This rare and ancient tea varietal grows deeper roots than any other tea, drawing rich minerals, microbial diversity and phytonutrients into the leaves. A difference you'll be able to taste – and see.
Trusted by
health & beauty experts
"I was blown away by the purity, simplicity and health benefits of Pique. These teas are a simple, natural and effective way to support gut health."
Mark Hyman, MD
13x New York Times Bestselling Author
"I use Pique Tea regularly during my travels. It has less caffeine than coffee and gives me sustained energy!"
Dom D'Agostino
3x Feature on Tim Ferriss' Podcast
"Pique Teas deliver polyphenols, wonderful for anyone who wants to support gut health. I use them in my clinical practice. I use them for myself. Their teas are even triple screened for toxins. I love Pique Teas!"
Terry Wahls, MD
Clinical professor of medicine at the University of Iowa
"Pique has become a fast favorite (and delicious) method of including antioxidants into my routine, day or night. You can add Pique to your smoothie for immune support to start your day, but it's perfect on its own and can be a great part of a calming evening routine as well."
Kelly LeVeque
Holistic Nutritionist
"If you know me, you know I'm a fan of fasting and also a fan of green tea – not only for supporting gut health, energy and vitality, but also as a great way to increase satiety."
Ben Greenfield
Top 100 Most Influential People in Health and Fitness
"Tea has been shown to support gut health, and I can tell you firsthand that focusing on your gut health is critical to support a healthy immune system. Pique Tea makes some of the most convenient, easy to use, healthy teas on the market."
Tom Bilyeu
CEO and Co-Founder, Impact Theory
"Pique's Radiant Skin Duo is my secret to hydrated skin and it's my favorite part of my morning routine! I have noticed a difference in my skin which is more plump and brighter."
"I've been on matcha for 2 months now. The first month I didn't notice much, but by the second month my skin and energy levels have been improving. I highly recommend it my friends and family."
"Best additions to my daily routine. My skin has never felt more refreshed and never looked this youthful!"
Jessica S.
Verified buyer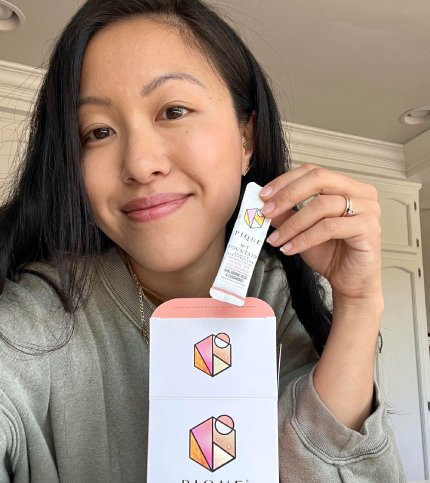 "Great taste and hydrates my body. I also know I can trust Pique in using the highest quality and best ingredients for my skin and body."
"I am so obsessed with all of Pique's products, particularly their B•T Fountain. It gives my skin the hydrated, dewy look from within. It is also great post-workout."
"After seeing all my friends enjoy Pique's B•T Fountain, I knew I had to try it. It really is worth all the hype! It tastes light, and I feel so good about drinking my water everyday."
"I love Pique's products! I can't go anywhere without my Matcha or Daily Immune. This paired with tons of water is the key to glowing and youthful skin, I recommend Pique to all of my friends as well! "
"A staple in my diet recently, I usually add this to a smoothie I make daily and it has improved the hydration in my face exponentially. I see a difference in my appearance if I miss a day taking this. This should be included in everyone's daily routine!"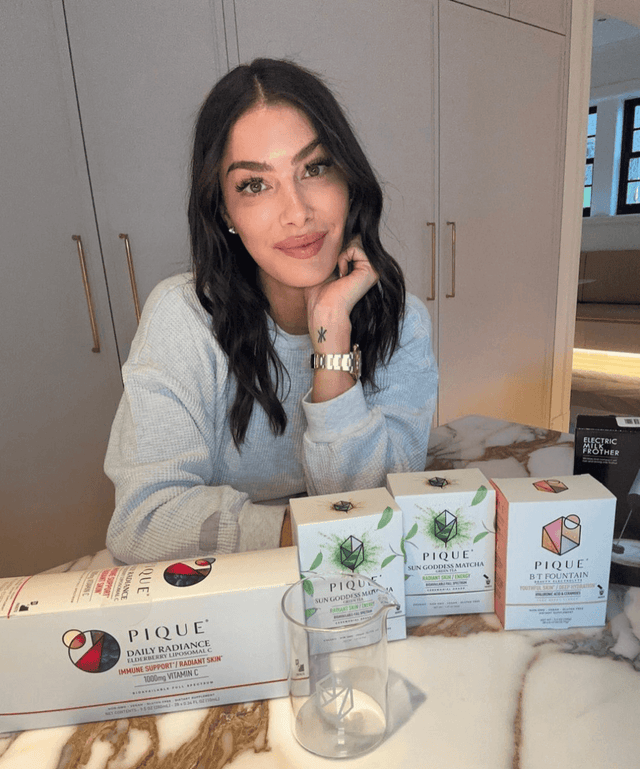 "It's always a great day when my Pique arrives! Their matcha is my all-time favorite and sets the mood every morning!"
Katherine G.
Verified buyer
Total 5 star reviews: 224
Total 4 star reviews: 19
Total 3 star reviews: 9
Total 2 star reviews: 2
Total 1 star reviews: 1
95%
would recommend this product
Taste
Rated 4.8 on a scale of 1 to 5
Quality
Rated 4.9 on a scale of 1 to 5
Results
Rated 4.8 on a scale of 1 to 5
Solange M.

Verified Buyer

I Drink Pique For

Radiant Skin,

Immune Support,

Healthy Digestion

Great tea

This tea has great gut health benefits due to the probiotics. Great addition to my tea collection.

I Drink Pique For

Immune Support,

Healthy Digestion

Green Super Power

All one needs to take is one 'peek' at Pique and your mind, body, and soul will be forever grateful. Green Pu'er Tea is rich in green tea flavor, for more complex tasting than typical green tea, and far more nutritious. Make this part of your morning routine!

Allison C.

Verified Buyer

Delicious

So delicious and the nutritional benefits are huge!

I Drink Pique For

Healthy Digestion,

Immune Support

Love it!

It's easy to use and tastes great. I love how easy it is to make a glass of cold iced tea.

Christy Brown J.

Verified Buyer

I Drink Pique For

Energy,

Immune Support,

Radiant Skin

Love at frist sip!

I am so thrilled with this recommendation from my Doctor to transition away from coffee. Pique Pu'er Green Tea has changed my mornings and I feel happy, refreshed, and genuinely good. I know I cannot attribute everything to tea, but I had not shakiness, headaches, or withdrawal from coffee and I'm convinced that the Pu'er Green Tea has given me my spirit! Cheers!

I Drink Pique For

Radiant Skin,

Immune Support,

Energy

I Drink Pique For

Healthy Digestion,

Radiant Skin,

Energy,

Immune Support

Fermented Tea

Great green tea to add daily. Green tea plus fermented!

I Drink Pique For

Immune Support

Great tasting Tea

I have a very clean clarity with is tea.

I Drink Pique For

Immune Support

I Drink Pique For

Radiant Skin,

Energy,

Immune Support,

Healthy Digestion

Best Green Tea!

Love adding this green tea to my water with lemon and vitamin C in the morning!
Reviews Loaded
Reviews Added
Questions?

We have answers!
Cold water will not affect the polyphenol content or the other healthful compounds found in our teas. If you'd like to enjoy our hot water dissolvable only teas as an iced tea, we recommend first dissolving it in a little bit of hot water (1oz will do) and then adding cold water and ice. That being said, studies have shown that cold beverages are not as beneficial for gut health as warm ones.
We unfortunately do not test for probiotic strains in the Pu'er Teas. Though some have been identified in Chinese literature, few to no commercial labs in the west will be able to identify them. If it helps, one analysis of several types of pu'er found 390 distinct fungal species and 629 bacterial species.(*)
Our Fermented Pu'er Tea is sourced from wild growing tea trees in a primordial forest in Yunnan Province at the foothills of the Himalayan mountain range in China.
Some probiotics in Pu'er tea indeed perish in hot water but many don't. For example, many fungi actually require hot water to be activated. Pu'er tea has been consumed for centuries in hot water to support gut health and hot water will not damage them. It might also help to know that we recommend using water temperatures no higher than 180°F for our Pu'er Black Tea and 170°F for our Pu'er Green Tea. Any higher, and this could potentially damage their probiotics and organic benefits.
No, we have not added any probiotics to the tea. The probiotics in the tea is a result of the fermentation process. They are a mix of bacteria, fungi and microbes that are understood to be beneficial to health.
Our pu'er teas are a great addition to your health routine if you are looking to support your digestive health. However, if you are currently on any kind of additional supplementation, we would recommend you speak to your doctor. For more information on the benefits of probiotic tea, check out our blog article entitled Probiotic Tea: What Is It And Do You Need It?
They are among the tallest and oldest tea trees on the planet, and the leaves from these old trees contribute to pu'er's special flavor. More than flavor, the vitality, and vigor of these ancient trees are the reason behind pu'er's super high polyphenol levels – which far exceed those of green tea.
While everyone is different, we recommend giving these teas 2 weeks of consistent daily use to feel the benefits.
Both kombucha and pu'er are fermented, but in different ways that serve different purposes and have different tastes. Our pu'er teas are naturally fermented by 250 year old tea trees in a symbiotic environment for organic probotics and prebiotic benefits.