9 Reasons Why Wellness Experts Are Obsessed With This Anti-Aging Duo
Ready to stop spending thousands on skincare, facials, injectables, and anti-aging tools? Sick of doing the most for your skin only to suffer from redness, acne, dryness, fine lines, and wrinkles? Then read on!
There are a few secrets that the beauty industry doesn't want you to know about. And the first is that proper skin hydration and anti-aging don't come in a serum or a cream. In fact, most topical products don't penetrate the skin at all, or worse – harsh chemicals and fragrances disrupt your skin's delicate microbiome, accelerating the signs of aging.
The truth is: radiant skin starts on the inside.
And now, you can benefit from the synergy of ancient traditions and modern nutrition science with the Radiant Skin Duo: ceremonial, quadruple toxin-screened Sun Goddess Matcha and clinically proven hydrating and plumping B•T Fountain Electrolytes.
Powered by potent ingredients and backed by science, this revolutionary skincare solution provides deep hydration, improves elasticity and fine lines, protects your immune system, and much more…Skincare never tasted so good!
1. It Protects The Skin Barrier and Reduces Fine Lines and Wrinkles
Your skin barrier is made up of multiple protective layers that keep out toxins and harmful pathogens and preserve critical hydration and nutrients. But things like harsh skincare, too much sun, and inflammatory foods can destroy your skin barrier, resulting in redness, acne, dry skin, and premature aging. The Radiant Skin Duo supports cellular hydration, provides clinically-proven ceramides and hyaluronic acid to protect your skin barrier, visibly improves skin elasticity, and reduces fine lines and wrinkles.*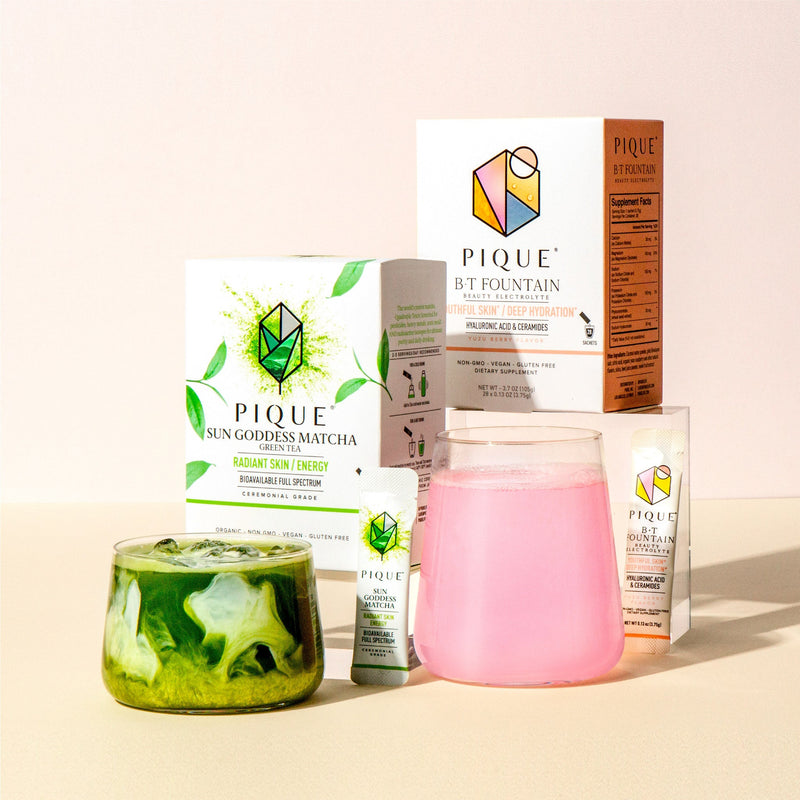 2. It Creates Visible Hydration for a Healthy, Radiant Glow
Antioxidants, ceramides, and hyaluronic acid hydrate, plump, and nourish your cells from the inside out, creating results you can actually see!* Most people notice a difference in skin hydration after consuming both products daily for just 15 days, including improved skin elasticity, relaxed wrinkles and fine lines, more even skin tone, and even improved energy and sleep.
3. It Reverses Cellular Aging
Antioxidants in matcha help protect cells and support the reversal of cellular aging caused by DNA-damaging free radicals.* The anti-stress effects of l-theanine help regulate the nervous system and contribute to healthy sleep-wake cycles and healthy cellular aging.* Electrolytes and ceramides in B•T Fountain keep cells hydrated, preventing potential cell damage, and ceramides protect the thin layer of cells in your skin barrier that help retain moisture and protect from harmful toxins and pathogens for radiant skin at any age.*
4. It Increases Sustainable Energy Without The Crash
This delicious duo supports energy and metabolism with a combination of sustained-release caffeine, catechins, and l-theanine to help support energy, mood, and focus without the jitters that come with other stimulants.* The minerals in B•T Fountain help replenish cellular hydration, assist in blood pressure regulation and fluid balance, transmit nerve signals, and convert food into energy, meaning more natural energy throughout the day without the constant coffee intake.*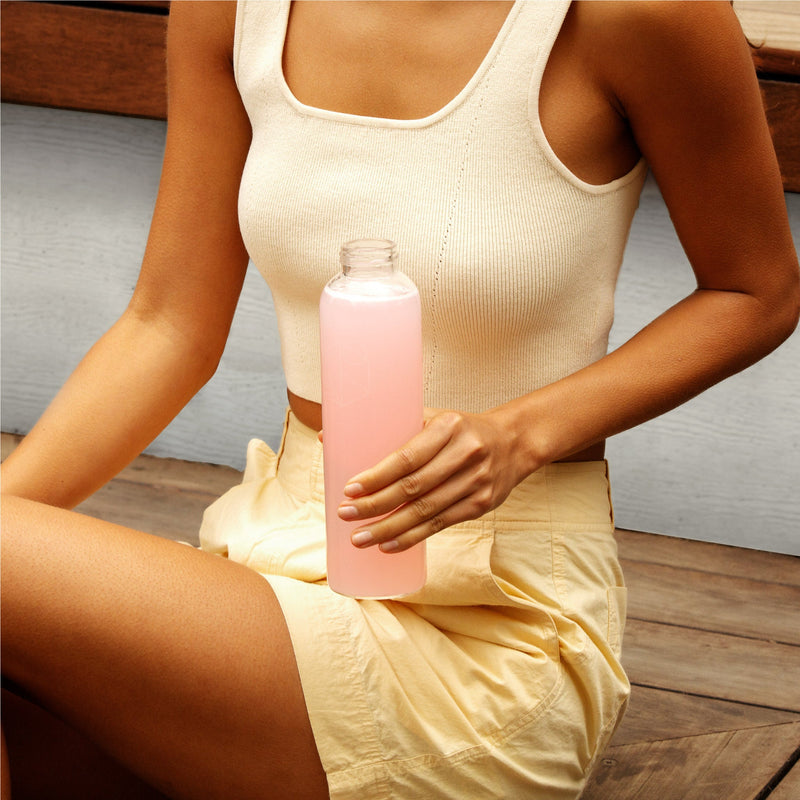 5. It Improves Gut Health, Calms Bloating, and Supports a Healthy Metabolism
Your gut microbiome benefits from a diversity of gut bacteria. The right balance of beneficial and non-beneficial gut bugs can help you break down and assimilate nutrients from food, balance blood sugar, support the body's inflammatory response, and even speed up metabolism.* Matcha supports a healthy gut microbiome, which may help reduce painful bloating. Optimal hydration and critical electrolytes also contribute to strong digestion, aiding in smooth muscle contractions and the secretion of digestive enzymes.*
6. It Calms Stress and Promotes Hormone Balance
Your daily duo helps calm stress, putting more energy toward healthy hormone regulation and less toward pumping out stress hormones like cortisol and adrenaline. Electrolytes, along with l-theanine, are vital for easing tension and worry.* Proper cellular hydration takes stress off your nervous system and muscle function, all while supporting the production of feel-good neurotransmitters involved in mood regulation and sleep.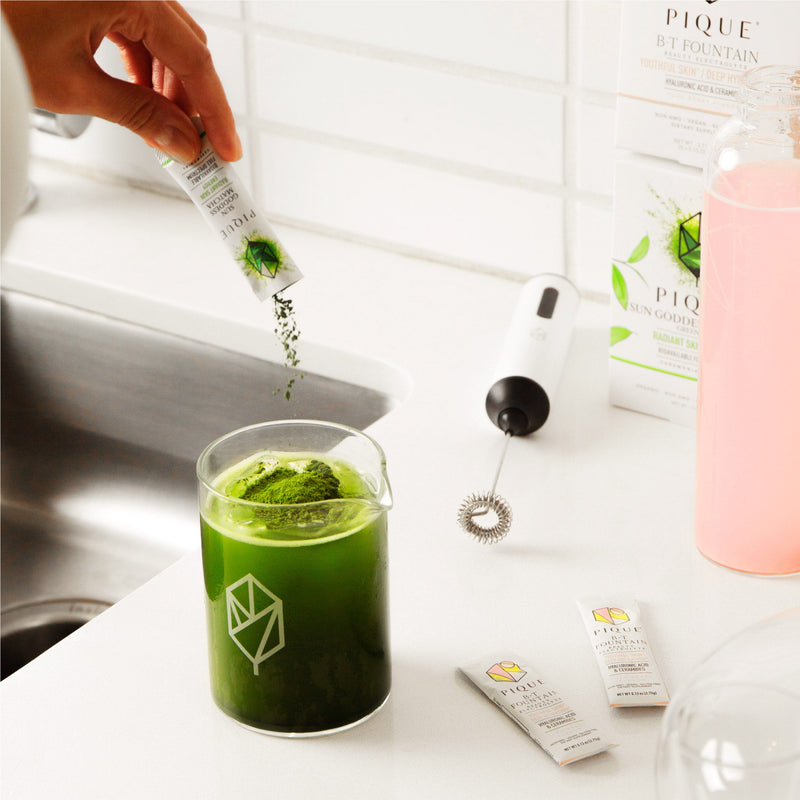 7. It Builds Immune Defense
Strong immunity doesn't just mean fewer sick days. It also means better gut and brain health. The Radiant Skin Duo delivers an array of antioxidants, including catechins and EGCG, to protect cells from free radical damage. And l-theanine can support white blood cell production, which is crucial for helping with infections.* Critical minerals like sodium, potassium, and magnesium help hydrate cells, making them less susceptible to pathogens and helping different parts of the immune system communicate.*
8. It's Pure (No Junk or Fillers) and Third-Party Toxin-Screened
Unfortunately, the supplement industry is largely unregulated, meaning your teas and electrolytes may contain filler ingredients and dangerous heavy metals. Pique's Sun Goddess Matcha, on the other hand, is 100% organic, ceremonial grade matcha that's quadruple screened for toxins and heavy metals. And our B•T Fountain is free from added sugar, preservatives, fillers, and artificial ingredients – just pure, intentional cellular hydration.
9. It's Easy to Use, Travel-Friendly, and Tastes Delicious
Update the copy for this section to the below – there were several small changes made Pre-measured sachets are a dream for busy days and travel as they're compact, single-serving, and you can easily add them to hot or cold water. Enjoy the light, slightly sweet yuzu flavor of B•T Fountain upon waking, during workouts, or to rehydrate throughout the day. And relish in the delicately creamy, rich taste of Sun Goddess Matcha in the morning or as an afternoon pick-me-up – with or without your favorite milk.
Drink your way to

radiant skin today!
EXCLUSIVE OFFER
Choose your Radiant Skin Duo
Discount & gifts are automatically applied at checkout
ONE-TIME PURCHASE ($2.25 per serving)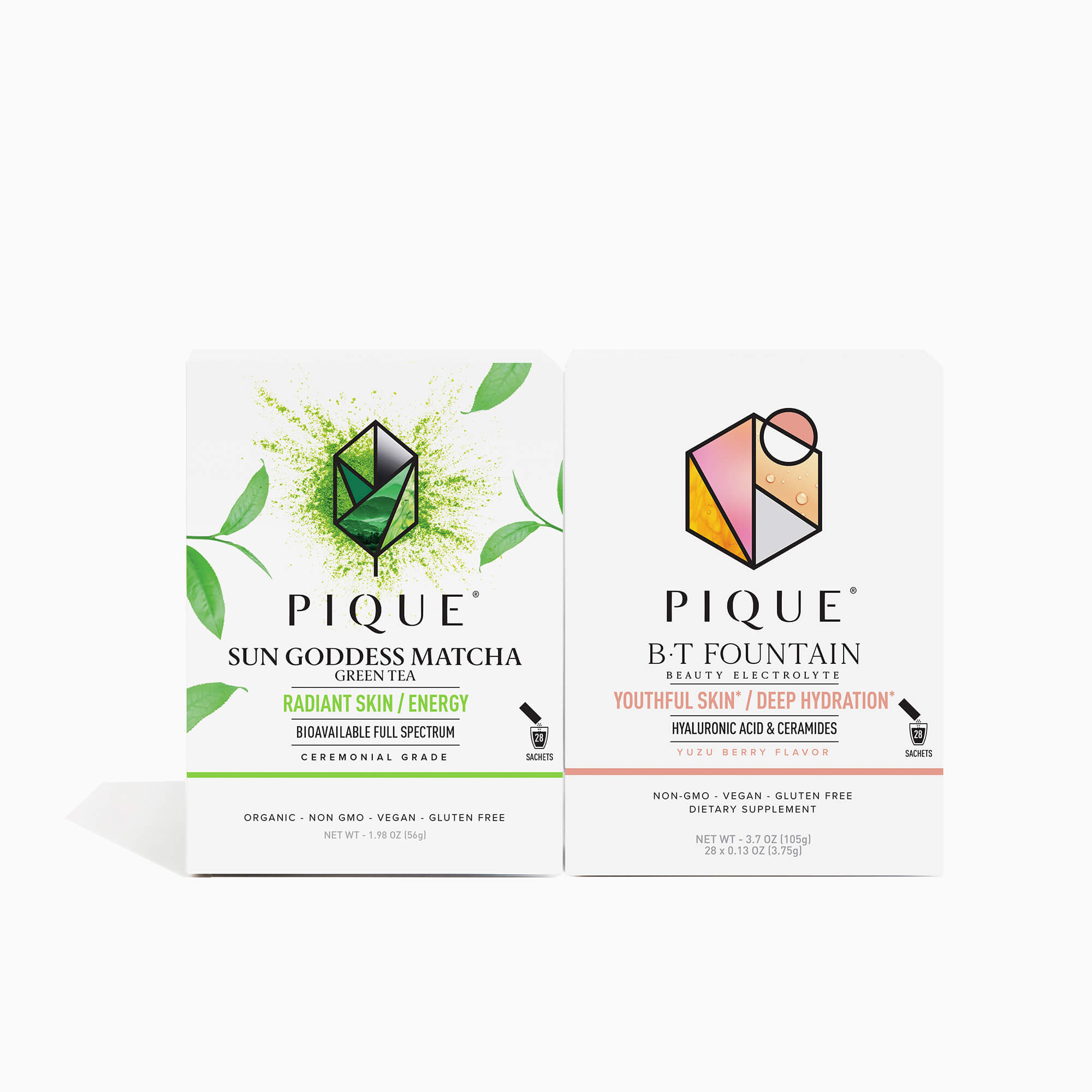 28 servings of Sun Goddess Matcha
28 servings of B•T Fountain
Delivered once
Free US shipping & returns
90-day money-back guarantee
$126
Best option to try out
MOST POPULAR
SINGLE SUBSCRIPTION ($1.91 per serving)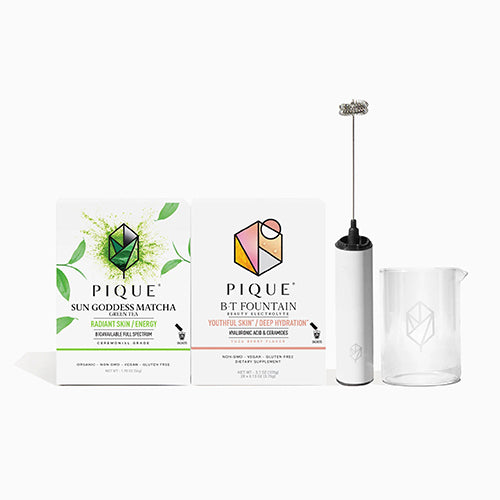 28 servings of Sun Goddess Matcha
28 servings of B•T Fountain
Delivered monthly, cancel anytime
Free rechargeable frother
Free mixing beaker
Free US shipping & returns
90-day money-back guarantee
$126
$107
Best for a consistent ritual
BEST VALUE
DOUBLE SUBSCRIPTION ($1.80 per serving)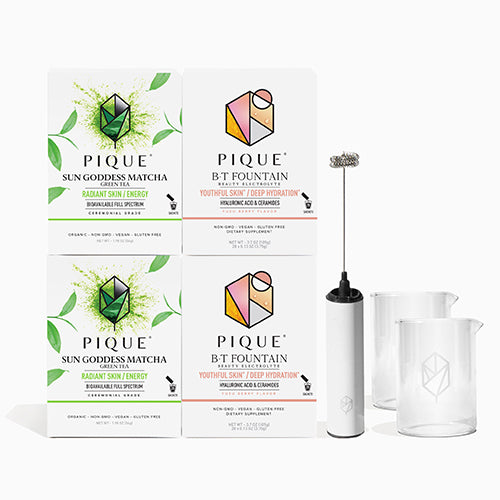 56 servings of Sun Goddess Matcha
56 servings of B•T Fountain
Delivered monthly, cancel anytime
Free rechargeable frother
Two Free mixing beakers
Free US shipping & returns
90-day money-back guarantee
$252
$202
Best for 2 daily drinkers or increased usage
#1 choice for beauty drinks
Total 5 star reviews: 2.9k
Total 4 star reviews: 126
Total 3 star reviews: 45
Total 2 star reviews: 19
Total 1 star reviews: 10
98%
would recommend these products
Reviewing

Radiant Skin Duo Ritual

Great taste and amazing benefits

I love to mix my Matcha with cold water, ice, a little coconut milk and liquid Stevia, such a great mid day drink.

I am following a keto diet and love being able to drink the benefits of BT flFountain's hydrating electrolytes, which are also beneficial for my skin.

Reviewing

Radiant Skin Duo Ritual

Great Duo

This two are so good!

I've definitely see a difference in my skin!

Reviewing

Radiant Skin Duo Ritual

Love it!!

Love both the matcha and electrolytes. Have them everyday!

Reviewing

Radiant Skin Duo Ritual

Love these products!

I love the matcha tea and how smooth it is. The electrolytes makes me drink a lot more water than I normally do during my work outs.

Reviewing

B•T Fountain | Beauty Electrolyte (15% Off)

Repeat buy!

I don't remember how many packs of these I've gone through so far, but they're an essential!

Reviewing

Sun Goddess Matcha

I Drink Pique For

Radiant Skin,

Healthy Digestion,

Energy,

Immune Support

Reviewing

Sun Goddess Matcha (15% Off)

The best

The best matcha by far. Love that they do testing on the quality.

Reviewing

Sun Goddess Matcha (15% Off)

Would die without this

There is no other matcha like this. I bought it a year ago and have never looked back

Reviewing

Radiant Skin Duo Ritual

The best

The best combo! The products are easy to drink. I have bought other matcha's and I felt that I always needed to add more than the recommend dosage to even get a taste of matcha. This one is perfect! Easy packaging and prefect amount. The electrolytes are amazing as well. I'm a very active momma and this CA so this heat is no joke. These electrolytes are easily mixable for on the go and they help my body replenish after a work out or a busy day of errands.

Reviewing

Sun Goddess Matcha

I Drink Pique For

Radiant Skin,

Energy,

Immune Support,

Healthy Digestion

I switched from coffee and haven't looked back

I absolutely love Pique Matcha. I noticed that coffee started to give me extreme anxiety so I decided to switch to matcha. I wanted a good quality brand that tested for heavy metals and came across pique. Their matcha has made a huge difference in my life. I still have coffee from time to time but every morning I start my day with matcha and add cinnamon and it's the perfect start to my day.
Reviews Loaded
Reviews Added
Transform your skin with a

delicious daily ritual today!
Reduce fine lines & wrinkles
Enhance your skins elasticity
Enjoy brighter, clearer skin
See results in as little as 15 days
Enjoy anytime, anywhere without the mess
CHOOSE YOUR BUNDLE
Free US Shipping & returns
Gift with purchase
90-day
money-back
guarantee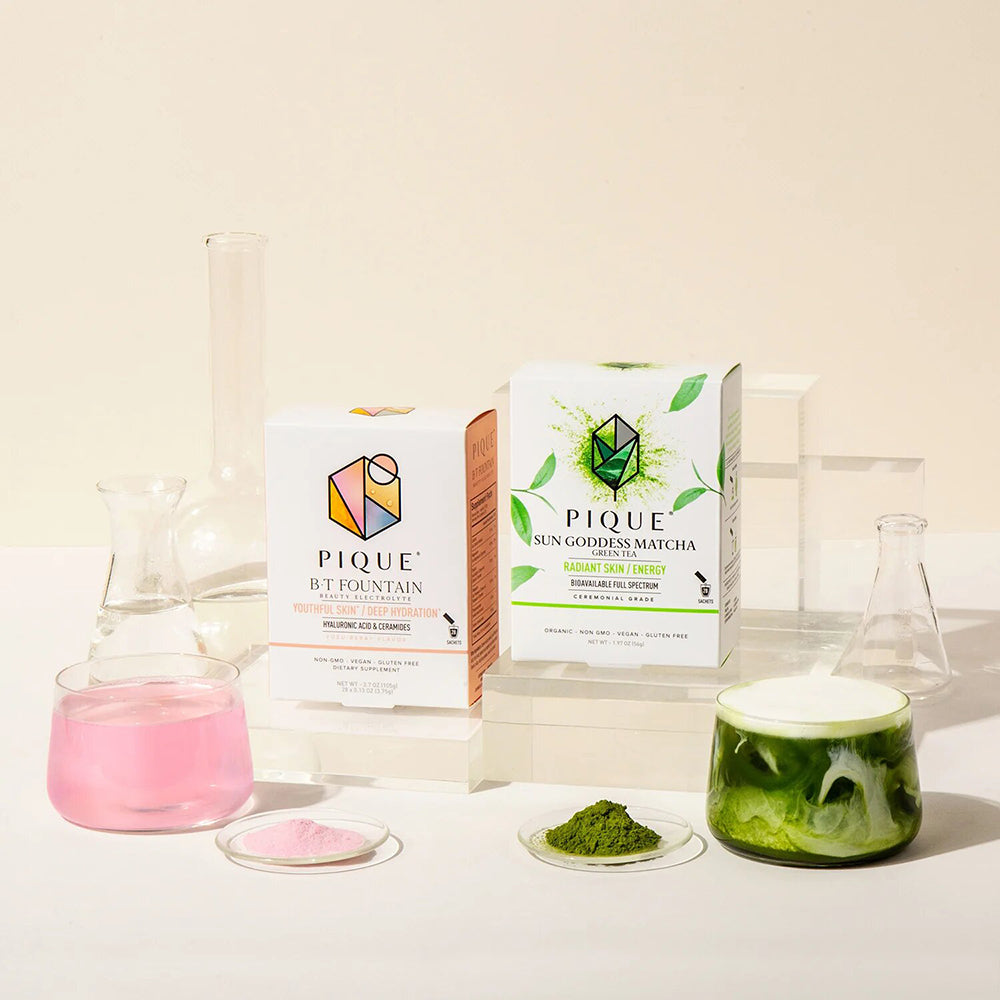 Tsuchiya, Y., Ban, M., Kishi, M., Ono, T., & Masaki, H. (2020). Safety and Efficacy of Oral Intake of Ceramide-Containing Acetic Acid Bacteria for Improving the Stratum Corneum Hydration: A Randomized, Double-Blind, Placebo-Controlled Study over 12 Weeks. Journal of oleo science, 69(11), 1497–1508. https://doi.org/10.5650/jos.ess20115
Hsu, T. F., Su, Z. R., Hsieh, Y. H., Wang, M. F., Oe, M., Matsuoka, R., & Masuda, Y. (2021). Oral Hyaluronan Relieves Wrinkles and Improves Dry Skin: A 12-Week Double-Blinded, Placebo-Controlled Study. Nutrients, 13(7), 2220. https://doi.org/10.3390/nu13072220
Rietveld, A., & Wiseman, S. (2003). Antioxidant effects of tea: evidence from human clinical trials. The Journal of nutrition, 133(10), 3285S–3292S. https://doi.org/10.1093/jn/133.10.3285S
Hidese S, Ogawa S, Ota M, Ishida I, Yasukawa Z, Ozeki M, Kunugi H. Effects of L-Theanine Administration on Stress-Related Symptoms and Cognitive Functions in Healthy Adults: A Randomized Controlled Trial. Nutrients. 2019 Oct 3;11(10):2362. doi: 10.3390/nu11102362. PMID: 31623400; PMCID: PMC6836118.
Willems, M. E. T., Şahin, M. A., & Cook, M. D. (2018). Matcha Green Tea Drinks Enhance Fat Oxidation During Brisk Walking in Females. International journal of sport nutrition and exercise metabolism, 28(5), 536–541. https://doi.org/10.1123/ijsnem.2017-0237
Dietz, C., & Dekker, M. (2017). Effect of Green Tea Phytochemicals on Mood and Cognition. Current pharmaceutical design, 23(19), 2876–2905. https://doi.org/10.2174/1381612823666170105151800
Shrimanker, I., & Bhattarai, S. (2023). Electrolytes. In StatPearls. StatPearls Publishing.
Heiss, C. N., & Olofsson, L. E. (2018). Gut Microbiota-Dependent Modulation of Energy Metabolism. Journal of innate immunity, 10(3), 163–171. https://doi.org/10.1159/000481519
Boyle NB, Lawton C, Dye L. The Effects of Magnesium Supplementation on Subjective Anxiety and Stress-A Systematic Review. Nutrients. 2017 Apr 26;9(5):429. doi: 10.3390/nu9050429. PMID: 28445426; PMCID: PMC5452159.
Kimura, K., Ozeki, M., Juneja, L. R., & Ohira, H. (2007). L-Theanine reduces psychological and physiological stress responses. Biological psychology, 74(1), 39–45. https://doi.org/10.1016/j.biopsycho.2006.06.006
Kikuchi, H., Harata, K., Akiyoshi, S., Sagara, T., Madhyastha, H., & Kuribayashi, F. (2022). Potential role of green tea amino acid l-theanine in the activation of innate immune response by enhancing expression of cytochrome b558 responsible for the reactive oxygen species-generating ability of leukocytes. Microbiology and immunology, 66(6), 342–349. https://doi.org/10.1111/1348-0421.12977