Clinically proven* to improve elasticity and reduce fine lines, B·T Fountain ceramides hydrate in synergy with your preferred skincare routine. It's maximum reward for minimum effort.
increase in
skin hydration
Reduction in
wrinkles
Improved skin
Elasticity
*In a randomized double blind placebo controlled clinical trial
ceramides were proven to deliver the above results.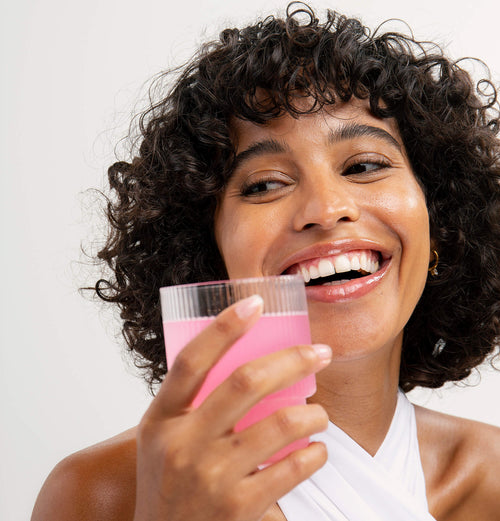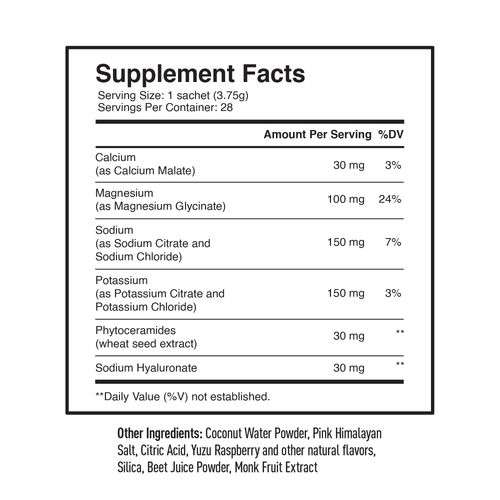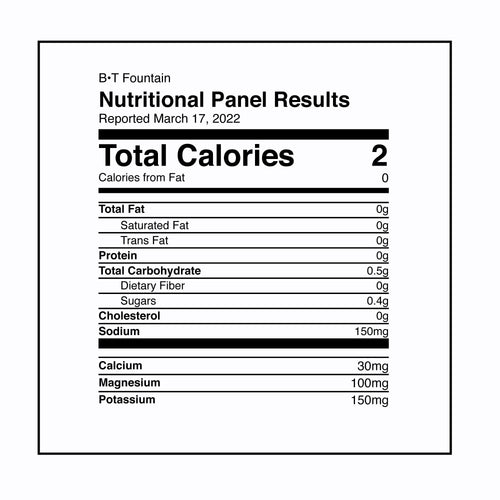 B•T Fountain | Beauty Electrolyte
Restore your skin's moisture and elasticity for a dewy glow from the inside out.
1.
Purchase Type:
Free shipping.
Pause & cancel anytime.
1 carton ship every 30 days
30 Day Money-Back Guarantee
Regain plump dewy skin with this deep-acting berry flavour electrolyte drink. Put dry skin and common skin complaints behind you, thanks to science-backed ceramides and hyaluronic acid. Designed to get results fast.
The benefits of B•T Fountain can be seen after 30 days with consistent use. If you don't experience transformational results, we'll issue you a full refund with our 30 day money-back guarantee.
Calcium (as Calcium Malate), Magnesium (as Magnesium Glycinate), Sodium (as Sodium Citrate and Sodium Chloride), Potassium (as Potassium Citrate and Potassium Chloride), Phytoceramides (from non-GMO wheat seed extract), Sodium Hyaluronate (a premium form of hyaluronic acid), pure coconut water powder, himalayan pink salt, silica, Citric acid, natural yuzu raspberry flavor, beet root juice powder, monk fruit extract.
Enjoy B•T Fountain any time of day to hydrate and repair skin from within. For best results drink 1 packet 1-2 times daily mixed with 12-16oz of cold water to replenish electrolytes and essential trace minerals. Increase when traveling, dehydrated, or during dry months.
85%
agree skin feels
more hydrated
82%
agree skin's appearance
has improved
*Based on a random sample of 81 verified customers of B•T Fountain.
F-SIS™ Technology for enhanced absorption
By gently extracting and preserving the active ingredients we need and distilling them into their most bioavailable form, our innovative technology can deliver the hydration you need, right where you need it. Feel the difference, see the results.
Clinically proven ingredient
B·T ceramides are proven to actively improve skin elasticity and reduce fine lines. Paired with electrolytes and minerals, this powerful combination increases moisture retention and supports a dewy, youthful glow.
30-day results
Science-backed skincare that's simple and effective, B·T Fountain gets fast, visible results. It's maximum reward for minimum effort.
Questions?

We have answers!
B is for Beauty, B is for Baby and youthfulness. Fountain is for fountain of youth, fountain of life. B•T references to the scientific quotient of this breakthrough formula and its holistic approach to total cellular and epidermal hydration. B•T Fountain is a statement that effective skincare results don't necessitate toxic ingredients. Fountain evokes the fountain of youth and the abundance of hydrating actives delivered. Fountain represents a drink that can be consumed freely in plentitude that replenishes and rejuvenates. It is the antithesis of toxic skin treatments.
Ceramides are an important type of lipid, or fatty acid that is naturally found in our skin cells. As well as acting as an essential moisturizer, ceramides are responsible for protecting the skin barrier function, sealing in moisture and preventing any germs from entering. As we age, our natural production slows considerably leaving us vulnerable to dry skin conditions, irritation, fine lines and wrinkles. This deterioration can begin as early as age 20, and is exacerbated by dehydration and environmental conditions – think sun damage and external pollution for starters. Products containing synthetic ceramides can help improve the appearance of your skin by sealing in moisture on the outer layer. B·T ceramides are clinically proven to work in synergy with skin creams and serums by replenishing moisture at a cellular level to visibly reduce fine lines and increase skin elasticity. When it comes to ceramides, more is definitely better!
B·T Fountain is powered by F-SIS technology to enhance absorption and maximize results. In a randomized double blind placebo trial, our patented blend of ceramides were proven to deliver 18% improved skin elasticity and 16% increase in skin hydration with the first 15 days of use. After 60 days of use this had increased to 26% improved skin elasticity, and 21% increased skin hydration.
Face creams and serums work temporarily by leaving the outer skin barrier feeling plumper and more hydrated. By sealing in moisture from the outside, this can help relieve dry, irritated skin, prevent common skin problems from developing – but this is just a temporary fix. B·T Fountain works in synergy with your skincare routine to replenish moisture at a cellular level deep within your body. Natural ceramides and hyaluronic acid work together to strengthen your skin barrier function and encourage moisture retention for a youthful dewy glow.
Hyaluronic acid is a natural fluid that's found around our joints, eyes and skin. Its main function is to keep us well moisturized and it does this job by binding itself to water. In fact, it is capable of binding over 1,000 times its own weight in water – which is great news for plump, smoother skin. Around half of the hyaluronic acid we produce is actually stored in our skin, but as we age these levels starts to decrease. Excessive sunlight, smoke and pollution can all contribute to this process. B·T Fountain contains hyaluronic acid that works in synergy with your topical skincare by locking in moisture from deep within your body.
Our bodies are traditionally quite bad at absorbing the active ingredients we need to thrive from our supplements. To help us get the essentials we need, Pique developed F-SIS technology to deliver unparalleled absorption and maximum results. It works by gently extracting and preserving the active compounds and phytonutrients from our ingredients and distilling them into their most bioavailable form – giving you fast, visible results.
Yes, B•T Fountain is gluten free!
Yes, B•T Fountain is vegan!
B•T Fountain is recommended for all people – whether they have dry, oily, a combination of both or normal complexions – anyone and everyone will benefit from electrolytes and enhanced skin hydration.
The magnesium, calcium, sodium, and potassium are chelated.
The pink salt and potassium chloride are not chelated but are essential minerals.
Our yuzu berry flavor is organic. We are working on our coconut water powder to be organic in the near future as well.
Yuzu is a citrus like fruit from Japan that tastes like a cross between a grapefruit, orange and lime. It brings a bright undertone to help provide a well-balanced flavor to the supplement.