Rejuvenate your gut health
with doctor-formulated teas.
✓ Helps manage cravings
✓ Support calm energy
✓ Maximize your fasting potential
LIMITED TIME SPECIAL OFFER
Unlock 10% off + Gift w/ purchase + free shipping
OFFER ALREADY APPLIED BELOW
Crush Your Fasting Goals Doctor-approved, formulated for results
Pique fasting teas is unlike any other fasting program you can find. Jason Fung, MD, FRCP(C) is the world expert in intermittent fasting and partnered with Pique to deliver high quality tea formulations that support fasting efforts and results.
Additionally, the polyphenols in Pique teas further support thriving gut health, metabolism and digestion, skin health, immune function, and much more!
Shop Now
Pique's 6 Fasting Benefits
Cellular Regeneration
Green tea antioxidants scavenge free radicals and support cellular regeneration and renewal, boosting the health effects of fasting. Fasting for longer periods promotes autophagy – a process where damaged cells 'self-eat' to make way for newer, healthier cells.
Burn Visceral Fat
Visceral or gut fat has been linked to cardiovascular, metabolic and immune disturbances. Polyphenols in tea promote thermogenesis – the process of burning fat for energy. Fasting for longer periods helps target and support the metabolism of gut fat.
Sustain Calm Energy
Listlessness, irritation and hunger are the enemies of fasting and the most common reasons why people end their fasts early. Green tea catechins help satisfy hunger by regulating the hunger-inducing hormone, ghrelin, while l-theanine promotes a calm and relaxed mood. Mellow tea caffeine enables you to continue performing at your peak.
Soothe Digestive System
Gut-nourishing superfoods soothe and energize your digestive system, while providing the feeling of fullness and boosting the health benefits of fasting. Ginger aids digestion, cinnamon supports healthy blood glucose, bergamot promotes cellular renewal and mint suppresses appetite.
Variety From Plain Water
The boredom of drinking water causes many to break their fasts. Having a variety of doctor-approved Fasting Teas to choose not only boosts the results from fasting and satisfies hunger, but provides much needed relief from drinking just plain water during fasts.
Easy and Enjoyable
Unlike vegetable juices, complex fasting mimicking foods or traditional teas, Pique's doctor approved Fasting Teas are delicious, require zero prep, and provide maximized active ingredients. All to support your fasting goals to make fasting an enjoyable and effective experience.
Pique has helped 41,800+ customers around the world with their fasting practice

My Secret Weapon
I am a newbie to Intermittent Fasting so I did some research to find out what supplements I needed to be successful in achieving my goals. I am happy to report that I have been fasting for 6 days and I have not had any cravings at all by purchasing these fasting teas. It is well worth the investment. Do not hesitate in your purchase. - Marie P. |
Verified Buyer

Hallelujah! Delicious and amazingly healthy tea!
I love the flavor of these fasting teas and the convenience of having them either hot or cold. The packets are perfect b/c they're easy to carry along on trips and errands and I just couldn't be more crazy about having found these babies! Each flavor in this bundle is sheer comfort in a mug, or glass! - Traci L. |
Verified Buyer

Love the fasting teas
The fasting teas are very helpful to me as I do my water fasting. I feel very quenched and refreshed. I put two packs in a 32 oz water bottle in the morning and I have 1 pack of the tea at night in hot water for a nice relaxing night. The fasting teas are very nice. - Sharon A. |
Verified Buyer

Love it!
The tea is refreshing, clean tasting, so delicious. It is the perfect complement to my personal fasting journey! - Keturah J. |
Verified Buyer

On the go!
Just started a fasting cleanse and these are so helpful to curb hunger and so easy with tea crystals. Good quality tea. - Chantal D. |
Verified Buyer
Trusted by health & beauty experts
"Pique offers a unique tea blend to make fasting easier and more enjoyable. Their teas extract antioxidants to preserve the inherent power of tea and naturally provide satiety."
Jason Fung, MD
World expert in intermittent fasting
"I love Pique Crystals! With Pique's care and attention to quality, I know I'm getting my tea minus heavy metals, pesticides and other contaminants that hide in traditional tea bags."
JJ Virgin
Celebrity Nutrition and Fitness Expert
"I use Pique regularly during my travels. They have less caffeine than coffee and support my energy levels!"
Dom D'Agostino
3x Feature on Tim Ferriss' Podcast
"I enjoy Pique for their polyphenol content. I appreciate the value of nutrient-dense organic teas made by people who care about their customers."
Mark Sisson
Best Selling Author of The Primal Blueprint
"If you know me, you know I'm a fan of fasting and also a fan of green tea - not only for providing supporting gut health, energy and vitality, but also as a great way to satiate the appetite."
Ben Greenfield
Top 100 Most Influential People in Health and Fitness
"Teas are great for fasting support! Pique are super effective at supporting your fast due to their naturally occurring catechins and polyphenols."
Thomas Delauer
FitnessRX Celebrity Fitness Coach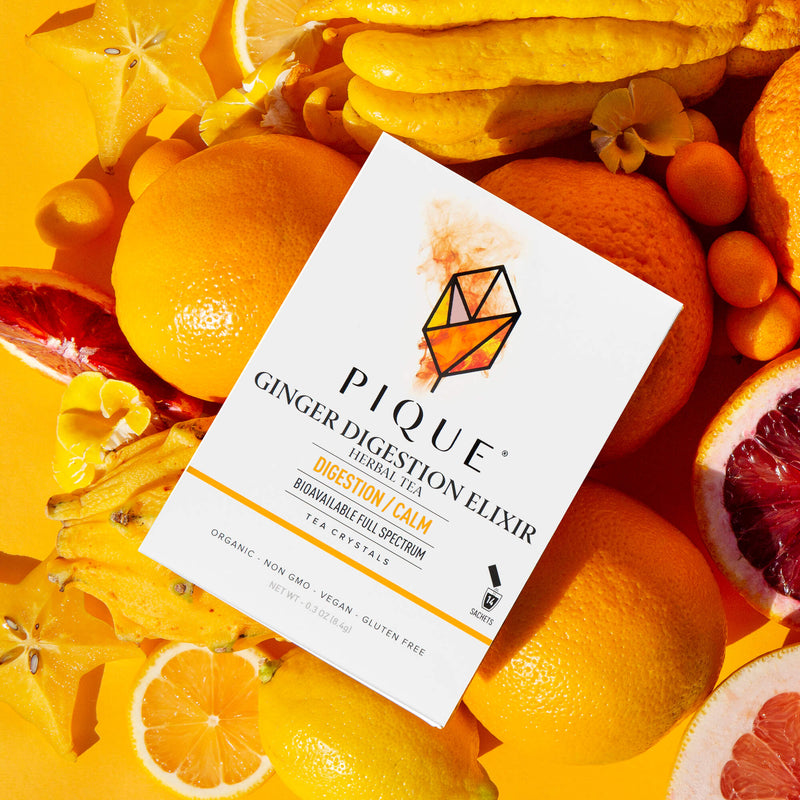 1. Ginger Fasting Green Tea
✓ Smooth digestion. A Traditional Chinese Herbalism formulation of ginger, licorice root, citrus, and mint to support healthy digestion.
✓ Refreshing & satiating. Features a curated blend of bright, palate-pleasing botanicals plus satiating green tea catechins.
✓ Energizing. A moderate dose of green tea caffeine makes this blend the perfect, gentle afternoon pick-me-up.
2. Bergamot Fasting Black Tea
✓ Happy mood. Whole, ground Calabrian bergamot rind boasts unique properties to support a positive mood.
✓ Satisfying. Bold, bright, tangy flavor to delight the palate plus concentrated polyphenol antioxidants to soothe the stomach.
✓ Maximum energy. The only black fasting tea! Black tea contains the highest caffeine content to sail through energy slumps.
Questions?

We have answers!
Our Fasting Teas have been developed together with Dr. Jason Fung, the world-leading expert and 2-time no.1 bestselling author on fasting. These teas have been specifically formulated to help support the fasting experience. They are a blend of organic green teas and a variety of organic plants, roots and herbs specifically chosen to facilitate your fasting journey and make the process easier.
Matcha Green – 105-135mg
Ginger Green – 30-50mg
Bergamot Green – 33mg
Bergamot Black – 37mg
Cinnamon Herbal – 0mg
A variety of citrus, bergamot's flavor is often described as a cross between tart lemon and bitter orange.
The benefits of fasting teas are compounded over time and with consistent use. If you don't experience transformational results, we'll issue you a full refund with our 100% 30 day money-back guarantee. Simply return any unused cartons within 30 days. We'll even provide a free return shipping label!