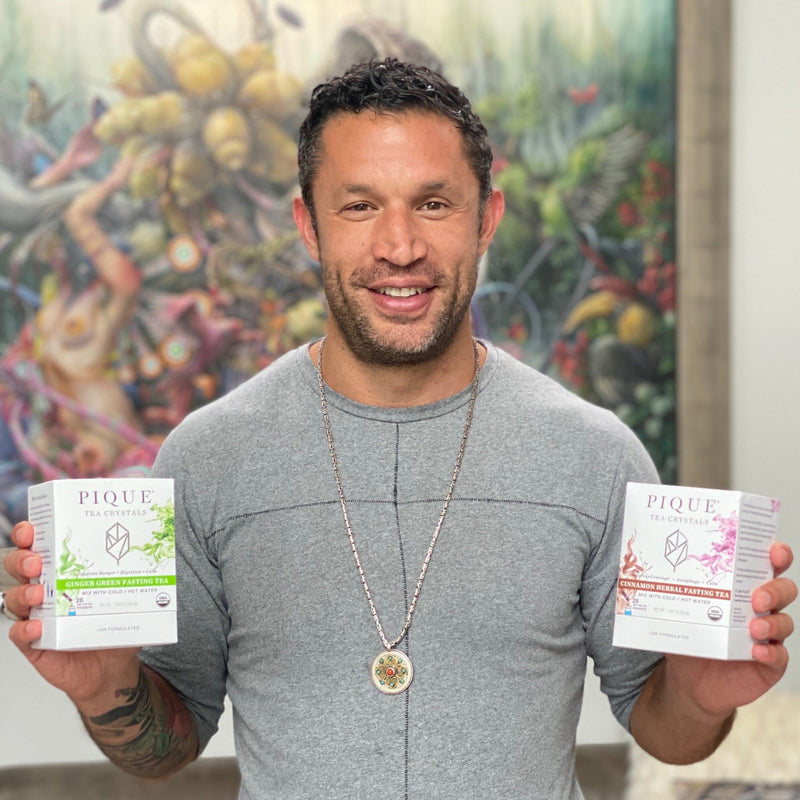 Absolutely love Pique's Fasting Teas!
Speaking of immune health, shout out to my latest sponsor Pique Tea. There is no doubt they have created some of the best teas in the market - they are polyphenol powerhouses that maximize the bioavailability of active plant compounds. For real. They are effective, pure, easy to mix in hot or cold, and are for sure some of the best I've ever tasted for overall health and vitality. I've been enjoying their fasting teas a lot lately. They help me crush my fasts while still supporting solid immune health. I typically have their Matcha Green in the mornings, Cinnamon Herbal at night."
Aubrey Marcus
Fitness Junkie NYT Best Selling Author and Podcast Host
SAVE 5% ON YOUR FIRST ORDER WITH CODE AUBREY
Bergamot Fasting Teas
✓Mood boosting. Whole, ground Calabrian bergamot rind boasts unique mood lifting properties.
✓Satisfying.Bold, bright, tangy flavor to delight the palate plus concentrated polyphenol antioxidants to soothe the stomach.
✓Maximum energy.The only black fasting tea! Black tea contains the highest caffeine content to sail through energy slumps.
Matcha Green Fasting Tea
✓ Concentrated antioxidants. Formulated with our proprietary blend of high-catechin Japanese green Tea Crystals.
✓Mood boosting.Matcha's calming amino acid, L-theanine, plus a double dose of green tea caffeine promotes a unique feeling of zen energy — "zenergy."
✓Calms hunger pangs. With a hint of peppermint tummy-pleasing peppermint. Geishas in Japan actually used to eat mint leaves before dinner so they wouldn't overeat!
Ginger Green Fasting Tea
✓Enhances digestion. A Traditional Chinese Herbalism formulation of ginger, licorice root, citrus, and mint to support healthy digestion.
✓Refreshing & satiating.Features a curated blend of bright, palate-pleasing botanicals plus satiating green tea catechins.
✓Energizing.A moderate dose of green tea caffeine makes this blend the perfect, gentle afternoon pick-me-up.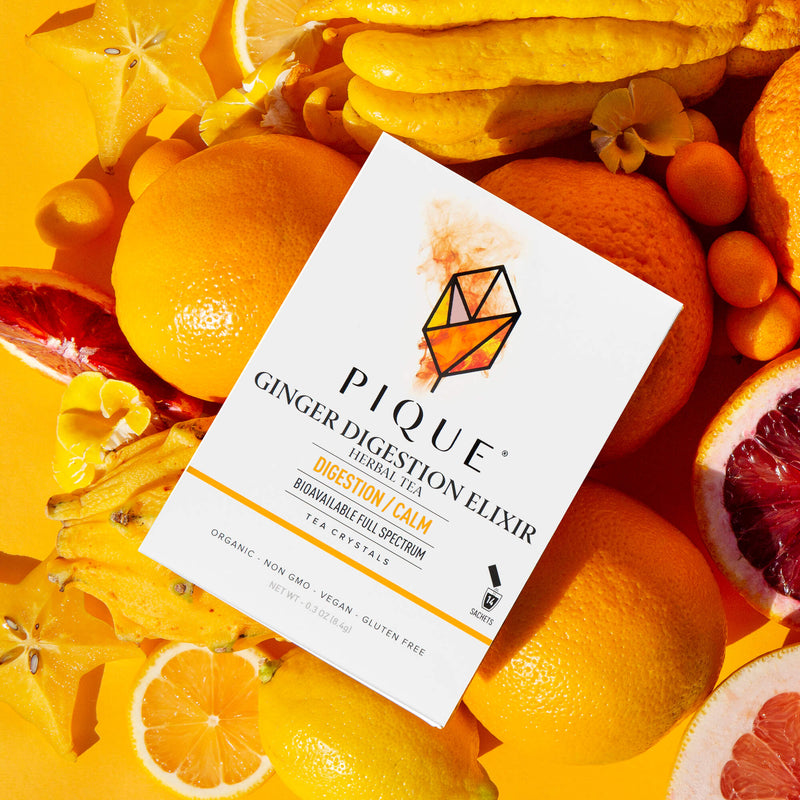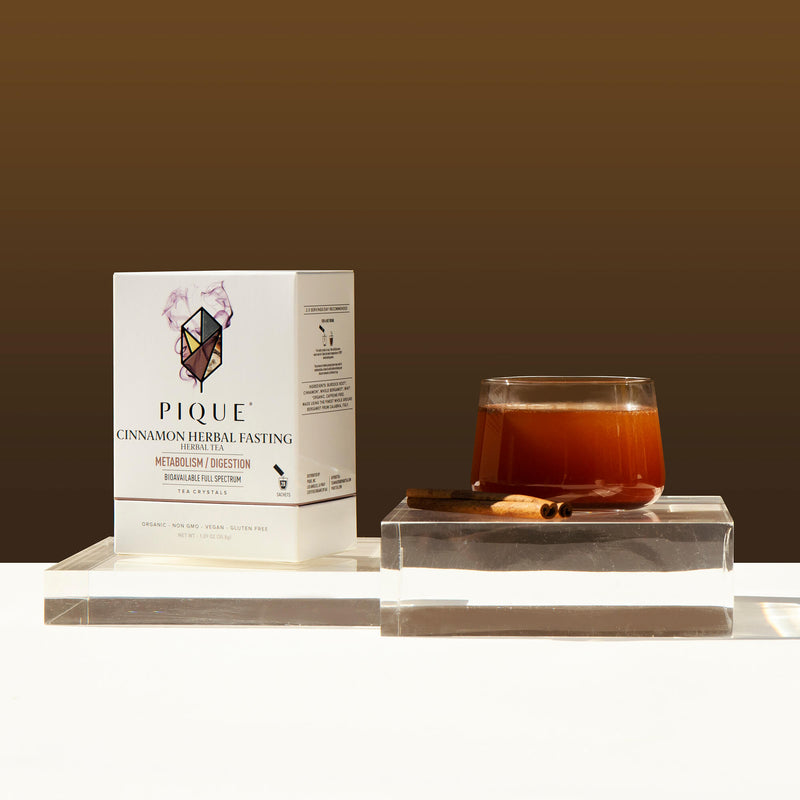 Cinnamon Herbal Fasting Tea
✓Curb cravings. Cassia cinnamon shines front and center to support healthy blood sugar levels and help combat sugar cravings.
✓Caffeine-free.Calming, comforting herbal blend of burdock root, cinnamon, whole Italian Bergamot, and spearmint— with zero caffeine.
✓Naturally sweet.Sweet botanicals help satisfy sugar cravings, without raising your blood sugar for the perfect nighttime treat that won't break your fast.
How to Drink Tea for

Prevention Maximizing Benefits
There are 3 principles to follow to unlock the powerful health benefits of tea:
1. DRINK REGULARLY 2. DRINK ENOUGH 3. DRINK THE RAINBOW
So... how can you get these benefits? By following Pique's Tea Drinking Protocol:
Why Leading Health Experts

Recommend Pique
Effective
Cold Extraction Technology™ preserves active health compounds at maximum potential.
Pure
Triple Toxin Screened for pesticides, heavy metals and toxic mold commonly found in plants.
Accessible
Unparalleled full-spectrum absorbability with no prep or brewing required.
Real customers

real reviews
Trust the Process Risk Free Experience
The benefits of teas are compounded over time and with consistent use. If you follow the Pique Tea Drinking Protocol for 30 days and don't experience transformational results, we'll issue you a full refund with our 100% 30 day money-back guarantee, no questions asked.Simply return any unused cartons within 30 days. We'll even provide a free return shipping label!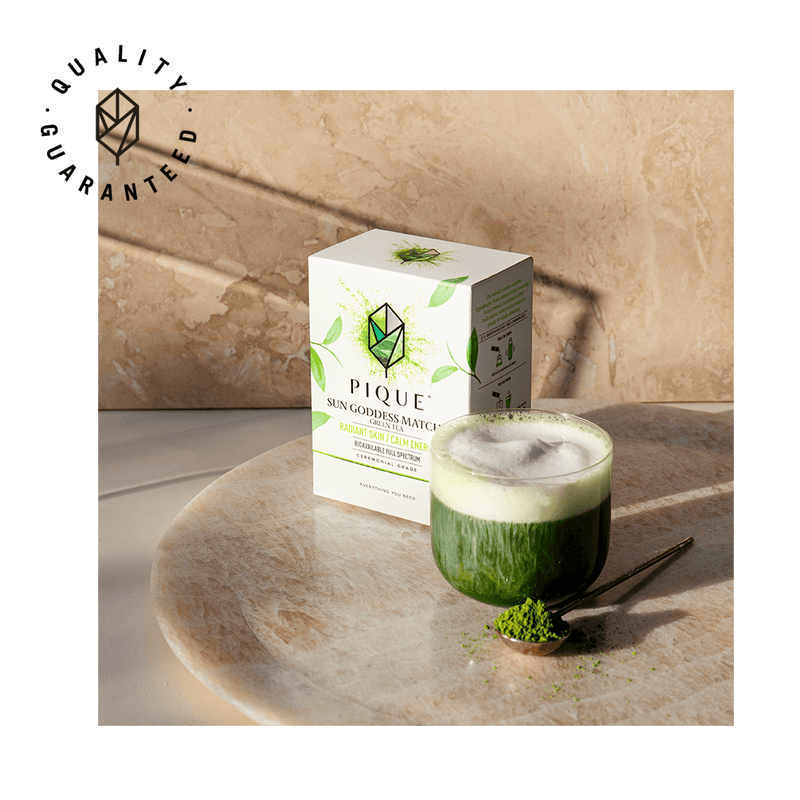 15,000+ Five Star Reviews
Better than coffee!
"I recently gave up coffee, for many reasons, and felt like I could not stand to face a day without my cup of coffee. However, this is even better! I know I'm doing something good for my gut health, and I have such a feeling of wellbeing and balanced alertness. The taste is unparalleled, and because it's pre-measured crystals, always a perfect cup. Thank you Pique!"
Perfect in every way!
"Loving that this is a great way to add probiotic benefits to my daily regimen! The black Pu'er tea is very mild tasting. The green has a slight bitter taste which I especially love. Even more happy that all of Pique Tea options are triple screened for contaminants and impurities since I use them every day. I am adding this tea to my father's daily diet as well."
Powerhouse Tea
"This is a powerhouse tea with a taste unlike any other I've ever tried. When I drink it it I can tell instantly that it is doing something very positive for my entire system especially my digestive system and energy levels. This is a must have tea for your collection and I will definitely continue to use it."
Hi, I'm Pique's Founder, Simon.
I started Pique with one goal: to help everyone unlock the benefits of plants so we can unleash our collective potential.
I spent 2 years searching for a matcha that met Pique's standards of quality. Trying hundreds of the top ceremonial grade matchas from Uji (Kyoto), Yame (Fukuoka) and Zhejiang (China) in the process.
In the process, I discovered the best ceremonial matchas are not organic, and organic matchas are far from being the highest quality.
Which is why I had no choice but to create our own... from scratch...
Starting with rethinking the very standards for high-quality matcha, then identifying the right partners - the most renowned tea farmers and highest-ranked teamasters in Japan - to collaborate with.
Together, we created a scorecard to redefine and standardize the most important parameters for quality in matcha.