Caffeine: Caffeine-Free
L-Theanine: None
Polyphenols: Medium(109-164mg)
Ingredients (all organic*): Organic spearmint
Morning
Afternoon
Evening
For a cold drink. Add to 8oz cold water and shake/stir.
For a hot drink. First add crystals to cup. Then add 8oz warm water and stir. Ideal water temperature is 170°F. Avoid boiling water.
Supports
calm body & mind
(caffeine-free)
Supports
healthy digestion
Cleanse, calm and
refresh
Refreshing, satiating, caffeine-free support for a calm body and mind. Mint has been used for centuries to soothe the gut and support healthy digestion. Ours is USDA certified organic and sourced from the most pristine cultivation region – Trout Lake Valley in Eastern Washington.
What's inside?
Spearmint Herbal Tea
Ingredient Breakdown
Organic Spearmint
Healthy Digestion

Calm

Healthy Metabolism
What's Spearmint Herbal Tea?
Our spearmint is fed with glacial water and grows in soil enriched by volcanic ash in a pristine valley in the Pacific Northwest. Secret tip: Japanese geishas chewed on mint for satiety and calm before meals.
How is Pique different?
Our spearmint is USDA Certified Organic and Triple Toxin-Screened for heavy metals, pesticides, and toxic mold. Cold Extraction Technology™ maximizes phytonutrient potential and absorption. No prep or brewing required.
Ingredient Breakdown
Caffeine: Caffeine-Free
L-Theanine: None
Polyphenols:
Pure, pristine alpine flavor
Invigorate your senses with crisp, sparkling notes of fresh mint and alpine air. Spearmint is softer and sweeter than peppermint, while still boasting the exhilarating, mouth-cooling mint flavor.
"Pique's Radiant Skin Duo is my secret to hydrated skin and it's my favorite part of my morning routine! I have noticed a difference in my skin which is more plump and brighter."
"I've been on matcha for 2 months now. The first month I didn't notice much, but by the second month my skin and energy levels have been improving. I highly recommend it my friends and family."
"Best additions to my daily routine. My skin has never felt more refreshed and never looked this youthful!"
Jessica S.
Verified buyer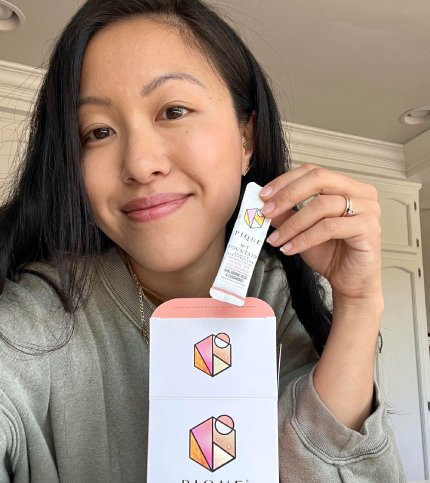 "Great taste and hydrates my body. I also know I can trust Pique in using the highest quality and best ingredients for my skin and body."
"I am so obsessed with all of Pique's products, particularly their B•T Fountain. It gives my skin the hydrated, dewy look from within. It is also great post-workout."
"After seeing all my friends enjoy Pique's B•T Fountain, I knew I had to try it. It really is worth all the hype! It tastes light, and I feel so good about drinking my water everyday."
"I love Pique's products! I can't go anywhere without my Matcha or Daily Immune. This paired with tons of water is the key to glowing and youthful skin, I recommend Pique to all of my friends as well! "
"A staple in my diet recently, I usually add this to a smoothie I make daily and it has improved the hydration in my face exponentially. I see a difference in my appearance if I miss a day taking this. This should be included in everyone's daily routine!"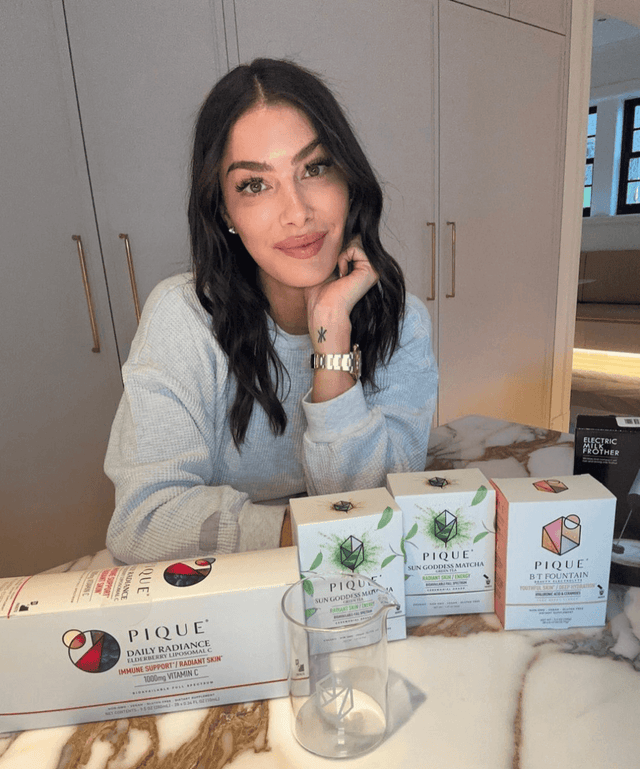 "It's always a great day when my Pique arrives! Their matcha is my all-time favorite and sets the mood every morning!"
Katherine G.
Verified buyer
Total 5 star reviews: 299
Total 4 star reviews: 13
Total 3 star reviews: 8
Total 2 star reviews: 2
Total 1 star reviews: 4
96%
would recommend this product
Taste
Rated 4.9 on a scale of 1 to 5
Quality
Rated 5.0 on a scale of 1 to 5
Results
Rated 4.9 on a scale of 1 to 5
I Drink Pique For

Healthy Digestion,

Fasting,

Radiant Skin,

Immune Support,

Energy

Spearmint Tea

This is so refreshing and light, I love it!

I Drink Pique For

Immune Support,

Radiant Skin

Good

Tastes good and helps balance hormones!

I Drink Pique For

Healthy Digestion,

Radiant Skin,

Immune Support

Love That it can be Hot or Cold

Still loving it!!! Great tasting, Love that's it's Great Quality and soothing

I Drink Pique For

Healthy Digestion,

Immune Support

delicious and calming

the flavor is smooth and calming

I Drink Pique For

Healthy Digestion,

Radiant Skin,

Immune Support

Refreshing

Absolutely love drinking this tea in the evening after dinner. Delicious!!

I Drink Pique For

Fasting

Best tummy helper

I love this your spearmint tea. It helps with an achy stomach and amazing to de bloat.

I Drink Pique For

Healthy Digestion,

Immune Support,

Radiant Skin

Refreshing

Such a refreshing afternoon pick me up. I love this as an afternoon pick me up with out the caffine.

I Drink Pique For

Immune Support,

Healthy Digestion,

Energy,

Radiant Skin,

Fasting

Soothing and Refreshing!

I love this tea! My favorite beverage to sip on throughout the day with a nice minty flavor that's not overpowering. I notice it keeps my digestion in check and relaxes my stomach.

I Drink Pique For

Healthy Digestion,

Immune Support,

Radiant Skin,

Energy

I Drink Pique For

Healthy Digestion

Yummy

Very smooth and yummy! Best mint tea hands down!
Reviews Loaded
Reviews Added
Questions?

We have answers!
Our spearmint is sourced from a small farm in the foothills of the Cascade Mountain Range.
Yes! Our Spearmint Herbal Tea is completely caffeine free!
Spearmint is not only refreshing and tasty, it's also chalk full of amazing health benefits including digestion support and fresh smelling breath! Read more about all the benefits here.
If you are looking to add a sweetener to your tea, we definitely recommend using natural sweeteners like date sugar/syrup, raw honey, and maple syrup which are all excellent choices to add to your tea without altering the benefits. For further reading on sweeteners, check out this article from our blog.
Spearmint Herbal is considered fasting friendly and will not break your fast as it does not have any carbohydrates, proteins, or calories.