"Excellent all around tea that you just cannot stop drinking. The tea is divine. A gold medal winning tea is reserved for the cream of the crop, the best of the best." -Judges' comments
Caffeine: Medium(34-50mg)
L-Theanine: Medium(12-17mg)
Polyphenols: High(215-323mg)
Ingredients (all organic*): Organic jasmine green tea
For a cold drink. Add to 8oz cold water and shake/stir.
For a hot drink. First add crystals to cup. Then add 8oz warm water and stir. Ideal water temperature is 170°F. Avoid boiling water.
Organic jasmine green tea only.
Powerful antioxidants
promote brighter skin
Helps combat
environmental stressors
Provides calm,
sustained energy
Blossom into a healthier you
Support clearer skin and healthy collagen production for a glow from the inside out. Powerful antioxidants like EGCG catechins help cells defend themselves against oxidative stress and support healthy aging. Experience a boost of natural, calm energy and support a balanced mood with amino acids like l-theanine.
What's inside?
Jasmine Green Tea
Ingredient Breakdown
Organic Jasmine
Green Tea
Radiant Skin

Calm Energy

Immune Support
What's Jasmine Green Tea?
An antioxidant powerhouse to help combat environmental stressors and brighten skin. This robust and floral tea will supercharge your mind, body and soul. Leaving you in full bloom.
How is Pique different?
Our Jasmine Green Tea is USDA Certified Organic and Triple Toxin-Screened for heavy metals, pesticides, and toxic mold. Cold Extraction Technology™ maximizes phytonutrient potential and absorption. No prep or brewing required.
Ingredients
Organic jasmine green tea only.
Ingredient Breakdown
Caffeine:
L-Theanine:
Polyphenols:
Award-winning, superior summer florals
A fresh and floral delight. Handpicked, spring-harvest green tea is infused five times with fresh summer jasmine petals. Awarded the Gold Medal at the 2018 Global Tea Championships for flavor that "exceeds expectations and is far superior to the typical flavors seen in the category."
"Pique's Radiant Skin Duo is my secret to hydrated skin and it's my favorite part of my morning routine! I have noticed a difference in my skin which is more plump and brighter."
"I've been on matcha for 2 months now. The first month I didn't notice much, but by the second month my skin and energy levels have been improving. I highly recommend it my friends and family."
"Best additions to my daily routine. My skin has never felt more refreshed and never looked this youthful!"
Jessica S.
Verified buyer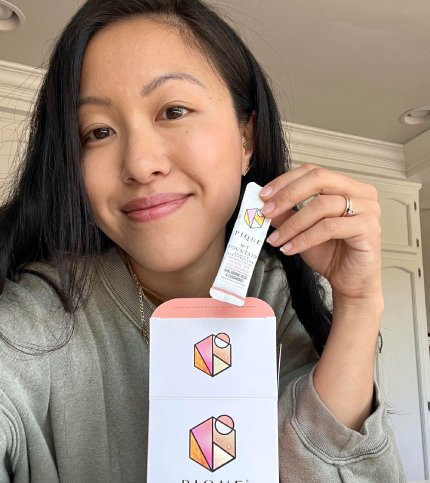 "Great taste and hydrates my body. I also know I can trust Pique in using the highest quality and best ingredients for my skin and body."
"I am so obsessed with all of Pique's products, particularly their B•T Fountain. It gives my skin the hydrated, dewy look from within. It is also great post-workout."
"After seeing all my friends enjoy Pique's B•T Fountain, I knew I had to try it. It really is worth all the hype! It tastes light, and I feel so good about drinking my water everyday."
"I love Pique's products! I can't go anywhere without my Matcha or Daily Immune. This paired with tons of water is the key to glowing and youthful skin, I recommend Pique to all of my friends as well! "
"A staple in my diet recently, I usually add this to a smoothie I make daily and it has improved the hydration in my face exponentially. I see a difference in my appearance if I miss a day taking this. This should be included in everyone's daily routine!"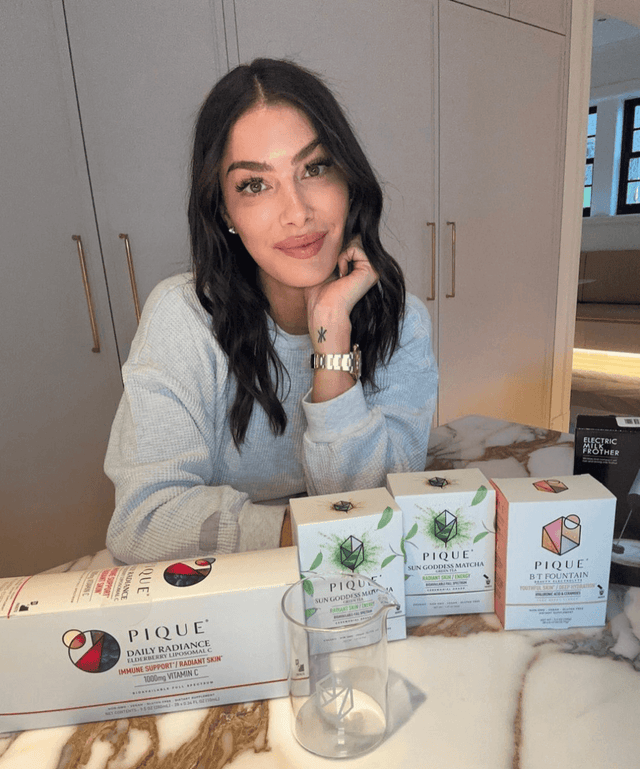 "It's always a great day when my Pique arrives! Their matcha is my all-time favorite and sets the mood every morning!"
Katherine G.
Verified buyer
Total 5 star reviews: 598
Total 4 star reviews: 28
Total 3 star reviews: 10
Total 2 star reviews: 2
Total 1 star reviews: 10
97%
would recommend this product
Taste
Rated 4.9 on a scale of 1 to 5
Quality
Rated 4.9 on a scale of 1 to 5
Results
Rated 4.8 on a scale of 1 to 5
Kristan D.

Verified Buyer

Best Green Tea!

Tastes delicious and so easy to use, in hot water or cold water!

I Drink Pique For

Energy,

Fasting,

Immune Support,

Healthy Digestion,

Radiant Skin

Best Green Tea

This is now my go to green tea! I love the tea..subtle and not bitter/strong. I have ordered this tea twice already!!

I Drink Pique For

Energy,

Immune Support,

Radiant Skin

Delicious and healthy

Love this green tea for healthy digestion. Tastes great either cold or hot.

Best Jasmine Tea

Great taste and very convenient.

I Drink Pique For

Radiant Skin,

Fasting

Favorite

This is our top 3. The taste is light and we cannot keep enough in the house. Hope they never stop making this one.

I Drink Pique For

Radiant Skin,

Energy,

Healthy Digestion,

Immune Support

A must have

I really enjoy sipping on my jasmine in the morning to help me get my day started.

I Drink Pique For

Radiant Skin,

Energy

Michelle M.

Verified Buyer

I Drink Pique For

Fasting,

Immune Support,

Healthy Digestion

Light Sweet Taste

This tea is a light refreshing green tea with a subtle sweetness. It is a perect afternoon pick me up!

My absolute FAV!

Love love love. A light floral scent and a mild green tea taste. Not bitter at all (when I add enough water ;)). By far my favorite to date.

LOVE MY JASMINE TEA

THE REASON I SO LOOK.FORWARD TO WAKING IN THE MORNING & INHALING THE SCENT & TASTE OF JASMINE .... THANK.YOU .....

YOUR LOYAL CUSTOMER ....
Reviews Loaded
Reviews Added
Questions?

We have answers!
Yes, Jasmine Green Tea is the same as our Organic Jasmine Green and Jasmine Tea. We just changed the label to remove redundancy but our Jasmine Green Tea is still certified organic.
Jasmine Green Tea is a fragrant, floral and robust tea that pairs well with spicy food, potatoes and spicy desserts like carrot cake.
Our Jasmine Green Tea contains 34 – 50 mg of caffeine per sachet. What makes our green teas especially cool is that they also contain a high amount of l-theanine and catechins – catechins slow the release of the caffeine in the tea, giving you a 6-hour boost of energy, and l-theanine is an amino acid that promotes mental clarity and a feeling of calmness. So you get a long-lasting and calm energy boost!
Green Tea can be enjoyed throughout the day. We typically recommend green teas in the afternoon for sustained benefits and calming energy.
Yes, this tea is fasting friendly and can be used to help your fasting regimen.
Our Jasmine Green Tea is from a family-owned tea garden situated inside the Mogan Mountain National park in Zhejiang Province, China, above 2000 ft elevation.
Yes! Our Jasmine Green tea is both hot and cold water soluble. Drinking this tea (or any tea) iced will not hinder the benefits.
We unfortunately do not offer this tea in a bulk tin canister. We only currently offer our Sun Goddess Matcha in a bulk tin, but we are planning to offer all of our teas in bulk in the future. Very few manufacturers can do this given the cost of the machinery, and since we work with small farms, they don't have that capability yet. This is an issue that is at the very top of our minds. We take from the earth to produce healing products, leaving a pile of garbage behind that destroys the earth is very, very bothersome to us here at Pique. We want all our products to shift to having tin can options soon.