Mushrooms + complementary plants, professionally blended by top Traditional Chinese Herbalists according to ancient formulas

Powerful adaptogens that help restore balance in your body


Used for centuries as longevity tonics

Helps cells protect themselves against harmful free radicals


No added anything – no preservatives, sugar and artificial sweeteners

Triple Toxin Screened for pesticides, heavy metals and toxic mold
"Pique's Radiant Skin Duo is my secret to hydrated skin and it's my favorite part of my morning routine! I have noticed a difference in my skin which is more plump and brighter."
"I've been on matcha for 2 months now. The first month I didn't notice much, but by the second month my skin and energy levels have been improving. I highly recommend it my friends and family."
"Best additions to my daily routine. My skin has never felt more refreshed and never looked this youthful!"
Jessica S.
Verified buyer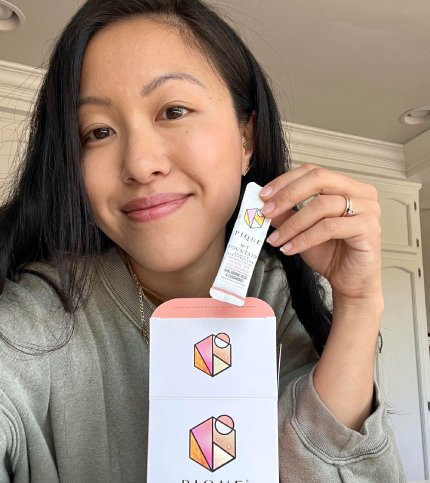 "Great taste and hydrates my body. I also know I can trust Pique in using the highest quality and best ingredients for my skin and body."
"I am so obsessed with all of Pique's products, particularly their B•T Fountain. It gives my skin the hydrated, dewy look from within. It is also great post-workout."
"After seeing all my friends enjoy Pique's B•T Fountain, I knew I had to try it. It really is worth all the hype! It tastes light, and I feel so good about drinking my water everyday."
"I love Pique's products! I can't go anywhere without my Matcha or Daily Immune. This paired with tons of water is the key to glowing and youthful skin, I recommend Pique to all of my friends as well! "
"A staple in my diet recently, I usually add this to a smoothie I make daily and it has improved the hydration in my face exponentially. I see a difference in my appearance if I miss a day taking this. This should be included in everyone's daily routine!"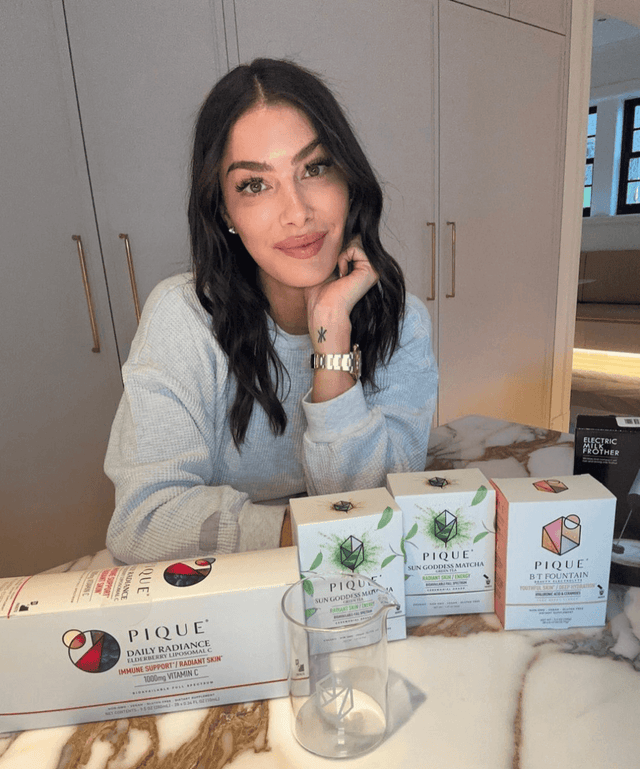 "It's always a great day when my Pique arrives! Their matcha is my all-time favorite and sets the mood every morning!"
Katherine G.
Verified buyer
Total 5 star reviews: 22
Total 4 star reviews: 1
Total 3 star reviews: 3
Total 2 star reviews: 1
Total 1 star reviews: 1
82%
would recommend this product
Love these mushroom elixirs

I wasn't sure I was going to like this product but given the heal benefits of mushrooms I decided to give it a chance and I'm so glad I did. I absolutely love both of these products and they have become part of my daily rituals and I never want to go without them. They both do exactly what they promise - delivering energy for the day and calmness for rest. I also enjoy the taste of both very much. I'm not much of a hot tea drinker so I always mix mine with cold water. As long as I shake them up well I don't have any issues with mixing them in cold water even though hot water is recommended.

Megan P.

Verified Buyer

5 Stars

Mushroom Elixirs Bundle - 10% OFF

Medina V.

Verified Buyer

Better sleep awaits

Have a cup overnite since I recieved of the reshi tea .It really has helped me to sleep ,dreaming again!

Debra S.

Verified Buyer

Great find

Love both of these Mushroom Elixers. I am a die-hard coffee drinker but like these so much I'm thinking of switching the coffee with Chaga in the morning. Reishi is my go-to in the evening for relaxing. Love this bundle!

Jack K.

Verified Buyer

I do not recommend this product

Decent - I wouldn't purchase again

I hate saying this but you asked for a review...It felt like it was doing something but the taste was really not good to buy again

P

Pique

3 years ago

Hi Jack! Thank you so much for taking the time to write a thoughtful review of our TCM Elixirs! I'm sorry that the taste was not for you though. The amount of water used greatly impacts the flavor. We generally recommend that you use 8-12oz of hot water, but if the flavor is too strong, we recommend using more water until your tastebuds adjust. With that said, we offer a customer satisfaction guarantee for orders within 30-days of receiving. Please feel free to reach out to us at teamakers@piquetea.com so we can make this right for you. Thanks again for your review Jack!

Joann G.

Verified Buyer

5 Stars

Mushroom Elixirs Bundle - 10% OFF

Terry D.

Verified Buyer

4 Stars

Mushroom Elixirs Bundle - 10% OFF

Caroline M.

Love the mushroom elixirs!

I really wanted to try the reishi and chaga elixirs for their health benefits, but was afraid I wouldn't like the taste. It turns out that I find them delicious! I like both of them as well as tea, and much more than coffee. And since I have to restrict caffeine more than I would like because I don't metabolize it well, I love that they are caffeine-free. It's great to have something hot to drink in the morning that energizes me and enhances my alertness without any caffeine jitters, and something hot to drink in the evening that is very effective in helping me relax and prepare for sleep.

It's a little earthy

Don't know what I expected, but it was very earthy. I really didn't like the first sip. But it grew on me, and I finished it. It's not bad, actually, I just wasn't prepared for that flavor.

P

Pique

3 years ago

Hi Janet, We're sorry to hear our teas haven't worked out for you. Is there any way our team may help you enjoy your teas better than you have been? If you wish to make a return, please follow the steps for a refund through our Returns Center: https://piquetea.returnly.com/ or contacting us at teamakers@piquetea.com.I hope there's something we can do to help you enjoy your teas before a return, and thank you for your very valuable feedback.

Different in a good way

What a beautiful tea this is. I almost want to call it a meal because it is full and rich. I especially enjoy the calming effect it has on my body and look forward to having a cup in the evening. I am new to the world of mushrooms, but I'm catching up quickly. I would recommend this tea to anyone who is curious about its health benefits and taste.
Reviews Loaded
Reviews Added
Green Fermented
For
__type1:Radiant Skin

,

__type2:Immune Support

,

__type3:Calm Energy
28 Servings
Verified Buyer
Love the taste and have already noticed an improvement in digestion . Will definitely continue and hopefully improve my skin as well.
Caffeine-Free
Mushroom
For
__type1:Rejuvenation

,

__type2:Immune Support

,

__type3:Calm
28 Servings
Verified Buyer
SHOULD BE CALLED REISHI SLEEPYHEAD TEA
This tea really helps to relax me and improve the quality of my sleep! I have one cup about an hour before bed and works like a "Dream"- no pun intended!
Caffeine-Free
Mushroom
For
__type1:Rejuvenation

,

__type2:Calm Energy

,

__type3:Immune Support
28 Servings
Verified Buyer
Enjoying this instead of the usual cup of coffee. It's healthier and I don't even miss coffee! Plus I get a boost of energy!
Questions?

We have answers!
Both matcha and green tea begin as the Camellia Sinensis plant. The main difference starts with how the plant is grown and processed. Matcha tea is shade grown and ground to a fine powder – you are essentially consuming whole tea leaves. The plant intended for green teas, on the other hand, is traditionally grown and harvested. Once harvested, the leaves are steamed to stop oxidation and then dried. The dried leaves are broken up for tea bags or carefully packaged as loose leaf tea, ready to steep. For more information about this, please visit our article 5 Key Differences Between Matcha and Green Tea.
We source only the finest organic loose leaf grade tea leaves and then we cold brew them for up to 8 hours to extract all the beneficial compounds. Then, through a combination of pressure and dehydration at a low temperature, our Tea Crystals emerge. Cold Brew Crystallization preserves up to 12x the nutrient content compared to other tea.
Drinking any of our teas as an iced tea will not negate the benefits found in our teas! We do recommend not using water that is too hot, however. We recommend a maximum temperature of 170°F for green teas and 180°F for black and herbal teas.
Some of our teas are both hot and cold water soluble, and some are hot water soluble only. With that said, you can enjoy any of our teas as an iced tea! Just simply mix the Tea Crystals with an ounce or so of hot water (but not boiling!), then add ice and cold water as you'd like, and enjoy! Please let me know if you have any other questions we can help with, we're always happy to!
All of our teas are free of peanuts, tree nuts, and coconuts. Our operations and facilities and packaging sites do not come in contact with these products, but we cannot make any guarantee for serious allergen conditions from external variables, as our facilities are not officially certified allergen-free.
When you order from Pique Tea, your complete satisfaction is our highest priority. We understand it can sometimes be difficult to make a purchase if you have not been able to previously sample the teas. Our 30-Day Satisfaction Guarantee helps you purchase your teas risk-free: if you're unhappy with your purchase made from our main store, you may return your package to us for a refund anytime within the first 30 days of your purchase. We'll even provide a free return shipping label!