Caffeine: High(54-82mg)
L-Theanine: High(26-39mg)
Polyphenols: High(195-293mg)
Ingredients (all organic*): Organic Ceremonial Grade Japanese matcha
For a cold drink. Add to 12oz cold water and shake/stir.
For a hot drink. First add matcha to empty cup. Then add 12oz warm water and stir. Ideal water temperature is 140°F-150°F. Avoid boiling water.
2-3 servings per day recommended.
Health Benefits
Immune
Support
Radiant
Skin
Calm
Energy
Health Benefits
Immune
Support
Radiant
Skin
Calm Energy
Calm energy,
without
the caffeine crash
Powerful
phytonutrients promote
a radiant complexion
Supports skin
elasticity and healthy
collagen levels
An elixir of youth for your
skin, body and mind
Radiate with authentic beauty – EGCG firms and brightens skin, while chlorophyll clarifies. The combination of caffeine and catechins supports lipid metabolism and helps curb cravings. Finally, l-theanine promotes calm and balance.
What's inside?
Sun Goddess Matcha
Ingredient Breakdown
Sun Goddess Matcha
Radiant Skin

HEALTHY METABOLISM

Calm Energy
What's Sun Goddess Matcha?
Sun Goddess Matcha is organic, ceremonial-grade matcha made by third generation teamasters, using 130-year-old techniques.
Our matcha is sourced from Kagoshima, situated in a lush valley at the southernmost tip of the Japanese archipelago – the furthest distance from environmental toxins – the source of this matcha is unrivaled in purity. Our tea farm is located high in the mountains where cooler temperatures are a natural insect repellent. Legend has it that the SUN GODDESS Amaterasu appeared at a volcano within sight of our tea gardens and blessed the land with pure light.
How is Pique different?
Our matcha trees are cultivated with 35% longer shading periods to maximize phytonutrient potential. It is also Quadruple Toxin-Screened for pesticides, heavy metals, toxic mold, and radioactive isotopes.
Ingredients
100% organic ceremonial grade matcha from Japan.
Ingredient Breakdown
Caffeine:
L-Theanine:
Polyphenols:
Teamaster-approved taste
Our matcha is a cult favorite thanks to its unrivaled umami flavor (the taste of l-theanine) – boasting a delicately fresh and creamy rich taste – and delivering the quality and flavor of the most exquisite matcha used in Japanese tea ceremonies. It's the perfect morning or afternoon pick-me-up for an unrivaled antioxidant infusion for radiant skin, healthy metabolism, balanced mood and calm energy.
Trusted by
health & beauty experts
"I was blown away by the purity, simplicity and health benefits of Pique. These teas are a simple, natural and effective way to support gut health."
Mark Hyman, MD
13x New York Times Bestselling Author
"Beauty starts from within. I recently discovered Pique when I opened my own office and wanted to ensure a mess free space as there's nothing I dislike more than seeing wet tea bags lying around. Insert Pique :) I first fell in love with their delivery system only then to fall in love with their products."
Dr. Shereene Idriss M.D.
Board Certified Dermatologist
"I've tried tons of 'premium' matchas. Sun Goddess Matcha is the one I trust for its unrivaled purity. No other matcha does more to energize the body, focus the mind, and build internal health."
Sara Gottfried, MD
3x New York Times Best Selling Author
"I feel good every time I drink it! Pique makes it extraordinarily convenient to drink – I just mix it in with hot or cold water, shake it up, and voila! An exquisite and deeply nourishing drink."
Ocean Robbins
Founder of Food Revolution Network
"Pique Teas are a tremendous source of polyphenols, wonderful for anyone with gut issues. I use them in my clinical practice. I use them for myself. Their teas have more polyphenols and catechins than any regular brewed tea and are triple screened. I love Pique Teas!"
Terry Wahls, MD
Clinical professor of medicine at the University of Iowa
"Pique has been my go-to brand for high quality teas for years. I drink about 1-2 cups every single day. They have antioxidants to help support healthy radiant skin and make such a delicious treat! I can't get enough of them."
Andrea Suarez, MD
Board Certified Dermatologist
"I've been loving Pique's Daily Radiance. They contain both vitamin C and elderberry for antioxidant support and are maximized for absorption, which means you actually get the most benefits of these two powerhouses."
Kelly LeVeque
Holistic Nutritionist
"Pique's Radiant Skin Duo is my secret to hydrated skin and it's my favorite part of my morning routine! I have noticed a difference in my skin which is more plump and brighter."
"I've been on matcha for 2 months now. The first month I didn't notice much, but by the second month my skin and energy levels have been improving. I highly recommend it my friends and family."
"Best additions to my daily routine. My skin has never felt more refreshed and never looked this youthful!"
Jessica S.
Verified buyer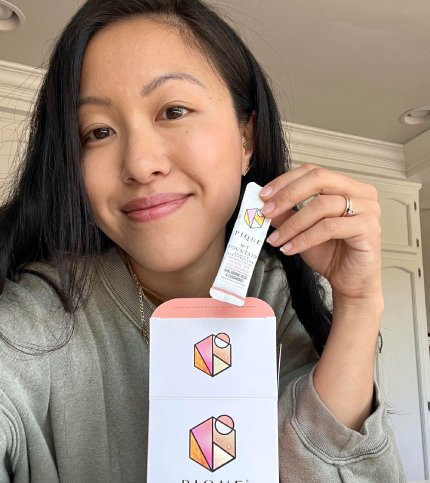 "Great taste and hydrates my body. I also know I can trust Pique in using the highest quality and best ingredients for my skin and body."
"I am so obsessed with all of Pique's products, particularly their B•T Fountain. It gives my skin the hydrated, dewy look from within. It is also great post-workout."
"After seeing all my friends enjoy Pique's B•T Fountain, I knew I had to try it. It really is worth all the hype! It tastes light, and I feel so good about drinking my water everyday."
"I love Pique's products! I can't go anywhere without my Matcha or Daily Immune. This paired with tons of water is the key to glowing and youthful skin, I recommend Pique to all of my friends as well! "
"A staple in my diet recently, I usually add this to a smoothie I make daily and it has improved the hydration in my face exponentially. I see a difference in my appearance if I miss a day taking this. This should be included in everyone's daily routine!"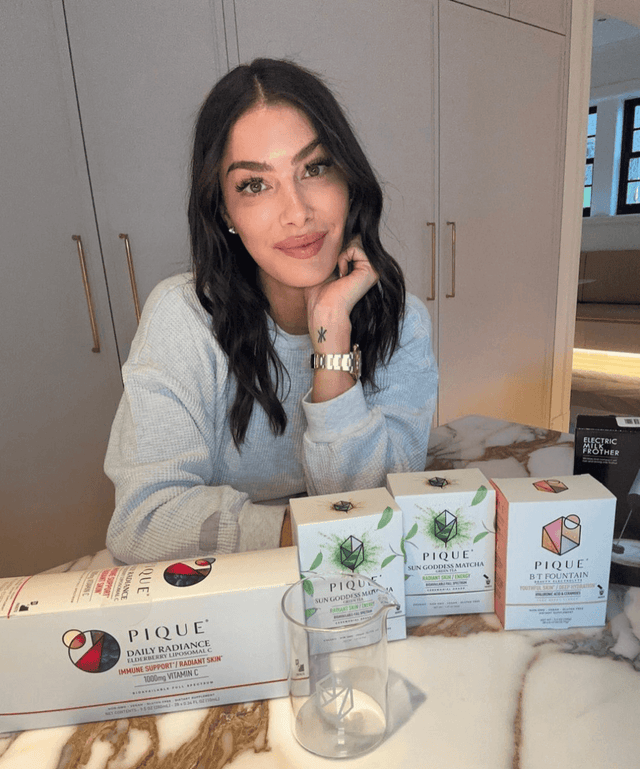 "It's always a great day when my Pique arrives! Their matcha is my all-time favorite and sets the mood every morning!"
Katherine G.
Verified buyer
Total 5 star reviews: 23
Total 4 star reviews: 0
Total 3 star reviews: 0
Total 2 star reviews: 0
Total 1 star reviews: 0
100%
would recommend this product
Amazing!!

I have fallen in live with this Matcha, I now cannot start my day without it. It tastes wonderful and I feel wonderful as well. I have never felt better and am no longer drinking coffee.

Love this matcha

Tastes great with no bitterness! Also I love the individual packets for no mess and ease!

Best matcha ever

Literally the only matcha I'll buy. It's simply the best

So Healthy and great for you!-

Love this product! Easy to add every day to hot or cold drinks. I put it in my water bottle with lemon, etc. i feel healthier and the skin on my face looks better!

Michelle M.

Verified Buyer

Love it

We love love love this product. My kids and I all drink it. We love making Mint Matcha lattes.

Amazing

This Matcha is the best! I have all day sustained energy and my skin has never looked better!! It's worth every Penny!

Sun goddess matcha

I love piques matcha. Not only does it have great flavor but I love that it is tested for mold and other toxins. I also love that I get a really clean energy from it with no jitters or crash. Thanks so much Pique for the quality product.

Love it!!

Love my Pique Sun Goddess Matcha! I drink it everyday and I feel so much better!

The BEST Matcha

Love that it comes individually sealed for freshness. Color is stunning. Taste is impeccable. 5 stars!!

Sun Goddess Matcha x1

I love the Sun Goddess Matcha x 1 - I have a monthly subscription
Reviews Loaded
Reviews Added
Questions?

We have answers!
Our general recommendation to make your matcha in the traditional way, we suggest putting the powder in your cup and then adding hot or cold water and mixing it right away for the best results. We recommend using a bamboo whisk for a frothy traditional matcha, but you can also use a kitchen whisk or a fork with good results. Here's a video of our founder, Simon, preparing ceremonial matcha:
You can also put your matcha powder in a bottle of water (cold if preferred) and shake it to mix for an on-the-go option. Water temperature will make a big impact on the taste of our teas. Ideal hot water temperature for matcha is between 140°-150°F and we strongly recommend not using water any hotter than 170°F.
Most people find matcha to have a strong, savory, grassy flavor, similar to wheatgrass or even spinach. However, premium matcha like our Sun Goddess Matcha is less grassy and has balanced flavors with layers of unfolding nuance and complexity. There are a lot of factors that differentiate premium matcha from common matcha. For more information about premium matcha, please check out our Insider's Guide
Both matcha and green tea begin as the Camellia Sinensis plant. The main difference starts with how the plant is grown and processed. Matcha tea is shade grown and ground to a fine powder – you are essentially consuming whole tea leaves. The plant intended for green teas, on the other hand, is traditionally grown and harvested. Once harvested, the leaves are steamed to stop oxidation and then dried. The dried leaves are broken up for tea bags or carefully packaged as loose leaf tea, ready to steep. For more information about this, please visit our article 5 Key Differences Between Matcha and Green Tea.
Our Sun Goddess Matcha is made from 9th-degree tea masters in Kagoshima, Japan, and is one of the cleanest and purest organic matcha green teas you can find. It contains only one ingredient: ceremonial matcha green tea and is quadruple toxin screened for heavy metals, toxic molds, radioactive isotopes, and pesticides.
Yes. Our Sun Goddess Matcha is fasting-friendly and will help with your fasting regimen. Tea 'technically' breaks a fast but is nevertheless recommended by doctors and nutritionists alike because they help activate some of the desired effects of fasting, such as increasing caloric burn and burning fat for energy.
If preparing matcha the traditional way does not work for you as a beginner, we recommend starting out by getting your palate accustomed to matcha. You can make matcha flavored drinks such as our Sun Goddess Matcha Latte You can also find other matcha recipes here.
Matcha is whole tea leaves that are ground to a fine powder. Since matcha is made from whole tea leaves, this is completely natural to expect as matcha never fully dissolves 100% like some of other brewed teas will. In fact, this is a good sign that it's real matcha!
Because matcha is made from whole tea leaves, you are getting the benefits of the tea and the leaf! Matcha has many different benefits – it is loaded with catechins, which fight against free radicals in the body and help to neutralize the many threats they pose. It also contains a high amount of l-theanine, which are amino acids that promote calm and support mental performance.
Though matcha powder grades are not regulated and therefore may be inconsistent, the two categories you're most likely to come across are culinary and ceremonial grades.
Culinary matcha powder is meant specifically for use in food, like in desserts, or other baked goods. It is typically less expensive since it's intended for use in food or recipes, not drinking. The flavor profile is not as good as ceremonial grade since you want a different flavor result when baking or cooking with matcha. It'll provide the color and flavor, but the quality of the plant, the growing practices, and the process of grinding it into powder will not be as high of a standard as ceremonial.
Ceremonial grade, on the other hand, is meant to be drunk on its own, whisked into hot water the way that traditional matcha is prepared in Japanese tea ceremonies. Ceremonial grade matcha indicates higher quality and better drinking experience.
Our Sun Goddess Matcha is sourced from a lush valley at the southernmost tip of the Japanese island chain, and is a ceremonial grade matcha. It is the furthest distance from environmental toxins and neighbors with Okinawa (home to some of the longest living people on Earth). The source of our matcha is more pristine and untouched than any other. We collaborated with Mr. Mori, a 9th-degree teamaster, to ensure you get only the ceremonial grade matcha following a scoresheet designed by them. It is also Quadruple Toxin Screened for heavy metals, toxic molds, pesticides, and radioactive isotopes.