Caffeine: Caffeine-Free
L-Theanine: None
Polyphenols: None
Ingredients (all organic*): Organic jujube date, goji berry*, reishi*, monk fruit*
For a hot drink. First add crystals to cup. Then add 8oz hot water and stir. Ideal with hot or boiling water.
Jujube date*, goji berry*, reishi*, monk fruit*.
*Organic.
Supports a healthy
immune system
Supports
a calm body & mind
Supports
renewal and
rejuvenation
A rested and
rejuvenated

you

Nourish and protect your body from head to toe with the mushroom of immortality. Perfect for unwinding and relaxing – adaptogenic reishi has been used for centuries to support calm and renewal from within. Formulated for results with sweet jujube date and goji berries. Superfood antioxidants for powerful immune support.
What's inside?
Reishi Calm Elixir
Ingredient Breakdown
Reishi Calm Elixir
Rejuvenation

Immune Support

Calm
What's Reishi Calm Elixir?
An adaptogenic blend of reishi mushroom, goji berry and jujube to support immune function, relax the mind and replenish the spirit. For deeper, more restful sleep and total rejuvenation from the inside out.
With legendary properties for promoting radiant health, medicinal mushrooms replenish your lifeforce (Qi), while supporting renewal and regeneration. These Elixirs are made according to ancient formulas used for hundreds of years and blended by certified Traditional Chinese Herbalists. They are designed for sustained results and long-term health benefits.
How is Pique different?
Our Reishi Calm Elixir is USDA Certified Organic and Triple Toxin-Screened for heavy metals, pesticides, and toxic mold. Cold Extraction Technology™ maximizes phytonutrient potential and absorption. No prep or brewing required.
Ingredients
Jujube date*, goji berry*, reishi*, monk fruit*.
*Organic.
Ingredient Breakdown
Caffeine: Caffeine-Free
L-Theanine: None
Polyphenols: None
Your every day indulgence
Smooth and seductive with deep caramel notes from sweet jujube dates. Reishi adds complexity and balance with its earthy raw undertones while goji berries offer just a hint of tang. An irresistibly indulgent superfood nightcap.
"Pique's Radiant Skin Duo is my secret to hydrated skin and it's my favorite part of my morning routine! I have noticed a difference in my skin which is more plump and brighter."
"I've been on matcha for 2 months now. The first month I didn't notice much, but by the second month my skin and energy levels have been improving. I highly recommend it my friends and family."
"Best additions to my daily routine. My skin has never felt more refreshed and never looked this youthful!"
Jessica S.
Verified buyer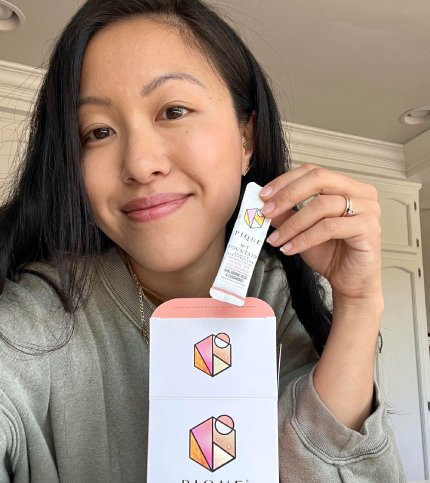 "Great taste and hydrates my body. I also know I can trust Pique in using the highest quality and best ingredients for my skin and body."
"I am so obsessed with all of Pique's products, particularly their B•T Fountain. It gives my skin the hydrated, dewy look from within. It is also great post-workout."
"After seeing all my friends enjoy Pique's B•T Fountain, I knew I had to try it. It really is worth all the hype! It tastes light, and I feel so good about drinking my water everyday."
"I love Pique's products! I can't go anywhere without my Matcha or Daily Immune. This paired with tons of water is the key to glowing and youthful skin, I recommend Pique to all of my friends as well! "
"A staple in my diet recently, I usually add this to a smoothie I make daily and it has improved the hydration in my face exponentially. I see a difference in my appearance if I miss a day taking this. This should be included in everyone's daily routine!"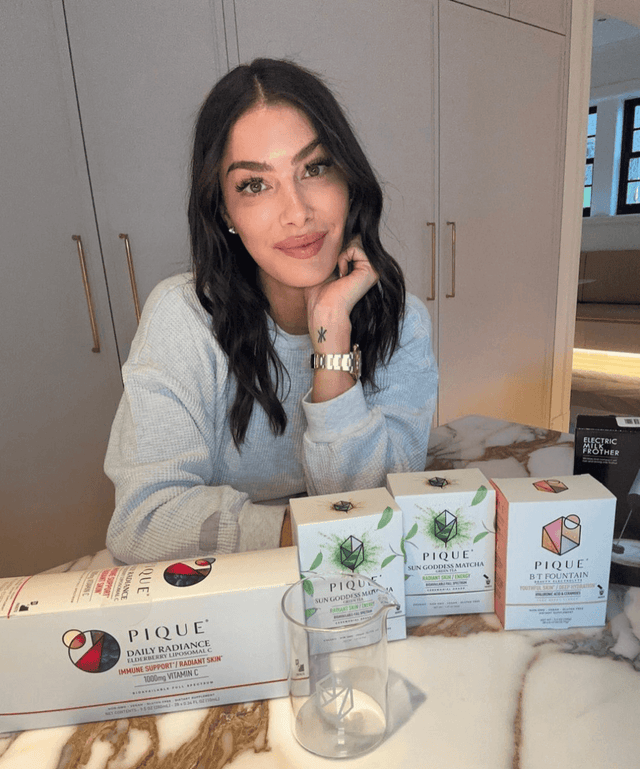 "It's always a great day when my Pique arrives! Their matcha is my all-time favorite and sets the mood every morning!"
Katherine G.
Verified buyer
Total 5 star reviews: 93
Total 4 star reviews: 5
Total 3 star reviews: 11
Total 2 star reviews: 1
Total 1 star reviews: 7
83%
would recommend this product
Taste
Rated 4.4 on a scale of 1 to 5
Quality
Rated 4.8 on a scale of 1 to 5
Results
Rated 4.4 on a scale of 1 to 5
I Drink Pique For

Healthy Digestion,

Energy,

Immune Support

Love this tea 🩶

This tea is so delicious. It has a nutty, sweet flavor with the same aroma. I mix mine with collagen powder, vanilla, honey and almond milk. It is divine!!! It mixes easily with hot water or milk and is perfect for travel. For a treat at nighttime, I use a tsp of cacao powder for that extra nudge to dreamland. I just adore this tea!!!

Everyone's Favorite!

I have yet to find someone who does not like this! Most say it's their favorite, it's pretty much the Michael Jordan of its class.

My Go-to Tea

Reishi calm elixir has become my go-tea these past few years. At first, I enjoyed its deep calming effect before bed, but soon learned this team made sense all day long. I love the nutty but subtle mushroom taste and usually add a touch of honey as well.

The little packets are so convenient that I take it with me everywhere I go!

I Drink Pique For

Fasting,

Healthy Digestion

Reishi calm Elixir review

Reishi calm elixir is delicious and relaxing. I enjoy drinking it every night before bed.

I Drink Pique For

Immune Support,

Radiant Skin,

Healthy Digestion,

Energy,

Fasting

Sleep

I take this every night to help calm my system & aid with my sleep! It's part of my go-to night routine. The flavor is a bit interesting to get used to. I like it now.

I Drink Pique For

Energy,

Immune Support,

Healthy Digestion

Delicious

So glad it came back in stock!

I Drink Pique For

Radiant Skin,

Energy,

Immune Support

My favorite night time drink

Slightly sweet and comforting I love adding a dash of oat milk to my tea and drink in the evening. it's delicious!

I Drink Pique For

Healthy Digestion,

Immune Support,

Radiant Skin,

Energy

Delicious

So so good! I always look forward to my evening tea. I add a little milk!

I do not recommend this product

I Drink Pique For

Radiant Skin,

Healthy Digestion,

Immune Support

Taste awful

Not a fan. Taste awful and don't notice any difference.

P

Pique

2 months ago

Thank you for your feedback on our Reishi Calm Elixir! We sincerely apologize that the taste did not meet your expectations. We understand that taste preferences can vary, and we appreciate your honest opinion. If you would like to explore other options from our tea collection, please feel free to contact us at care@piquelife.com. We will gladly assist you with the exchange process!
Reviews Loaded
Reviews Added
Questions?

We have answers!
Reishi is excellent for promoting a feeling of calm and relaxation.
We love this tea in the evening to promote a feeling of calm before sleep! With that said, as this tea is caffeine free, it can be enjoyed at anytime of day when you need some calming energy.
Reishi is widely used and appreciated for its adaptogen properties which help support the stress response, promoting a feeling of calm. Reishi also helps support a healthy immune system.
Yes, our Reishi Calm Elixir is completely caffeine-free.
As reishi has naturally occuring calories (<5 kcal) it is not considered fasting friendly.
Reishi Calm Elixir contains: jujube date, goji berry, reishi, and monk fruit - all organic and Triple Toxin Screened of course!