For a cold drink. Add to 8oz cold water and shake/stir.
For a hot drink. First add Holi Hoji to cup. Then add 8oz hot water and stir. Ideal water temperature is 180°F. Avoid boiling water.
Catechins to support
digestion
Flavonols to support
metabolic function
L-theanine promotes
calm and balance
Refresh

and

rebalance

with this low caffeine tea

Drink Holi Hoji all day every day – and enjoy the natural health benefits of green tea with this low-caffeine option. With catechins and flavonols to support digestion and metabolic function, Holi Hoji is the perfect pick-me-up – but with just 1/10 the caffeine of coffee, and 1/5 the caffeine of Matcha. The ideal way to re-energize late in the day or digest a heavy meal, it's your seasonal cup of choice to keep you calm and warm your insides.
What's inside?
Holi Hoji
Ingredient Breakdown
Holi Hoji
Boost metabolism

Support digestion

Healthy Immunity
What's Holi Hoji?
Holi Hoji is made from Japanese green tea leaves that are fed by spring waters and harvested from volcanic soil. Steamed, rolled and dried, the leaves are expertly roasted to transform the tea into a warm amber color, while reducing caffeine content. Holi Hoji is sourced from Kagoshima, a lush valley at the southernmost tip of the Japanese archipelago, the furthest distance from any environmental toxins. This is the perfect way to refresh, rejuvenate and recharge in the afternoons and evenings.
Ingredients
Organic Japanese Hojicha.
Ingredient Breakdown
Caffeine:
L-Theanine:
Polyphenols:
The perfect balance
This tea is exceptionally easy to drink at all occasions and at any time of the day, with or without food of any kind. A mild, refreshing tea with the subtlest nutty and cocoa undertones drawn out by high temperature roasting. It is deliciously smooth, rebalancing, nourishing and hydrating.
"Pique's Radiant Skin Duo is my secret to hydrated skin and it's my favorite part of my morning routine! I have noticed a difference in my skin which is more plump and brighter."
"I've been on matcha for 2 months now. The first month I didn't notice much, but by the second month my skin and energy levels have been improving. I highly recommend it my friends and family."
"Best additions to my daily routine. My skin has never felt more refreshed and never looked this youthful!"
Jessica S.
Verified buyer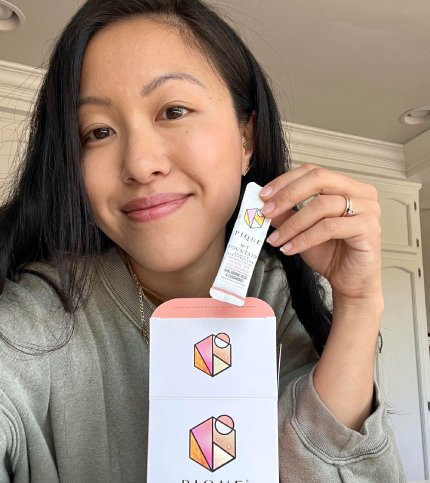 "Great taste and hydrates my body. I also know I can trust Pique in using the highest quality and best ingredients for my skin and body."
"I am so obsessed with all of Pique's products, particularly their B•T Fountain. It gives my skin the hydrated, dewy look from within. It is also great post-workout."
"After seeing all my friends enjoy Pique's B•T Fountain, I knew I had to try it. It really is worth all the hype! It tastes light, and I feel so good about drinking my water everyday."
"I love Pique's products! I can't go anywhere without my Matcha or Daily Immune. This paired with tons of water is the key to glowing and youthful skin, I recommend Pique to all of my friends as well! "
"A staple in my diet recently, I usually add this to a smoothie I make daily and it has improved the hydration in my face exponentially. I see a difference in my appearance if I miss a day taking this. This should be included in everyone's daily routine!"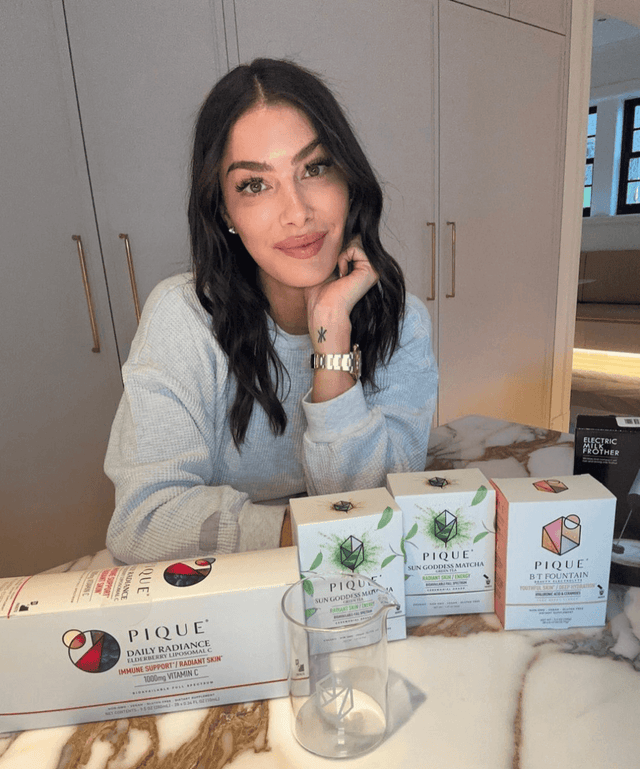 "It's always a great day when my Pique arrives! Their matcha is my all-time favorite and sets the mood every morning!"
Katherine G.
Verified buyer
Total 5 star reviews: 43
Total 4 star reviews: 12
Total 3 star reviews: 0
Total 2 star reviews: 1
Total 1 star reviews: 2
95%
would recommend this product
Taste
Rated 4.5 on a scale of 1 to 5
Quality
Rated 4.8 on a scale of 1 to 5
Results
Rated 4.4 on a scale of 1 to 5
Enjoy it

The flavor is good. I have never been disappointed by any products from Pique

I Drink Pique For

Radiant Skin,

Energy,

Immune Support,

Healthy Digestion

I Drink Pique For

Immune Support,

Healthy Digestion,

Energy

Smooth roasted delight!

Love the aroma of Holi Hoji with the hint of roasted goodness. And there is such a smooth and light finish....all with minimal caffeine. A delicious experience!

I Drink Pique For

Healthy Digestion

Orsida

My favourite tea of all times. Matched my taste and its just something what i enjoy drinking every day. Highly recommend.

I Drink Pique For

Radiant Skin,

Immune Support,

Healthy Digestion

Great taste

I love this new tea and all its health benefits

I Drink Pique For

Radiant Skin,

Energy,

Healthy Digestion,

Immune Support

Unique richness!

I was surprised at how earthy the flavor was. This teas aroma was slightly reminisent of coffee. I added some almond milk and honey and enjoyed it very much.

I Drink Pique For

Healthy Digestion

Good Tea

This tea didn't dissolve as easily as the others, but give it a good stir and add in a little bit of non-dairy milk, and it's delicious.

I Drink Pique For

Immune Support,

Healthy Digestion

Different

I'm glad I was able to try this Holi Hoji. It is certainly different from green tea. It is less bitter and has a pleasant roasted flavour. However, it does not provide the same calm energy as regular green tea, so drinking this tea is more about the flavour then the effect.

I Drink Pique For

Radiant Skin,

Healthy Digestion

Delicious!

Absolutely delicious! Earthy and warming!

I Drink Pique For

Healthy Digestion,

Radiant Skin,

Immune Support
Reviews Loaded
Reviews Added
Questions?

We have answers!
Of all teas made with camellia sinensis, this is the least likely to disrupt your sleep. With that said, everybody is different. Rest assured, our 30-day happiness guarantee helps you purchase risk-free: if you're unhappy with your purchase made from our store, you may return your package to us for a refund anytime within the first 30 days of your purchase. We'll even pay for shipping!
Hot roasting transforms Japanese green tea into a rich amber color, changing the flavor and significantly reducing caffeine levels – but retaining the health benefits of green tea.
Holi Hoji is made from Japanese green tea, sourced from the most pristine region of Japan, Kagoshima.
Containing powerful antioxidants and polyphenols, Holi Hoji is formulated to rejuvenate, refresh and recharge while catechins and flavonols support your digestion and metabolic function. The hot roasting process reduces the caffeine content, providing a warming coffee alternative at any time of day.