Morning
Afternoon
Evening
Brewing instructions will vary based on tea type. Refer to instructions printed directly on cartons & sachets for hot or cold drink recommendations.
Sun Goddess Matcha: 100% organic ceremonial grade matcha from Japan.
Pu'er Black Tea: Organic Pu'er black tea (camellia sinensis assamica) only.
Chaga Energy Elixir: Burdock*, N. American ginseng* (panax), chaga*. *Organic.
Earl Grey Tea : Organic black tea, natural bergamot essence.
Happy customers are our no. 1 priority so we offer a 30-day 100% happiness guarantee. If you're not thrilled with your purchase, you may return your package to us for a refund anytime within the first 30 days of your purchase. We'll even provide a free return shipping label!
For further questions, contact our Pique Love Team for assistance anytime at care@piquelife.com.
Learn about our full return policy here.
For a healthy metabolism
and calm energy
Get ready to achieve optimal digestive health and sustained, calm energy with this quadruple-effect ritual. Start your day off right with Sun Goddess Matcha, a source of l-theanine, for a powerful dose of antioxidants that promote a relaxed state. Our Pu'er Black Tea offers natural probiotics that support healthy digestion, while Chaga Energy Elixir has adaptogenic properties to support cellular rejuvenation and provide sustained energy throughout the day. Earl Grey Tea contains antioxidant-rich polyphenols that support heart health and cognitive function.
What's inside?
Sun Goddess Matcha
Pu'er Black Tea
Chaga Energy Elixir
Earl Grey Tea
Ingredient Breakdown
Sun Goddess Matcha
Radiant Skin

HEALTHY METABOLISM

Calm Energy
What's Sun Goddess Matcha?
Sun Goddess Matcha is an organic, ceremonial-grade matcha unrivaled in purity – quadruple toxin-screened for pesticides, heavy metals, toxic mold, and radioactive isotopes. Our matcha trees are cultivated with 35% longer shading periods to maximize l-theanine potential and distinctive umami flavor, with powerful phytonutrients to support a clear, radiant complexion. Sourced from one of the most pristine areas of Japan, a national park at the southernmost tip of the Japanese archipelago.
Organic Pu'er tea
Healthy Digestion

HEALTHY METABOLISM

Calm Energy
What's Pu'er Black Tea?
Fermented Pu'er Black Tea is tea varietal that nourishes a healthy gut with powerful pre and probiotics. Wild harvested from 250-year-old trees from a primordial forest teeming with biodiversity, the tea leaves play host to precious microbiota that naturally ferment the tea to deliver powerful digestion and metabolism support. Polyphenols support the gut microbiome for healthy digestion, a balanced gut and an active metabolism.
Chaga Energy Elixir
Rejuvenation

Calm Energy

Immune Support
What's Chaga Energy Elixir?
An adaptogenic blend of wild-harvested chaga mushrooms, N. American ginseng and burdock root to focus your mind, energize your body and revitalize your spirit. With legendary properties for promoting radiant health, medicinal mushrooms replenish your lifeforce (Qi), while supporting renewal and regeneration. These Elixirs are made according to ancient formulas used for hundreds of years and blended by certified Traditional Chinese Herbalists. They are designed for sustained results and long-term health benefits.
Earl Grey Black Tea
Calm Energy

Healthy Digestion

Healthy Metabolism
What's Earl Grey Tea?
Made from the finest Ceylon tea from multi-generational family owned estates with a hint of Calabrian bergamot. Smooth, balanced energy with healthy digestion support.
Sun Goddess Matcha
Caffeine:
L-Theanine:
Polyphenols:
Ingredients: 100% organic ceremonial grade matcha from Japan.
Fermented Pu'er Black Tea
Caffeine:
L-Theanine:
Polyphenols:
Ingredients: Organic Pu'er black tea (camellia sinensis assamica) only.
Chaga Energy Elixir
Caffeine: Caffeine-Free
L-Theanine: None
Polyphenols: None
Ingredients: Burdock*, N. American ginseng* (panax), chaga*.
*Organic.
Earl Grey Black Tea
Caffeine:
L-Theanine:
Polyphenols:
Ingredients: Organic black tea, natural bergamot essence
Smooth and earthy
Treat your tastebuds to a grounding experience with Sun Goddess Matcha's smooth and creamy umami flavor. Balance it out with Pu'er Black Tea's earthy and rich taste. Chaga Energy Elixir delivers notes of birch forest with a nutty twist and a slightly sweet finish. Finish your ritual with Earl Grey Tea's bold and smooth flavor with citrusy notes of oil of bergamot.
"Pique's Radiant Skin Duo is my secret to hydrated skin and it's my favorite part of my morning routine! I have noticed a difference in my skin which is more plump and brighter."
"I've been on matcha for 2 months now. The first month I didn't notice much, but by the second month my skin and energy levels have been improving. I highly recommend it my friends and family."
"Best additions to my daily routine. My skin has never felt more refreshed and never looked this youthful!"
Jessica S.
Verified buyer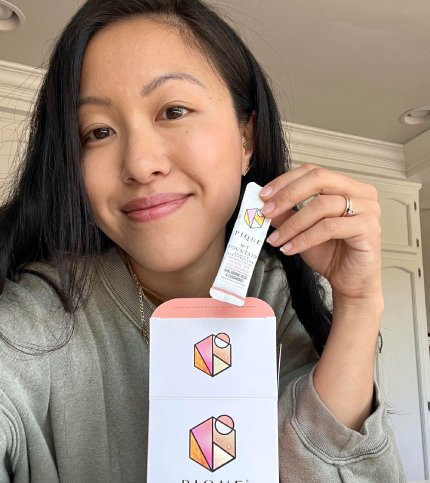 "Great taste and hydrates my body. I also know I can trust Pique in using the highest quality and best ingredients for my skin and body."
"I am so obsessed with all of Pique's products, particularly their B•T Fountain. It gives my skin the hydrated, dewy look from within. It is also great post-workout."
"After seeing all my friends enjoy Pique's B•T Fountain, I knew I had to try it. It really is worth all the hype! It tastes light, and I feel so good about drinking my water everyday."
"I love Pique's products! I can't go anywhere without my Matcha or Daily Immune. This paired with tons of water is the key to glowing and youthful skin, I recommend Pique to all of my friends as well! "
"A staple in my diet recently, I usually add this to a smoothie I make daily and it has improved the hydration in my face exponentially. I see a difference in my appearance if I miss a day taking this. This should be included in everyone's daily routine!"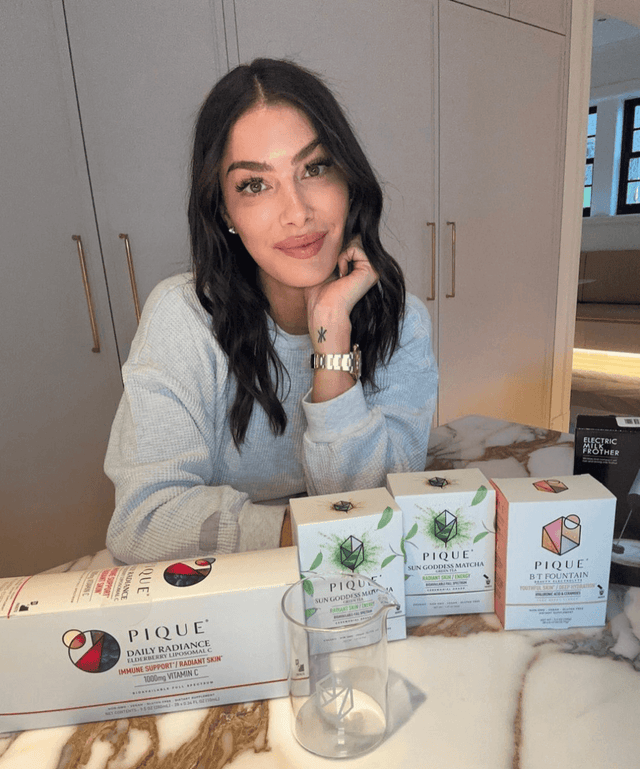 "It's always a great day when my Pique arrives! Their matcha is my all-time favorite and sets the mood every morning!"
Katherine G.
Verified buyer
Questions?

We have answers!
These blends work together beautifully to bring you a ritual that optimizes your health with every sip. The ritual offers a range of health benefits for men, like supporting digestive health and heart health, plus offering sustained energy. Sun Goddess Matcha features l-theanine to promote calm and balance while Earl Grey Tea and Chaga Energy Elixir provide energy without the jitters. Pu'er Black Tea offers natural prebiotics and probiotics to support healthy digestion as does Earl Grey Tea with prebiotics (theaflavins) for gut health.
Matcha has many different benefits and is loaded with catechins, l-theanine and antioxidants that help support radiant skin, a healthy metabolism and promote calm. Our Sun Goddess Matcha is ceremonial grade, 100% organic and quadruple-screened for toxins.
Harvested from some of the oldest trees on the planet, Black Pu'er Tea is rich in flavor, naturally fermented and high in powerful antioxidants and polyphenols. Infused with natural pre and probiotics for optimal gut health and digestion support, this tea will revitalize your body from the inside out.
Chaga is high in antioxidants, supports a healthy immune system and a healthy stress response. Check out the details of all the benefits our elixir offers here.
Nourish a healthy gut and support digestion with nature's probiotics and polyphenols (theaflavins). Black tea caffeine provides a boost of vital energy – without the jitters – to support physical and mental performance.