Crush Your
Fasting Goals
✓ Fight off cravings.
✓ Beat boredom.
✓ Stay fasted longer.
When it feels the hardest,
is when it matters the most.
Living in prolonged isolation takes an emotional toll. And the urge to stress snack becomes harder to ignore.
If you've been focusing on immunity, but letting your fasting practice slide, now is the time to recommit.
Because health is holistic. And your overall health is more important than ever right now.
If you stay committed to your fasting goals now, you can avoid disappointing setbacks and having to play catch up later.
The support you need:

Pique Fasting Teas
Fasting Teas are the support you need to skip the stress snacking and stay on track.

✓ Curb cravings. Concentrated catechins support healthy ghrelin levels to combat hunger pangs.
✓ Support calm energy. Thanks to a synergistic blend of caffeine and the calming amino acid l-theanine.
✓ Enhance the benefits of fasting. Tea polyphenols support gut health and healthy digestion, healthy skin, sustained energy, mental focus, and more.

Bonus! Tea is packed with catechins and polyphenols to support healthy immune function. Stay fasted while armoring up your best defense system.
Effective
Cold Crystallization Technology™ extracts and delivers antioxidants at maximum potential.
Pure
Triple Toxin Screened for pesticides, heavy metals and toxic mold commonly found in plants.
Accessible
Unparalleled full-spectrum absorbability with no prep or brewing required.
Real customers

real reviews
"How I break my fast: I use High quality Matcha from Pique Because it is a triple toxicant screened for heavy metals, mold toxins, pesticides, and radioactive isotopes."
"Pique is key for Fasting"
@wholistic
healthboss
Verified buyer
"Pique Matcha Green Fasting Tea before running"
@mansports
Verified buyer
"Using my Pique fasting teas and medicinal mushroom teas during my IMFs!"
@awhole
healthlife
Verified buyer
"No need to sleep!"
@low.carb.love
Verified buyer
"I don't know how I ever did my weekly 24-hr fast without Pique fasting teas!!"
"Can't forget my Pique they help support my fasted state while I fly!!"
"The best fasting teas that taste really great and you cab travel with them easily!"
LIMITED TIME SPECIAL OFFER
Get up to 10% off + free shipping
OFFER ALREADY APPLIED BELOW
SWIPE TO CHOOSE FLAVOR
BASIC
$40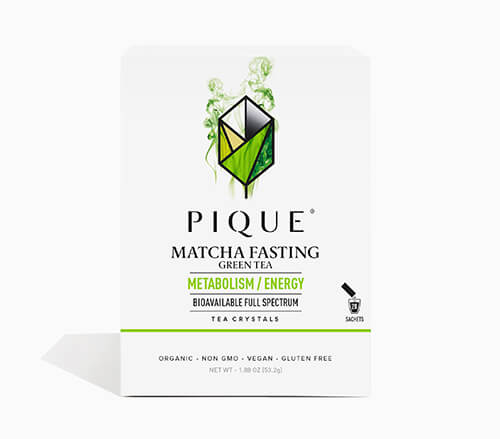 1 carton Matcha Green
28 Total Servings
BASIC
$40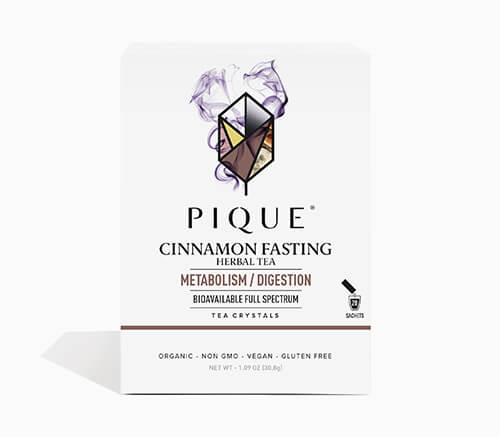 1 carton Cinnamon Herbal
28 Total Servings
BASIC
$40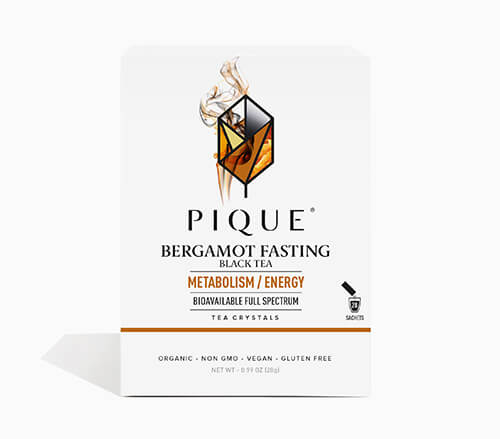 1 carton Bergamot Black
28 Total Servings
BASIC
$40
1 carton Ginger Green
28 Total Servings
MOST POPULAR
COMPLETE FASTING TRIO
$120 $114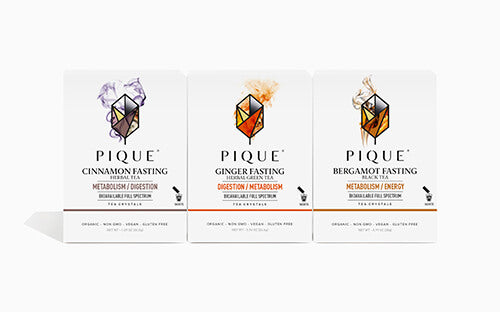 Black Teas
1 carton Bergamot Black
Green Teas
1 carton Ginger Green
Herbal Teas
1 carton Cinnamon Herbal
84 Total Servings
Total Savings: $6
+ FREE US Shipping ($7.99 value)
BEST VALUE
ULTIMATE FASTING BUNDLE
$200 $180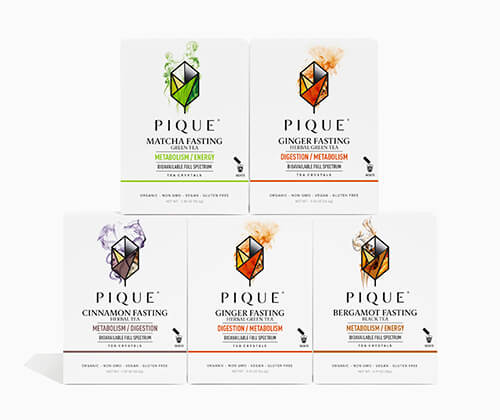 Black Teas
1 carton Bergamot Black

Green Teas
2 cartons Ginger Green
1 carton Matcha Green

Herbal Teas
1 carton Cinnamon Herbal
140 Total Servings
Total Savings: $20
+ FREE US Shipping ($7.99 value)
1. Cinnamon Fasting Herbal Tea
✓ Curb cravings. Cassia cinnamon shines front and center to support healthy blood sugar levels and help combat sugar cravings.
✓ Caffeine-free. Calming, comforting herbal blend of burdock root, cinnamon, whole Italian Bergamot, and Spearmint – with zero caffeine.
✓ Naturally sweet. Sweet botanicals help satisfy sugar cravings, without raising your blood sugar for the perfect nighttime treat that won't break your fast.
2. Ginger Fasting Green Tea
✓ Smooth digestion. A Traditional Chinese Herbalism formulation of ginger, licorice root, citrus, and mint to support healthy digestion.
✓ Refreshing & satiating. Features a curated blend of bright, palate-pleasing botanicals plus satiating green tea catechins.
✓ Energizing. A moderate dose of green tea caffeine makes this blend the perfect, gentle afternoon pick-me-up.
3. Matcha Fasting Green Tea
✓ Concentrated antioxidants. Formulated with our proprietary blend of high-catechin Japanese green Tea Crystals.
✓ Calm, focused energy. Matcha's calming amino acid, L-theanine, plus a double dose of green tea caffeine promotes a unique feeling of zen energy – "zenergy."
✓ Manage hunger. With a hint of peppermint tummy-pleasing peppermint. Geishas in Japan actually used to eat mint leaves before dinner so they wouldn't overeat!
4. Bergamot Fasting Black Tea
✓ Happy mood. Whole, ground Calabrian bergamot rind boasts unique properties to support a positive mood.
✓ Satisfying. Bold, bright, tangy flavor to delight the palate plus concentrated polyphenol antioxidants to soothe the stomach.
✓ Maximum energy. The only black fasting tea! Black tea contains the highest caffeine content to sail through energy slumps.
When Should I Drink the Teas?
Follow the Pique Fasting Protocol,
depending on your fasting practice:
Ginger Green + Bergamot Black
(during fasting window)
Matcha Green
(with a meal)
Cinnamon Herbal
(during fasting window)
Matcha Green + Bergamot Black
(with a meal)
Ginger Green
(with a meal)
Cinnamon Herbal
(during fasting window)
Matcha Green
(with a meal)
Ginger Green + Bergamot Black
(during fasting window)
Cinnamon Herbal
(during fasting window)
Trust the Process

Risk Free Experience
Trust the Process

Our 30-Day Promise
The benefits of fasting teas are compounded over time and with consistent use. If you don't experience transformational results, we'll issue you a full refund with our 100% 30 day money-back guarantee.
Simply return any unused cartons within 30 days. We'll even provide a free return shipping label!
TRY RISK FREE
15,000+ Five Star Reviews
"I am starting to fast regularly and I thought these might help me stick to a fasting regime, and they have! I don't feel as hungry, and they give me a boost of energy throughout the day. They also happen to taste great, which says a lot from me, because I am more of a coffee drinker."
Marjorie J.
Verified Buyer
"I bought Pique to help me through my fasting days. Using the Matcha in the morning, Ginger in the afternoon right before I break my fast and the Cinnamon at night makes fasting much easier and so much more enjoyable. Love how easy they are to use. Great tasting too!!!"
"I use these teas when I do a 72 hour fast. They help with hunger cravings and increase satiety without actually consuming any calories! Way to go Pique, continually pushing the envelope to maintain the healthiest, cleanest, purest and best tasting tea on the market."
Questions?

We have answers!
Our Fasting Teas have been developed together with Dr. Jason Fung, the world-leading expert and 2-time no.1 bestselling author on fasting. These teas have been specifically formulated to help support the fasting experience. They are a blend of organic green teas and a variety of organic plants, roots and herbs specifically chosen to facilitate your fasting journey and make the process easier.
Matcha Green – 105-135mg
Ginger Green – 30-50mg
Bergamot Green – 33mg
Bergamot Black – 37mg
Cinnamon Herbal – 0mg
A variety of citrus, bergamot's flavor is often described as a cross between tart lemon and bitter orange.
We've offered 6 challenges (Fasting, Gut Health, Breathwork) for free this year at absolutely no cost. We engaged with and helped improve the health of hundreds of thousands of people in our community.
The serving size has been reduced from 12oz to 8oz in response to valuable customer feedback. No more opening the stick and using half of it.
The price of one blend cannot be compared to the next simply based on serving size. The availability and costs of ingredients, how exotic they are and how far we must venture to source them all play a role. Generally speaking, herbal teas are far more expensive to produce than regular teas simply because there is a large availability of different types and grades of teas and very limited availability of specialty herbs and plants from around the world.
The limited data indicates that intermittent fasting may not lead to increased immunity, but it likely does not hurt. According to the world's leading intermittent fasting expert, Dr. Jason Fung, fasting for less than 36 hours is likely neutral to slightly beneficial for immunity, while fasting for greater than 36 hours is likely neutral.
NOTE: If you become sick with any illness, including COVID-19, you should listen to your body and consult with your doctor before starting or continuing an intermittent fasting practice.
We offer shipping to Canada, UK, and AUS.
This will be our last Fasting Tea Challenge with Dr. Jason Fung for 2020, so secure your spot while you can! You don't want to miss out on this exclusive opportunity.
Hi! I'm Simon. I've been steeped in the world of tea since I was born. A native of Hong Kong, I grew up drinking tea instead of soda. Tasting different teas after each meal with my parents and grandparents were a sacred family ritual (my grandad turns 103 this year!) After moving to the US in my teens, life got intense. Between getting into top schools and grinding in finance jobs, I abandoned the health rituals of my youth. In my 20's, I developed one medical problem after another and had 3 hospitalizations involving surgery. The last one left me with an infection requiring 3 months of intravenous antibiotics to recover from! After that, I said never again and took back control of my health.
This was the beginning of a 10-year health quest that took me around the world to study with the most accomplished Eastern health masters and breathwork experts around the world - from the mountain ranges of Tibet to the heart of Indonesia and the Chinese diaspora in the Pacific Northwest! Majoring in Chinese history at Harvard, then studying literature and philosophy in Beijing, I accessed the knowledge in Eastern classics on health, meditation and Daoist philosophy thousands of years old.
I've now synthesized everything I learned into an integrated approach to health and performance combining herbal plants and breathwork. The culmination of which is Pique. Tea is the most natural and sustainable path to radiant health. I consume tea every day with minimal effort, maximum health benefits, and want to help everyone do the same.