The
Pinnacle

of Tea.

From the fragrant red tea bushes of South Africa to the centenarian herb gardens of Okinawa, hints of citrus from Calabria, Italy, and a sampling of exquisite probiotic tea from 250-year old trees. Each cup of tea holds the essence of air, water and soil from all around the world. There's no better gift than nature's gift to us.
What's inside?
48 Tea Crystal Sachets
Ode To Tea Companion Book
Glass Beaker
Pique Protocol & Quickstart Guide
Extra Divider
Which teas are included?
An array of best-selling teas providing a rainbow of antioxidants to support vibrant health. Ode to Tea includes 6 sachets of each tea.
Jasmine Green Tea
Fresh summer Jasmine petals infused 5 times into shade-grown Japanese green tea.
Earl Grey Tea
Superior ceylon black tea with notes of candied citrus. Rich and intriguing.
Sacred Lily Oolong
The finest Wuyi mountain oolong. Roasted notes.
Ginger Digestion Elixir
Warm, spicy ginger meets the invigorating tang of citrus peels with a hint of mint and sweet licorice root.
Passion Fruit Green Tea
Japanese sencha green tea leaves infused with natural passion fruit flavor.
Mint Herbal Tea
Spearmint, which is softer and sweeter than peppermint, still boasts the exhilarating, mouth-cooling mint flavor.
Hibiscus Beauty Elixir
Pleasantly tart Egyptian hibiscus is lightened with fresh, cool mint and a hint of sweet licorice.
Peach Ginger Black Tea
Scent of peaches with the soothing warmth of ginger and bold notes of black tea.
What's Ode To Tea?
The 70+ companion book written by Pique's founder, reveals ancient and powerful practices for physical, mental and conscious transformation. It encapsulates the entire heart and soul of Pique's origin and mission: unlocking our true potential.
Learn the Pique Protocol for harnessing the power of tea in its most bioavailable form for maximum health benefits and calm, focused energy. It will also introduce you to Pique's core philosophy: 6-Sensory Consciousness and Pique Practices. Elegantly simple, yet powerfully effective – anyone can do them with the potential for life-changing results.
Use your Glass Beaker for simple, foolproof preparation of the perfect cup of tea, every time.
Allow the Pique Protocol and Quick Start Guide to escort you through the secrets of how and when to drink each type of tea for maximized benefits.
The extra divider transforms your gift box into the perfect tea caddy.
A Kiss To The World
Gilded doves and gold foiling. Stunning photography of exotic tea country printed upon museum-grade silk paper. A menagerie of enticing flavors and alluring aromas. Beethoven's Ode To Joy plays each time you open the box, sending a message of peace and unity to all. Like Ode to Joy, this box is a "kiss to the world."
"Pique's Radiant Skin Duo is my secret to hydrated skin and it's my favorite part of my morning routine! I have noticed a difference in my skin which is more plump and brighter."
"I've been on matcha for 2 months now. The first month I didn't notice much, but by the second month my skin and energy levels have been improving. I highly recommend it my friends and family."
"Best additions to my daily routine. My skin has never felt more refreshed and never looked this youthful!"
Jessica S.
Verified buyer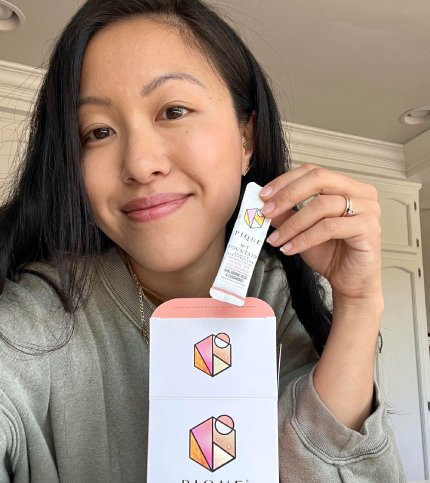 "Great taste and hydrates my body. I also know I can trust Pique in using the highest quality and best ingredients for my skin and body."
"I am so obsessed with all of Pique's products, particularly their B•T Fountain. It gives my skin the hydrated, dewy look from within. It is also great post-workout."
"After seeing all my friends enjoy Pique's B•T Fountain, I knew I had to try it. It really is worth all the hype! It tastes light, and I feel so good about drinking my water everyday."
"I love Pique's products! I can't go anywhere without my Matcha or Daily Immune. This paired with tons of water is the key to glowing and youthful skin, I recommend Pique to all of my friends as well! "
"A staple in my diet recently, I usually add this to a smoothie I make daily and it has improved the hydration in my face exponentially. I see a difference in my appearance if I miss a day taking this. This should be included in everyone's daily routine!"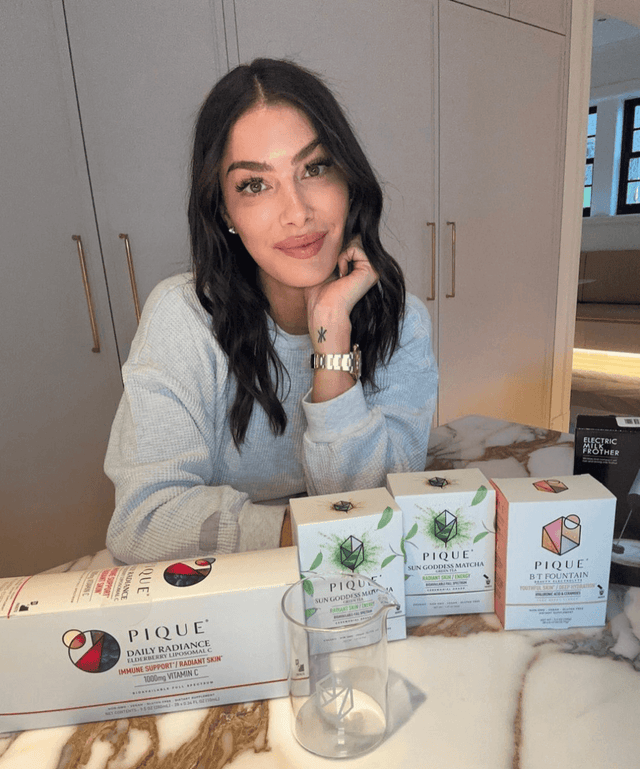 "It's always a great day when my Pique arrives! Their matcha is my all-time favorite and sets the mood every morning!"
Katherine G.
Verified buyer
Total 5 star reviews: 85
Total 4 star reviews: 4
Total 3 star reviews: 5
Total 2 star reviews: 1
Total 1 star reviews: 0
94%
would recommend this product
Taste
Rated 5.0 on a scale of 1 to 5
Quality
Rated 5.0 on a scale of 1 to 5
Results
Rated 4.9 on a scale of 1 to 5
I Drink Pique For

Radiant Skin,

Healthy Digestion,

Immune Support,

Energy

A wonderful gift of education and enjoyment

This was a wonderful gift. The included teas were of a great variety and it was fascinating to read about the different teas and their purposes. Being able to educate and enjoy through this set was wonderful.

I Drink Pique For

Healthy Digestion,

Radiant Skin,

Energy,

Fasting,

Immune Support

Beautifully packaged, awesome product

Box is beautiful and functional as I continue to use it to store my Pique. Was unsure when I ordered the box if I would like the "instant" tea. I was sold after the first sachet. It's just like fresh brewed, convenient, clean, lots of variety and oh so good for the body and self. I always carry sachets with me and have the perfect cup of tea wherever I please.

I Drink Pique For

Healthy Digestion,

Immune Support

Beautiful gift

For the person who loves tea, this is a wonderful gift. Presentation is beautiful.

Love the variety

I ordered the Ode to Tea box as I wanted to try a larger sampling of Piques selection. After trying each flavor, I began to chose the tea I wanted based on my mood or tiredness. I suppose this was the intention, and it worked. Love the Earl Grey, Oolong and Jasmine. The peppermint is comforting after a big meal.

Krystel M.

Verified Buyer

I Drink Pique For

Fasting

Perfect gift for health enthusiasts or tea lover

I snagged this when it was on sale and it was so worth it! I would buy it again even if it wasn't on sale. It makes a perfect gift for health enthusiasts or for anyone that loves tea. It comes with so many samples and a cute mixing glass all presented nicely in a box. I'm very happy with this purchase.

I Drink Pique For

Energy,

Radiant Skin,

Healthy Digestion

Awesome

This was a self gift! I absolutely love it and plan to give it to others as well for the holidays. Such a great assortment of teas

Maritza A.

Verified Buyer

I Drink Pique For

Healthy Digestion,

Energy,

Immune Support,

Radiant Skin

The most Beautiful gift box!

If you are looking for a gift to impress this is it! A Beautiful gift box filled with an abundance amount of tea options. As an added plus, the music is lovely! Elegant offer that will please any tea or non-tea lover!

I Drink Pique For

Energy,

Healthy Digestion,

Radiant Skin,

Fasting,

Immune Support

Belíssimo!!

I love this tea box so much! The collection is amazing and you get to taste all the flavors. I look forward to having tea every day by the sound of Ode to Tea. When I hear the music, the tea is magical and it tastes even better. This purchase is a winner for me! Superb!

I Drink Pique For

Healthy Digestion,

Immune Support,

Energy,

Fasting,

Radiant Skin

Stunning!

What an incredible selection of teas and presented in such a beautiful box. The booklet is informative, the teas are so tasty, and the quality is outstanding. I've never wanted to an influencer more to be able to "unbox it" with friends. And the music that plays from the box is genius - "Ode to Tea". I see what you did there! 😉💜 And did I mention the health benefits?! They set the bar high with this!!

I Drink Pique For

Radiant Skin,

Healthy Digestion,

Immune Support

The Best!

Love this variety pack so much. It got me to try so many flavors and introduced me to tea like never before! Can't wait to gift this to friends and family. Also, the Ode to Tea book is amazing!
Reviews Loaded
Reviews Added
Questions?

We have answers!
Both matcha and green tea begin as the Camellia Sinensis plant. The main difference starts with how the plant is grown and processed. Matcha tea is shade grown and ground to a fine powder – you are essentially consuming whole tea leaves. The plant intended for green teas, on the other hand, is traditionally grown and harvested. Once harvested, the leaves are steamed to stop oxidation and then dried. The dried leaves are broken up for tea bags or carefully packaged as loose leaf tea, ready to steep. For more information about this, please visit our article 5 Key Differences Between Matcha and Green Tea.
We source only the finest organic loose leaf grade tea leaves and then we cold brew them for up to 8 hours to extract all the beneficial compounds. Then, through a combination of pressure and dehydration at a low temperature, our Tea Crystals emerge. Cold Brew Crystallization preserves up to 12x the nutrient content compared to other tea.
Drinking any of our teas as an iced tea will not negate the benefits found in our teas! We do recommend not using water that is too hot, however. We recommend a maximum temperature of 170°F for green teas and 180°F for black and herbal teas.
Some of our teas are both hot and cold water soluble, and some are hot water soluble only. With that said, you can enjoy any of our teas as an iced tea! Just simply mix the Tea Crystals with an ounce or so of hot water (but not boiling!), then add ice and cold water as you'd like, and enjoy!
All of our teas are free of peanuts, tree nuts, and coconuts. Our operations and facilities and packaging sites do not come in contact with these products, but we cannot make any guarantee for serious allergen conditions from external variables, as our facilities are not officially certified allergen-free.
When you order from Pique Tea, your complete satisfaction is our highest priority. We understand it can sometimes be difficult to make a purchase if you have not been able to previously sample the teas. Our 30-Day Satisfaction Guarantee helps you purchase your teas risk-free: if you're unhappy with your purchase made from our main store, you may return your package to us for a refund anytime within the first 30 days of your purchase. We'll even provide a free return shipping label here !