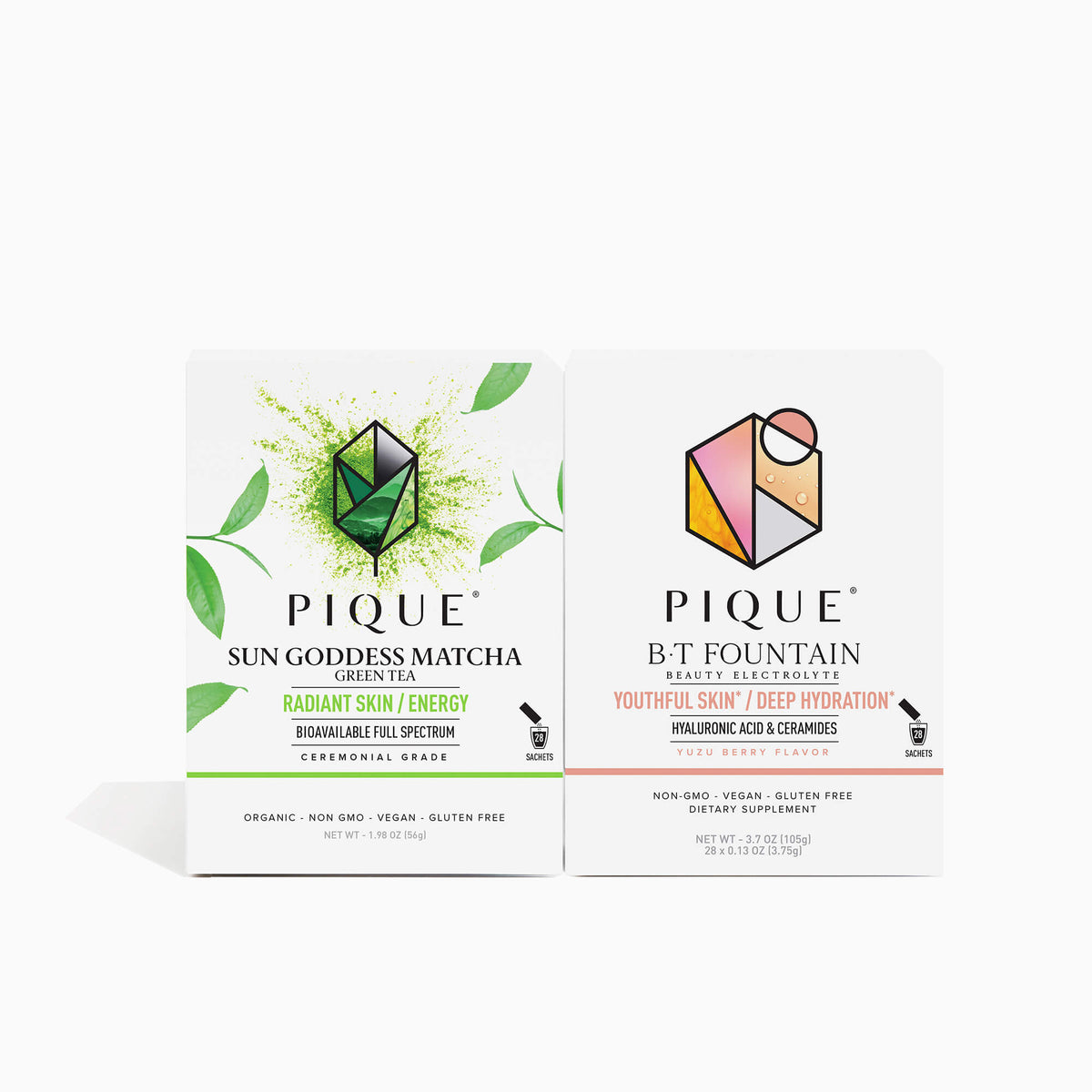 Your daily skincare ritual -

for ageless, radiant skin.
The Radiant Skin Duo combines powerful plant extracts and science-backed ingredients in two delicious drinks, rejuvenating skin from within. Firm and brighten with Sun Goddess Matcha tea. Deeply hydrate and boost elasticity with B·T Fountain beauty electrolytes. Enjoy a beautiful daily ritual packed with:
powerful green tea antioxidants
clinically-proven ceramides
clarifying chlorophyll
moisture-boosting hyaluronic acid
An intelligent blend of nature and science, Pique products are sourced from the very . Obsessively crafted to achieve the highest , they are also intentionally designed for .
purest ingredients
Our ingredients are of the highest quality, and Triple Toxin Screened for purity and bioavailability.
Comprehensive skincare in
two

daily drinks.
Comprehensive skincare in
two

daily drinks.

Fast-Acting Results

Sun Goddess Matcha and B·T Fountain work in beautiful synergy to provide the foundations for glowing skin from within - a powerful combination of essential ceramides, antioxidants, and more.

Purity Above All

We source exquisite ingredients of the highest quality - best-sellers like our Sun Goddess Matcha are even Quadruple Toxin Screened for unparalleled purity and bioavailability.

Maximized Results

Our cutting-edge F-SIS™ Technology extraction process preserves phytonutrients in their most bioavailable forms - for enhanced absorption.

Zero Prep. All Convenience.

Enjoy the Radiant Skin Duo anytime, anywhere with convenient sachets designed for busy lives - just add hot or cold water. With zero prep or brewing required, it's never been easier to keep a consistent daily ritual.
Over 10,500 Glowing Reviews
Amazing
I feel as if my whole body is thanking me! My skin, my tummy, my mind! Thank you for this!
Vanessa R. | Verified Buyer
Fountain of Youth
I am loving this! Plump, dewy, radiant skin. Feeling better hydrated. Tastes great!
Lindsey D. | Verified Buyer
Yes!!
It tastes good and I've definitely noticed a positive difference in my skin. I have also been loving the Sun Goddess Matcha!
Janina T. | Verified Buyer
This keeps my skin clear
I usually only have a few breakouts a month but my skin stays clear as long as I'm drinking this each day.
Stephanie D. | Verified Buyer
Very delicious with great results
The B·T Fountain is delicious. After drinking it for a few days, I really do not have to use moisturizer as much and notice a visible glow.
Heather R. | Verified Buyer
The BEST
I make a matcha tea latte every day and have noticed an incredible difference in my skin. This is a must in my health and beauty routine!
Jan B. | Verified Buyer
My new daily routine!
Light and refreshing! I leave the house every morning with a water bottle and the B•T to enjoy. It's easy and refreshing.
Pam L. | Verified Buyer
Delightfully refreshing. Deliciously creamy. Taste radiance in a cup.
Stay hydrated from morning to night and elevate your beauty routine with this refreshing flavor combination. Rejuvenate with B·T Fountain any time and enjoy the fresh notes of Japanese yuzu with every sip. Take a moment of pause while delighting in the creamy taste of Sun Goddess Matcha, noting the unrivaled umami flavor that never fails to please.
Recommended by

top health & beauty experts
Total 5 star reviews: 18
Total 4 star reviews: 2
Total 3 star reviews: 0
Total 2 star reviews: 0
Total 1 star reviews: 0
100%
would recommend this product
Favorite Duo

I love starting my day with a Matcha latte and using the BT Fountain in the evening after a workout or sauna to replenish the lost minerals. Using both I seen my energy levels stay steady all day long, better sleep & better skin!

can't EVER go without!

I absolutely LOVE the radiant skin duo! When I first started with Pique, I originally started with only the sun goddess matcha. In one of my monthly matcha orders, I got a sample of a few different teas & products and that is where I tried the BT fountain electrolytes. I instantly became obsessed with both the flavor & ingredients. This duo has been a staple for months now and I feel as if I can't go without. The matcha gives me sustained energy without the jitters, while the electrolytes help to keep me hydrated. I have noticed my skin not feeling as dry. I'm unsure if I've actually noticed any other changes with my skin. However, both of these products have loads of benefits that go way beyond just the appearance of your skin.

It's an absolute 10/10 and I highly recommend this duo!

Duo

I love what the duo does for my skin and for the way I feel taking them each day.

Love love love

Love everything about this product. From the taste to the noticeable hope it gives to my skin. This is a staple in my routine!!

THE BEST!

The BEST Matcha and the CLEANEST electrolyte option on the market! Pique is by far my favorite beverage on the market!

Pique review

I love Pique! It is something I recommend to patients because of its amazing taste, abundant health benefits, and clean ingredients! Highly recommend!

fav duo

honestly love this duo, i take it daily in the morning and when I need an afternoon pick me up! I love how smooth the matcha is and the ingredients in the hydrating mix helps me feel hydrated, energized, and restored. will be ordering more in just a tad bit!

Brilliant combo. Life changing

Matcha: Antioxidants for optimal health. Caffeine for energy. L theanine for calm. Soothing sustainable energy that doesn't make you jittery. Unique flavor. Convenient packaging. Can be served hot or cold. Love that it mixes right into water without any major prep work. Perfect for on the go. Makes for a great gift. I keep in my car, work bag, purse, gym bag so I can access them everywhere. The BT fountain is so good. And pretty!! It's got a sort of subtle sweetness and saltiness to it. Deeply restorative and hydrating. This is my favorite thing on long hot days, stressful days, post workout, or after a lot of sun exposure. It really feels like I'm being re hydrated from the inside out. Just like the matcha I love how simple and convenient they are to store, pack, use, drink. I sample them and recommend them to so many colleagues and clients. Delicious. Well worth it.

Radiant skin duo

Love it! I start my morning w the sun goddess matcha and enjoy BT fountain in the afternoon. Love the individual packets and I feel my skin is better hydrated.

So Yummy!

At first I wasn't sure if I liked the way these are packets, because I"m so used to "tea" being loose leaf herbs. But honestly I used them for a month and I am HOOKED. It makes Matcha so easy and it's so high quality. The electrolyte drink is delicious. I'm definitely getting more of these - thanks Pique!
Reviews Loaded
Reviews Added
Questions?

We have answers!
Results are compounded over time. Our customers see the best results when sticking to a routine of consuming both products daily. Depending on your schedule, we recommend starting with either B·T Fountain or Sun Goddess Matcha in the morning and alternate throughout the day.
Your single monthly subscription includes a 28-day supply of the Radiant Skin Duo. Your first month's shipment includes a complimentary Starter Kit of a glass beaker (BPA-free and high heat resistant) and electric frother (dual-speed, rechargeable) to kickstart your new routine towards ageless, radiant skin.
We believe that setting a routine and consistent use of our products will lead to long-lasting visible results. In a randomized double blind placebo controlled clinical trial, ceramides were proven to deliver results in just 15 days with daily intake. By signing up for a subscription, you'll easily be able to build Pique's Radiant Skin Duo into your routine and earn all the benefits exclusive to our subscribers which include: at least 10% off, free shipping, flexible cancellation, and much more!
But we want you to feel good about what you're taking. That's why we offer a 90-day money-back guarantee. You may also reschedule or cancel your subscription easily from your account at any time. Still not ready to commit? You can opt for the one-time purchase option without the complimentary Starter Kit and promotional price.
Face creams and serums work temporarily by leaving the outer skin barrier feeling plumper and more hydrated. By sealing in moisture from the outside, this can help relieve dry, irritated skin, prevent common skin problems from developing – but this is just a temporary fix. Pique's Radiant Skin Duo works in synergy with your skincare routine to replenish moisture at a cellular level deep within your body to hydrate your skin from the inside out. Natural ceramides and hyaluronic acid work together to strengthen your skin barrier function and encourage moisture retention for a youthful dewy glow. The matcha green tea antioxidants (EGCG), chlorophyll and l-theanine also help to keep your skin clear, firm and prevent stress-inducing breakouts.
B·T Fountain is powered by F-SIS technology to enhance absorption and maximize results. In a randomized double blind placebo trial, our patented blend of ceramides were proven to deliver 18% improved skin elasticity, 11% reduction in wrinkles and 16% increase in skin hydration within the first 15 days of use. After 60 days of use this had increased to 26% improved skin elasticity, 18% reduction in wrinkles and 21% increased skin hydration.
Suitable for all people – whether they have dry, oily, combination or normal complexions. Anyone and everyone will benefit from the Radiant Skin Duo.
Keep out of reach of children. Not for use during pregnancy or breastfeeding. If you have a medical condition or are taking medications, please consult with your doctor before use.
Enjoy your Radiant Skin Duo any time of day to hydrate and repair skin from within. For best results, drink 1 packet of Sun Goddess Matcha in the morning/afternoon mixed in either 12oz of warm or cold water daily, followed by B•T Fountain at anytime of the day mixed with 12-16oz of cold water.