Caffeine: Caffeine-Free
L-Theanine: None
Polyphenols: Low(62-93mg)
Ingredients (all organic*): Organic burdock root, cinnamon*, whole bergamot*, mint*
Morning
Afternoon
Evening
For a hot drink. First add crystals to cup. Then add 8oz warm water and stir. Ideal water temperature is 180°F. Avoid boiling water.
Burdock root*, cinnamon*, whole bergamot**, mint*.
*Organic.
**Made using the finest whole ground bergamot from Calabria, Italy.
Promotes calm
(caffeine-free)
Healthy metabolism
& digestion support
Increases satiety
(Doctor-formulated)
Your doctor-approved
metabolism

support

Naturally sweet cinnamon supports satiety and healthy blood sugar levels during fasting. Blended with whole Calabrian bergamot, burdock root and spearmint to maximize benefits and soothe and nourish the gut. A powerful blend of caffeine-free functional plants to support healthy digestion and metabolism – day and night.
What's inside?
Cinnamon Herbal Fasting Tea
Ingredient Breakdown
Cinnamon Herbal
Fasting Tea
Healthy Metabolism

Healthy Digestion

Calm
What's Cinnamon Herbal Fasting Tea?
A perfectionist formula for powerful results. Burdock root, cinnamon and bergamot have been used to support healthy digestion and metabolism in Eastern medicine for centuries – a highly satisfying caffeine-free formula.
Doctor-Formulated
"Intermittent fasting is an ancient weight loss technique I've prescribed to thousands of people. It works, but some find it difficult. To improve the fasting experience, I've partnered with Pique to create fasting teas that support healthy digestion and metabolism, help manage cravings and calm the nerves."
-Dr. Jason Fung, MD
World leading expert and no. 1 bestselling author on Intermittent Fasting
How is Pique different?
Our Cinnamon Herbal Fasting Tea is USDA Certified Organic and Triple Toxin-Screened for heavy metals, pesticides, and toxic mold. Cold Extraction Technology™ maximizes phytonutrient potential and absorption. No prep or brewing required.
Ingredients
Burdock root*, cinnamon*, whole bergamot*, mint*.
*Organic.
*Made using the finest whole ground bergamot from Calabria, Italy.
Ingredient Breakdown
Caffeine: Caffeine-Free
L-Theanine: None
Polyphenols:
Sweet, spicy, and satisfying
Equal parts refreshing and comforting. Spicy, earthy sweet cinnamon shines front and center, with hints of citrus and mint. Delightfully satisfying – fasting never tasted so good.
"Pique's Radiant Skin Duo is my secret to hydrated skin and it's my favorite part of my morning routine! I have noticed a difference in my skin which is more plump and brighter."
"I've been on matcha for 2 months now. The first month I didn't notice much, but by the second month my skin and energy levels have been improving. I highly recommend it my friends and family."
"Best additions to my daily routine. My skin has never felt more refreshed and never looked this youthful!"
Jessica S.
Verified buyer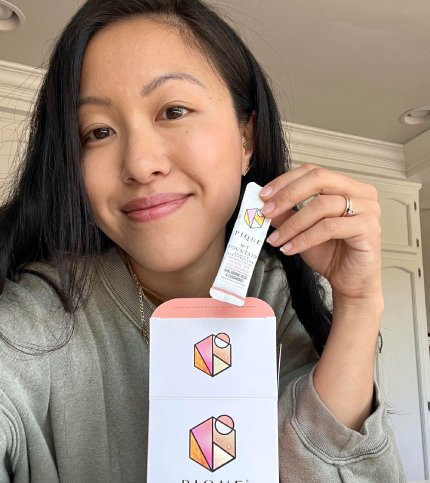 "Great taste and hydrates my body. I also know I can trust Pique in using the highest quality and best ingredients for my skin and body."
"I am so obsessed with all of Pique's products, particularly their B•T Fountain. It gives my skin the hydrated, dewy look from within. It is also great post-workout."
"After seeing all my friends enjoy Pique's B•T Fountain, I knew I had to try it. It really is worth all the hype! It tastes light, and I feel so good about drinking my water everyday."
"I love Pique's products! I can't go anywhere without my Matcha or Daily Immune. This paired with tons of water is the key to glowing and youthful skin, I recommend Pique to all of my friends as well! "
"A staple in my diet recently, I usually add this to a smoothie I make daily and it has improved the hydration in my face exponentially. I see a difference in my appearance if I miss a day taking this. This should be included in everyone's daily routine!"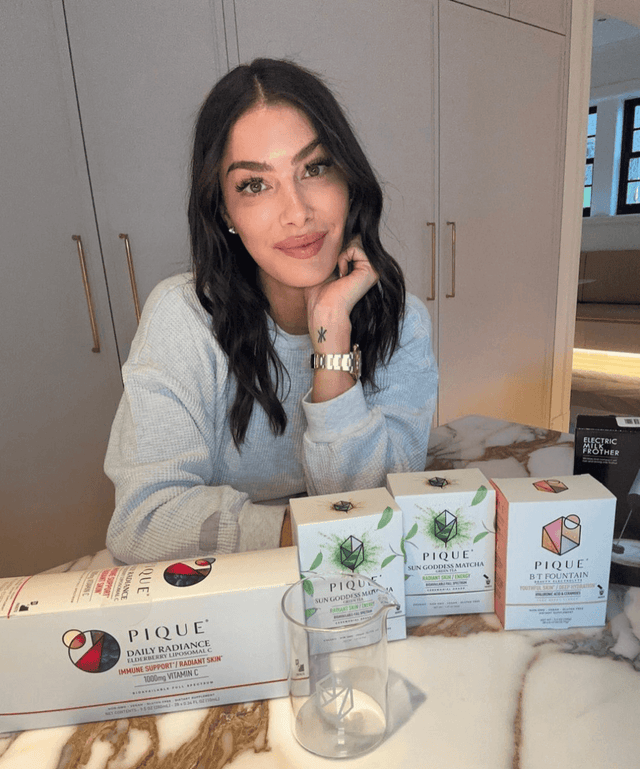 "It's always a great day when my Pique arrives! Their matcha is my all-time favorite and sets the mood every morning!"
Katherine G.
Verified buyer
Total 5 star reviews: 188
Total 4 star reviews: 26
Total 3 star reviews: 30
Total 2 star reviews: 21
Total 1 star reviews: 19
75%
would recommend this product
Taste
Rated 4.5 on a scale of 1 to 5
Quality
Rated 4.7 on a scale of 1 to 5
Results
Rated 4.5 on a scale of 1 to 5
I Drink Pique For

Healthy Digestion

I Drink Pique For

Healthy Digestion

Good flavor

Good flavor - I enjoy it on the days I want to switch up my morning beverage. Results tbd

Jennifer W.

Verified Buyer

I Drink Pique For

Fasting,

Energy

Favorite

My husband does intermittent fasting every day and he swears by this tea. And bonus, it's delicious!

Katherine London B.

Verified Buyer

I Drink Pique For

Radiant Skin,

Energy,

Fasting,

Healthy Digestion,

Immune Support

Fantastic!

I am not a cinnamon fan but this tea is fantastic. I love it as a "night cap." It keeps my blood sugar regulated so I'm not starving or shaky in the morning. I can ease into my day before having my Black Breakfast Tea and not feel like my blood sugar is crashing. Thank you Pique!

Christian R.

Verified Buyer

I Drink Pique For

Immune Support,

Energy

Game changer!

I thought I had other favorite teas BUT this tea takes the win! Excited to drink it every time I heat up the kettle!

I Drink Pique For

Radiant Skin,

Energy,

Healthy Digestion,

Immune Support

Great Tea for the Morning

Love this tea in the morning. Very refreshing.

I Drink Pique For

Fasting,

Healthy Digestion

Great evening fasting tea.

I like to drink this later in the day. I does leave some sediment after it has sat for awhile. I tend to sleep better and not wake up at night after drinking this.

Jennifer R.

Verified Buyer

I Drink Pique For

Fasting,

Healthy Digestion,

Immune Support

Perfect anytime tea!

I love that I can drink this tea anytime if the day since it is caffeine-free . I drink at least one daily and sometimes more. It is a big help to my digestion. I drink it straight. There is a bit of sediment at the bottom that does not dissolve that you don't want to drink.

Cinnamon tea

Great health benefits but tastes a little bitter.

I Drink Pique For

Fasting

Pretty good

Cinnamon taste isn't as strong as I was expecting, but the taste is still good! Definitely helps while fasting.
Reviews Loaded
Reviews Added
Questions?

We have answers!
Our Cinnamon Herbal Fasting tea has 237-263 mg of cinnamon in it per serving.
We use Cassia cinnamon because of its traditional herbal uses in East Asian cultures. If you are concerned about its potential side-effects in large quantities, we recommend consulting with your doctor or physician that nows your personal health before your purchase. Nevertheless, unless you're consuming 10 cups of our cinnamon teas every day, chances are you are far from toxicity
We'd say this tea is both savory and spicy. Earthy cinnamon is highlighted by the cooling, refreshing hint of mint and add in some bergamot to add another dimension of flavor.
We love this tea in the evening after your meal to help manage cravings and promote a feeling of calm before sleep! With that said, as this tea is caffeine free, it can be enjoyed at anytime of day!
You do not need to be practicing intermittent fasting to enjoy Cinna Fastmon Herbal Fastinging tea!
Our general recommendation is to drink three teas daily for maximum benefits: one in the morning, afternoon, and evening. If you're drinking our fasting teas for extra support for your gut health and fasting needs, our Matcha Green, Bergamot Black, and Ginger Green Fasting Teas are great options for any morning or afternoon tea; for the evening, our Cinnamon Fasting Tea is a perfect caffeine-free alternative for any of our herbals.
You can absolutely enjoy this tea with a plant based milk or natural sweetener. We suggest avoiding dairy as it causes low grade inflammation for most people. We especially love our Cinnamon Herbal tea in our Cinnamon Dolce Latte! You can find our recipe here.